In the past decade and a half, Indiana University Health extended its system across the state. Now it's going over the border.

IU Health was chosen by a hospital system in Wisconsin to provide heart, lung, esophagus and aorta surgeries there after the surgeons the hospital system had been using became employed by a competing provider.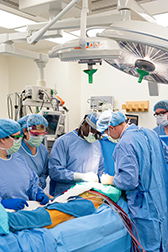 IU Health surgeons perform more than 1,900 surgeries on patients' hearts, lungs, esophagi and aortas each year. (IBJ photo/Eric Learned)
Wisconsin-based ProHealth Care will pay the salaries of the three IU Health surgeons who will work in ProHealth's Waukesha Memorial Hospital, which is midway between Milwaukee and Madison.

ProHealth performs more than 400 cardiothoracic surgeries each year. But the cardio part of that practice has been declining in recent years. ProHealth performed 246 open heart surgeries in the 12 months ended Sept. 30, down 27 percent over the previous two years.

IU Health performs more than 1,900 cardiothoracic surgeries at its 19 hospitals in Indiana. Its hospitals are clustered around Indianapolis, but also are as far south as Paoli and as far north as LaPorte.

"The goal for the two health systems is to collaborate to establish and oversee a premier surgery program in Waukesha that will incorporate the clinical protocols, care pathways and quality metrics that have been the foundation of IU Health's nationally ranked cardiovascular program," IU Health spokesman Gene Ford said in an email. IU Health officials declined several requests to be interviewed about the new arrangement.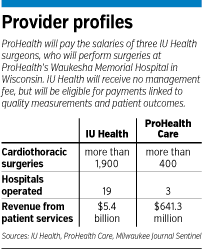 IU Health said it would evaluate similar opportunities, but stopped short of saying it is making out-of-state partnerships a business strategy.

"While IU Health occasionally receives requests from outside the state to partner with its highly skilled physicians, our primary focus is Indiana," Ford wrote in his email. "IU Health will continue to evaluate such opportunities as they arise."

Similar arrangements have been proliferating around the country.

Community Health Network established a partnership with the MD Anderson Cancer Center in Houston, where MD Anderson physicians can be brought in to consult on complex cancer cases.

Similar discussions are under way between some Indiana hospitals and the Ohio-based Cleveland Clinic and the Minnesota-based Mayo Clinic.

Mayo and Cleveland Clinic receive subscription fees from their partner institutions, in exchange for the use of their brand names. Mayo and Cleveland Clinic are beginning to market access to these networks to the nation's largest employers, as a place their employees can be sure to get top-quality care.

For example, Arkansas-based Wal-Mart Stores Inc. announced in 2012 that it would provide its employees no-cost heart, spine and transplant surgeries at Mayo, Cleveland Clinic, Pennsylvania-based Geisinger Health and other top hospital systems around the country.

"Some of that's good if they can truly bring enhanced treatment protocols that patients wouldn't otherwise have access to," said Tom Fischer, former chief financial officer of Community Health Network. "But how much is that, or how much is just an attempt to have the latest PR advantage, remains to be seen."

The IU Health-ProHealth deal is a bit different because it involves a partner hospital paying the salaries of IU Health surgeons.

ProHealth officials put out a request for proposals to health systems after its three heart surgeons became employed by the competing Froedtert Health system in the fall of 2012.

"Cardiothoracic surgery is a core service for us and we were not comfortable being dependent on a competing health care system to provide the service for us," ProHealth CEO Susan Edwards told the Milwaukee Journal Sentinel after the announcement.

The deal caused controversy in Wisconsin after ProHealth officials asserted that they chose IU Health for its high-quality heart surgery program. IU Health's cardiology and heart surgery program is ranked 30th nationally by U.S. News & World Report's "Best Hospitals" ranking.

However, according to purely quality-based scores published by the Society of Thoracic Surgeons, Waukesha Memorial Hospital under its previous surgeons had the same quality score in heart surgery as all but one of IU Health's hospitals: two out of three stars. Only IU Health's Bloomington Hospital had an overall score of three stars in heart surgery.

"It was never about quality," one of three former surgeons at ProHealth, Dr. Scott Schlidt, told the Milwaukee Journal Sentinel. "It's all about politics."

Fischer, the former hospital CFO, said he expects deals like the IU Health-ProHealth arrangement to remain rare because few Indiana hospitals have differentiated themselves nationally based on quality. On top of that, he added, commercial prices in Indiana tend to run higher than in other states.

A 2013 study of health insurance claims paid by the Big Three automakers found that Indianapolis and Kokomo ranked No. 2 and No. 3 for highest prices for inpatient hospital services among 13 cities, most of which were in the Midwest. For outpatient services, Indianapolis and Kokomo topped the list.

"When you look at Indiana, whether it's cost metrics or quality metrics, we don't have a lot to sell to anybody," Fischer said.•