Two new taxi-like services that are shaking up the industry across the nation expanded into the Indianapolis area within the past year, stirring up praise and pushback in the process.
San Francisco-based Uber and Lyft differ from traditional taxi companies primarily by matching riders with cars through relying on apps for phones, tablets and computers.
The apps offer a different way of doing business. Customers know the price before a ride is booked and then are shown where the car is located in real time, and the name and photo of the driver. After the ride, the app shows the route, distance traveled, time in the car, and the amount charged to the customer's credit card. No cash is exchanged and a tip is not expected.
Riders and drivers also are urged to rate each other.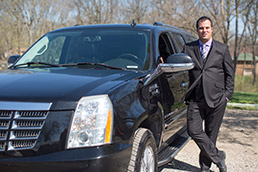 San Francisco-based Uber was started as a way for people to share rides. Expanding into Indianapolis in May last year, the company uses professional drivers such as Tim Hill (pictured) as contractors. (IBJ Photo/Aaron P. Bernstein)
Both companies say Indianapolis is one of their fastest-growing markets. And local convention officials say the arrival of Uber and Lyft is helping the
city land visitors—in fact, some convention planners require their presence.
But taxi companies aren't so happy. They insist Uber and Lyft punch below the belt by skirting local ordinances. And government officials in other states have raised concerns about insurance coverage for Uber and Lyft drivers and riders.
Left to officiate the dispute, Indianapolis is taking a wait-and-see approach.
"What we decided to do was an unofficial pilot program to allow Uber and Lyft to operate while we determine the best way to regulate them," said Department of Code Enforcement spokesman Adam Baker.
Convention clincher
Uber and Lyft are becoming pivotal for meeting and convention planners.
Twenty-five planners have specifically asked within the past year if the companies have an Indianapolis presence, said Visit Indy Vice President Chris Gahl.
"Our ability to say yes to that question has been a key selling point for our city," Gahl said. "Visitors come to expect this type of transportation service from major cities with international appeal."
Visitors aren't the only ones clamoring for the new transportation offerings. Uber and Lyft are highly popular with local millennials, too, said Molly Chavers, executive director of IndyHub, an organization promoting the city to young professionals: "The app makes it really convenient and puts it on a platform that a lot of 20- and 30-somethings are used to dealing with."
Tech driven
Neither Uber nor Lyft will divulge the number of cars and drivers they have on the streets, but they join 33 licensed taxicab companies operating 835 cars in the city.
Uber was founded as UberCab by serial entrepreneurs and West Coast techies Garrett Camp and Travis Kalanick, who were looking for a better way to enable ride sharing. Uber launched in San Francisco in 2010 before starting its nationwide expansion, rolling into Indianapolis in May 2013.
Uber has several offerings, starting locally with UberBlack, which is similar to a limousine service and uses professional drivers. UberSUV—which also relies on professional drivers as contractors—was rolled out in Indianapolis in August and offers parties of six a ride in a Hummer, Cadillac Escalade or similar vehicle.
UberX, which like Lyft is motored by everyday citizens in a variety of vehicles, launched here in September.
Lyft launched in Indianapolis in August. It contracts with people who make themselves available to ferry passengers.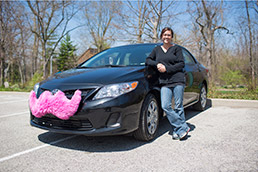 Lyft, also based in San Francisco, launched locally in August and is denoted by its trademark pink mustaches. It relies on everyday people as drivers. Shaina Peterson (pictured), focuses on the Broad Ripple area. (IBJ Photo/Aaron P. Bernstein)
Lyft was born out of Zimride, a long-distance West Coast ride-share service that started in 2007. Lyft, whose drivers affix big pink mustaches to the front of their vehicles to help riders identify them, was officially launched in San Francisco in 2012.
Uber has drawn criticism in many markets for its variable pricing function. During peak times, prices for a ride surge. In New York, riders complained bitterly about fares as much as eight times the going rate during a big snowstorm.
Uber's contracted drivers get a cell phone ping letting them know they can charge a higher rate. Drivers and Uber each get a cut of the raised fare.
Riders are notified of the premium pricing and given the option to accept the charges, decline or ask Uber to contact them via the app when the prices go back down, which Indianapolis General Manager Chris Nakutis said doesn't take long.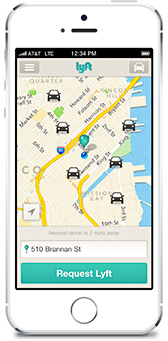 Apps for phones, tablets and computers enable riders to summon Lyft and Uber vehicles. Riders are told the price before the ride is booked, and later shown the route and mileage. (Photo courtesy of Lyft)
"We're all pretty nerdy people at Uber," Nakutis said. "And what do nerdy people like to do? Build algorithms. The premiums [motivate] drivers to be available during peak times or in bad weather. It allows Uber to be reliable."
Scott Beauchamp, president and CEO of Indianapolis Yellow Cab, said Uber's and Lyft's apps are driving their growth.
"The taxicab industry has been a little late in adopting that technology," Beauchamp admitted. But he added that Yellow Cab is about to launch its own app.
Freaky fast
In addition to making it more convenient, Nakutis said the apps also make it more efficient to get a ride.
During the men's Big Ten basketball tournament in Indianapolis in March, Nakutis said, calling for a cab by phone would have rendered a wait of at least an hour, but an Uber car was available for callers within 6-1/2 minutes. Nakutis acknowledged that the Uber ride would have cost about 30 percent more than a traditional cab ride.
On average, it takes less than seven minutes from the time a person requests a ride for an Uber Black car to arrive, Nakutis said.
Honked off
Several established taxicab companies in other cities including Chicago and San Francisco have complained about the minimal regulation of the two companies, but Indianapolis code enforcement spokesman Baker said he doesn't think it has been a big issue here—yet.
Clearly, though, some local cab operators are rankled.
"Our position is, as long as all transportation companies are playing by the same rules, we don't have a problem with it," Beauchamp said. "There's a question whether Uber and Lyft are playing by the same rules. It not only doesn't seem fair to us, it doesn't seem safe."
Uber and Lyft aren't regulated like traditional taxicab companies because neither use meters nor can be hailed on the street, Baker said. Taxi companies are required to be licensed through such credentials as driver background checks and encrypted systems for accepting credit card payments.
Uber and Lyft also escape the city's Public Vehicle for Hire ordinance because payments to the firms are technically "suggested donations," Baker said.
Taxi competitors point out that before an Uber or Lyft customer calls for a ride, they have to register at a website that demands their credit card information. After each ride, their card is automatically charged.
Moreover, Beauchamp charged, Uber and Lyft are not required to have the level of driver training, insurance, driver background checks and vehicle safety inspections as traditional taxi companies.
Beauchamp also scoffed at the notion that Uber and Lyft are not transportation companies and that their drivers take donations, not fees.
"When you're picking people up and giving them a ride, and they're giving you money, you're transportation for hire," Beauchamp said.
"We've been operating in this city since 1951, and we've always had a strong business here," he added. "This isn't about competition. It's about fairness and safety."
Nakutis said Uber screens drivers more thoroughly than other transportation companies by including city, county, state and federal background checks as well as a Social Security trace.
Some of Uber's premium services are licensed and regulated by the Indiana State Police like limousine companies.
Uber and Lyft are drawing fire elsewhere over insurance. This month, the Ohio Department of Insurance urged passengers and contract drivers to ask whether drivers' policies offer coverage should an accident occur. Uber also started charging $1 per ride extra to cover costs of background checks and insurance, among other safety measures.
For his part, Gahl, the Visit Indy spokesman, said taxi companies are "great and very important ambassadors for the city." With 26 million visitors coming every year, there is plenty of business to keep everyone busy, he said.
Growing fast
Uber and Lyft say they're getting busier in Indianapolis.
Neither would divulge sales figures, but both said the city is among their fastest-growing in the United States.
Indianapolis was the 19th city for Uber, and it's now in 80.
"We liked Indianapolis due to its demographic makeup and also because of its growing convention and event business," Nakutis said. "So far, it's worked out really, really well for us."
Lyft spokeswoman Katie Dally said Indianapolis was Lyft's second Midwest market behind Chicago, and that based in part on growth here, Lyft expanded to Madison and Milwaukee in Wisconsin as well as the Twin Cities, Detroit, Cincinnati, Cleveland and Columbus.•
Please enable JavaScript to view this content.