When John Lechleiter was named CEO of Eli Lilly and Co. in late 2007, the Indianapolis-based drugmaker derived just 5 percent of its annual revenue from its Elanco animal health division.

But next year, after Lilly completes its $5.4 billion acquisition of Novartis Animal Health, Elanco will contribute 17 percent of revenue—or one out of every six dollars flowing into Lilly's coffers.

"Elanco has been a key growth engine during this time when we've suffered the ill effects of patent expirations on several of our major human pharmaceutical products," Lechleiter told investors after announcing the Novartis deal on April 22, referring to such blockbuster drugs as Zyprexa and Cymbalta.

It's been a swift transformation for Greenfield-based Elanco. In the mid-2000s, Lilly employees often tried to avoid or leave posts at Elanco because its future was in doubt.

"Five years ago, people said, 'Don't go to Elanco because they're going to get sold,'" Elanco President Jeff Simmons said in a 2010 interview.

But the 2007 decision by Lechleiter and the Lilly board to invest in Elanco turned things around. Elanco now employs 3,500 worldwide, up from 2,500 a few years ago.

Elanco's revenue has shot up from $996 million in 2007 to $2.2 billion last year—growth of 120 percent, which is three times faster than the rest of the animal health industry.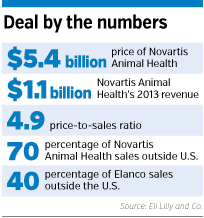 Of that growth, 60 percent has come organically, as Elanco aggressively pushed its products into foreign markets to complement its strong presence in the United States.

The other 40 percent has come via acquisitions. The Novartis deal, expected to close in early 2015, will be Elanco's eighth purchase in as many years.

Lilly executives spoke fervently about Elanco's prospects once it absorbs the animal health unit of Switzerland-based Novartis.

"I'll tell you why we are excited as you look at these details," Simmons told investors on a conference call. "We become, first on the commercial side, a top two or three player in every food animal species segment."

In 2007, Elanco was just the eighth-largest animal health company in the world.

Elanco agreed to pay 4.9 times Novartis' 2013 animal health revenue of $1.1 billion. By comparison, Zoetis Inc., which was spun off by Pfizer Inc. in an initial public offering in early 2013, has an enterprise value, based on its current stock price, of 3.9 times annual revenue.

Zoetis, the world's largest animal health company, had revenue of $4.6 billion last year. The combined Elanco-Novartis would have ranked second by revenue last year, with $3.3 billion.

"The deal seems expensive to us on a price-to-sales ratio," wrote UBS analyst Marc Goodman in a note to investors. Goodman noted that Novartis' animal health business merely broke even in 2013.

Novartis' sales and profits have been depressed since the firm had to pull two pet products from the U.S. market in 2012 because of manufacturing problems at a plant in Lincoln, Neb. Last year, it relaunched one of those products, Sentinel, which protects dogs from heartworm and fleas.

Simmons said Elanco can boost Novartis' profitability to match Elanco's by 2018. Elanco currently has earnings before interest and taxes of 26 percent of sales.

Lilly executives said they plan to cut $200 million in costs from the combined companies by 2018, but were vague on how they would achieve that figure. They said there would be some "synergies" among the two companies' sales forces, and that there would be "hundreds of millions of dollars" in tax benefits.

Simmons declined to say if there would be any impact on staffing or operations in Indiana.•