Butler University plans to add new residence halls, construct a larger facility to house its business school, and renovate existing academic buildings and dormitories as part of sweeping upgrades at the private school.
University officials discussed at a public presentation April 17 plans to replace aging dormitories and upgrade cramped academic buildings. Many details have yet to be hammered out, including the overall cost or where the facilities will be built.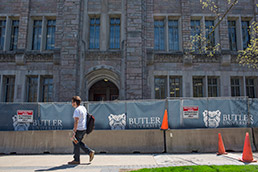 Maintenance work on Jordan Hall will soon be joined by renovation and construction on campus. (IBJ photo/Aaron P. Bernstein)
If everything in the plans gets built, about a quarter of the college's 21 academic and residential facilities could be either renovated or replaced.
"The activity that you're seeing on campus, all of that reflects President [James] Danko's and the board of trustees' mission to be a nationally recognized university," said Ben Hunter, Danko's chief of staff. "It's all linked, there's no doubt."
Danko replaced Bobby Fong in 2011 and hopes to capitalize on the men's basketball team's improbable championship runs in 2010 and 2011 to gain additional exposure for the university.
Butler has partnered with Austin, Texas-based American Campus Communities Inc. to build new student housing. Construction on the first facility, comprising 500 beds, is slated to start next spring and finish in the fall of 2016.
One location under consideration for the residence hall is the open space behind Schwitzer Hall.
A second residence hall could follow. The new ones would be replacements for Ross and Schwitzer halls.

Johnson
Both dorms, which opened in the 1950s, lack the technological amenities today's college student prefers. They house about 500 students each.
Danko said the university began exploring new residence halls after estimates to renovate Ross and Schwitzer topped $20 million.
"My speculation, at this point, is it's probably not a wise investment to upgrade," he said. "Our recommendation is that one could be replaced and both at some point."
Other on-campus housing options are Apartment Village next to Hinkle Fieldhouse, finished in 2006, and University Terrace Apartments at 52nd Street and Westfield Boulevard.
The goal of the long-range plan is to make the university more attractive to prospective students, said Levester Johnson, Butler's vice president for student affairs. Butler has added about 600 students in the past 10 years, marking a 15-percent rise in enrollment, to roughly 4,700.
"Higher education is a competitive market," Johnson said. "If you're going to be a residential campus, you're going to have to be the best at it."
Plans also call for a new building for Butler's College of Business, which now occupies the Holcomb Building. The move would free up space for the science department to expand into Holcomb from Gallahue Hall.
The Richard M. Fairbanks Foundation Inc. has contributed $10 million toward renovations to Gallahue and Holcomb.
In addition, the Residential College building, constructed in 1989 on the south end of campus, is slated to be renovated. The university is also considering whether to build a parking garage.
Locally based Keystone Group Plans was chosen in October 2012 to build a parking, retail and residential project between Clowes Hall and Hinkle Fieldhouse that would cost as much as $45 million. But campus officials ultimately put the plans on hold and began studying other housing options. Paul Okeson, vice president of Keystone, hopes the firm can still build the parking facility.
"To my best knowledge, it hasn't changed anything for us," Okeson said of Butler's new plans. "We're still on hold. My presumption is that they will need to yet address parking, but I don't know that for a fact or in what fashion they'll do that."
American Campus Communities is fronting the cost to develop and manage the facility in exchange for splitting half the revenue with the university.

Hunter
That gives Butler the ability to upgrade its housing options while maintaining financial flexibility to invest in future academic facilities such as the new building for the business college. As higher education funding gets tighter, universities are increasingly turning to alternative financing options to pay for housing, said George Tikijian, senior managing director of apartment brokerage Tikijian Associates.
"Especially for public universities, as states cut back on higher education, schools are getting more creative producing on-campus housing without having to tie up as much capital themselves," he said.
Danko said a capital campaign is inevitable, although the amount that needs to be raised has not been finalized.
"Given the ambitions we have for this university, some campaign is inevitable," he said.
Butler last mounted a capital campaign in 2010.
The construction plans are the latest in a string of upgrades at the university.
A $14 million, 40,000-square-foot addition to the College of Pharmacy and Health Sciences, courtesy of a Lilly Endowment Inc. grant, opened in 2009. And before that, in 2006, a $50 million student recreation center opened west of Hinkle Fieldhouse.
Last fall, Butler completed $4 million in improvements to 90 acres it owns west of the Central Canal containing its softball complex, soccer fields, tennis courts and campus farm.
And in February, the university announced a $3 million upgrade ($1.5 million from the city) of Sunset Avenue at its entrance, calling for the installation of a boulevard lined with trees, in addition to sidewalks and bike lanes. The project should start in the next few months.
The Butler Tarkington Neighborhood Association largely has been supportive of Butler's improvements, but every case is different, said Ted Feeney, president of the association.
He's aware of the university's latest plans; the association has yet to take a stance.
"You're never going to make every resident happy, but the communication with the university is really strong," he said. "We'll see, and we'll look forward to updates from the university."•
Please enable JavaScript to view this content.