The state's inmate population is projected to continue rising, even after a criminal-code overhaul intended to prevent the need for prison expansions takes effect July 1.
That has local criminal-justice officials worried there won't be enough state funding available to help them manage an influx of low-level offenders, who will be required to serve out sentences at the county level, under the new law.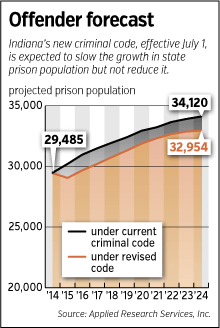 State lawmakers say they already have provided counties with a financial cushion, but a large part of it depends on savings from the Department of Correction. The DOC will need to identify "additional capacity solutions" if the inmate population consistently rises above 30,000, though that would probably mean expanding facilities before building a new prison, spokeswoman Amy Kent said.
The inmate population, now more than 29,000, could exceed 30,000 by 2017, according to an analysis of House Enrolled Act 1006 by Atlanta-based Applied Research Services Inc. Without the code changes, Indiana would have hit the 30,000-mark next year, the firm reported.
"We don't know what's going to happen with this," said John Deiter, executive director of Marion County Community Corrections, the alternative-sentencing agency, which is most likely to see the burden of additional offenders because local jails already are near capacity.
It could take several months or a year to see the first wave of people who commit crimes after July 1 sentenced under the new code, but Deiter said he's planning for a worst-case scenario. "If there's something going on where we're hit with another 500 clients in the next year, we're not going to be unprepared for it."
The sweeping code revision, the first in 35 years, was aimed at bringing penalties back in line with the severity of crimes and assuring victims that offenders would serve the majority of their sentences, said Rep. Greg Steuerwald, R-Avon, who authored legislation dealing with sentencing provisions and funding this year. The main code overhaul was adopted in 2013 with the effective date delayed to this July.
But containing costs and managing the ballooning prison population also was a goal, especially for former Gov. Mitch Daniels, who called out the problem of too many low-level felons, people doing time for drug possession or theft, in state prisons.
When the bipartisan Criminal Code Evaluation Commission undertook its monumental task in 2009, Indiana's average daily prison population was around 28,000 and had risen quickly, despite a long-term decline in crime rates.
"We're going above 30,000 pretty quickly," said Larry Landis, executive director of the Indiana Public Defenders Council. "It might be a year or two but there's no question where that line is going."
Rethinking penalties
The new code reduces penalties for crimes like drug possession, and it mandates that felons with a year or less left to serve remain in the county system. But it also raises the minimum portion of a sentence that must be served, from 50 percent to 75 percent, for all but the lowest-level felonies.
That means counties will be dealing with more offenders, while the Department of Correction gets no real savings, Landis said.
House Enrolled Act 1006 provided that as much as $11 million can be transferred from the DOC to counties. The DOC is required to do an analysis and determine whether it saved any money as a result of the code changes by March 1.
If the prison population isn't declining, Landis doubts DOC can generate a significant savings. "The cost of running the prison is not going to change," he said. "So that $11 million is not going to get transferred to the counties, in my opinion."
Steuerwald said lawmakers did what they could to fund the counties in a non-budget session. In addition to the potential $11 million, he said there will be $2 million in grants available for counties to help offenders with addiction and mental-health issues that lead to recidivism.
Steuerwald thinks there's plenty of time to gather data and adjust funding in the future. His legislation also requires that the Indiana Criminal Justice Institute monitor the local impact, which he thinks will be minimal in the first year.
"It's not near the numbers some people are afraid it is," Steuerwald said.
Starting July 1, the lowest-level felons (now classified as Level 6) facing 90 days or fewer by the time they're sentenced must serve out the term locally.
Steuerwald points to Applied Research's March analysis, which notes there were 639 D-level felons admitted to state prisons with sentences of 90 days or less last year.
By July 1, 2015, felons facing a year or less will have to stay in the counties, under the new law. That could be a much larger group, based on the 3,820 admitted to state prisons last year, according to Applied Research.
Alternative sentences

Landis
Short-timers in Marion County are likely to end up in alternative sentencing programs because the jails are already near capacity, mainly with people awaiting trial.
Marion County Community Corrections supervises about 11,000 offenders a year, or 3,100 at any given time, under a number of programs, Deiter said. Most of them are on electronic monitoring, but the agency also manages work-release, where offenders do their time in a residential setting so they can go to work or school during the day. The budget, about $9.3 million this year, is funded through the DOC, Marion County and offenders' fees.
"We were created to save the state money," Deiter said of the 83 community corrections agencies around the state.
Budget writers knew that the criminal code overhaul would shift more offenders to counties and provided another $4 million to the DOC for grants to community corrections programs, said Sen. Luke Kenley, R-Noblesville, and chairman of the Senate Appropriations Committee.
The DOC had $43.2 million to spend on community corrections grants this year, and that will rise to $47.2 million next year.
Kenley said there could be more money available, once lawmakers see how the changes play out. "We have to be open to whatever develops in this situation," he said.
Bracing for influx
With Indianapolis and Marion County facing another budget deficit, Deiter is trying to be resourceful. He's preparing for an influx of offenders by gauging interest among outside vendors for case-management services.
Deiter already uses one case-management vendor, and the contract allows the company to collect the fees owed by offenders. "If we didn't do that, caseloads would be so high, bad things would happen," Deiter said. "People would fall through the cracks. It would not be a good scene."
How counties handle their new, larger share of offenders will play heavily into the state's overall incarceration rate, according to a lengthy analysis by the American Institutes for Research in Indianapolis.
The study, led by Roger Jarjoura, recommended the state spend an additional $10.5 million a year at the local level on programs that have been proven to work. At the time of the study, which was completed in 2013, the researchers predicted that the code changes could divert as many as 14,000 people a year from state prisons.
In addition to saving money, keeping people out of prison could reduce recidivism. "That, however, is going to require intentionality at the local levels to manage offenders in the community and resist the 'urge' to revoke probation and community corrections sentences when violations do occur," the researchers concluded.
Though Landis is a critic of the new criminal code, he said, "The pieces are in place where it could still be successful, if the funding is provided by the state to the counties."
The AIR study also called for a more thorough study of county jail capacity and programs. The researchers' initial pass found that most sheriffs in the state aren't doing much in the way of treatment and rehabilitation.
New justice center
Indianapolis is in the midst of planning a new criminal-justice complex that would add 1,000 more jail beds for a total of about 3,500. The criminal-code changes are cited as a major driver of the need for more space.
"The goal is to design a facility that will last 50 to 60 years," said Marc Lotter, spokesman for Mayor Greg Ballard, who has promised to build the justice center at no additional cost to taxpayers by funneling money saved in operational efficiencies into long-term lease payments to a private development partner.
The bed count was developed with help from the city's consultant HOK, the global architecture and engineering firm, Lotter said.
Marion County was using 82 percent of its 2,507 beds on May 21, a lower rate than usual for a warm-weather month, but sheriff's officials point out that they can never safely reach 100 percent because they need to reserve space to separate different types of inmates.
The plan for 1,000 more beds accounts for an influx of inmates from the state level, as well as the potential to rent space to the federal government for federal prisoners standing trial in Indianapolis, said Louis Dezelan, operations chief for Marion County Sheriff John Layton.
The fact Marion County is planning to build a bigger jail raises the question of whether the new criminal code will lead to lower incarceration rates, or simply shift the population into the counties.
Indiana hopes to follow the example of states like Texas and North Carolina, which avoided building new prisons by funneling money into local programs, which reduced crime and recidivism, Steuerwald said. He said it's not just a matter of shifting the burden to counties.
"It's the hope and desire to lower the incarceration rate," Steuerwald said.•
Please enable JavaScript to view this content.