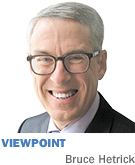 Confession: 25 years ago, during my lunch breaks, I began listening to a newly syndicated radio talk show. The host, Rush Limbaugh, was anathema to everything I believe. But while his opinions were outrageous, his delivery was delectable.
Ever a believer in Sun Tzu's "know your enemies," I tuned in.
Nowadays, however, we're increasingly unwilling to consider anything contrary to our beliefs.
Wyoming legislators, for example, recently voted to make that state first in the nation to reject new standards for teaching science. The issue, says The New York Times, is that the Next Generation Science Standards "assert that human activity has affected the climate."
Never mind that oil companies such as Exxon and Chevron support the standards. Never mind that Wyoming science teachers unanimously urged acceptance. In fossil fuel country, legislators argued, such harebrained ideas might hurt the economy. As one state representative told the Casper Star-Tribune, "There's all kind of social implications involved in that, that I don't think would be good for Wyoming."
So stifle yourselves, science teachers. Don't let the kiddies in on the dirty environmental secret.
But one need not shun science to promote censorship.
In March, a parent asked the Toronto Public Library to ban Dr. Seuss' "Hop on Pop."
The complainant wanted all copies of the book removed from the library because its text, said UPI, "encourages children to use violence against their fathers." The complainant also wanted an apology from librarians to all fathers in the Toronto area and for the library to "pay for damages resulting from the book."
The Toronto Library said no.
Banning (or even burning) books is old news, of course. But there's a new technique in the "don't upset me" game.
Said The New York Times: "Colleges across the country this spring have been wrestling with student requests for what are known as 'trigger warnings,' explicit alerts that the material they are about to read or see in a classroom might upset them."
In a trigger-warning world, before saying or assigning anything that might affect anyone in any way, my faculty colleagues and I would have to think through every possible ramification and provide advance warning in a syllabus or in class.
Surprise (not): The concept doesn't sit well with the academic freedom crowd.
Finally and predictably, our coddled kids are now behaving like their overprotective parachute parents.
At several colleges and universities in recent weeks, high-profile commencement speakers have chosen to withdraw because students protested something those individuals have said or done during their careers.
In other words, rather than hear something that might offend them, students have thrown hissy fits so loud the speakers have walked away.
Among others, former Secretary of State Condoleezza Rice opted out at Rutgers. Christine Lagarde, the first woman to head the International Monetary Fund, pulled out at Smith College. And Robert J. Birgeneau, former chancellor of the University of California, Berkeley said no to Haverford College.
I'm all for student activism. Civil disobedience is a beautiful thing. And sure, we should be sensitive to others' feelings.
But donning blinders? Learning in silos? Shunning contrary views? Ignoring evidence? Banning books? Preventing pain? Avoiding outrage? It's a recipe for ignorant, plastic, gullible people and a society ripe for a downhill ride.•
__________
Hetrick is visiting professor for the Indiana University School of Journalism at IUPUI and president of Powerful Appeals Inc. Send comments on this column to ibjedit@ibj.com.
Please enable JavaScript to view this content.