Evansville-based personal lender Springleaf Holdings Inc. paid its CEO $78.7 million in 2013 while another senior executive earned $39.5 million, according to U.S. Securities and Exchange Commission filings.
The massive payouts come with caveats: The executives won't be able to pocket most of the compensation for at least five years, and the payouts almost entirely depend on the firm's performance on Wall Street.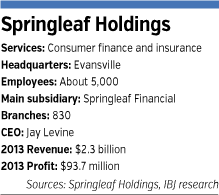 The payments—which made CEO Jay Levine and executive vice president John Anderson the state's highest-paid executives last year—were prompted by the company's $337 million initial public offering in October 2013.
The vast majority of Levine's pay—$78.3 million of $78.7 million—came from stock awards. His salary was $400,000, which dipped from 2012, and he picked up another $10,200 in 401(k) contributions.
Anderson, executive vice president of capital markets, also had a stock-based payout, which represented $39.2 million of his compensation. His salary was $350,000 for the year, and he too received $10,200 in 401k contributions.
The board of directors wanted to give a significant ownership stake to the two executives to "retain their expertise" and "align their long-term financial interests with those of the Company and its shareholders," the firm stated in its proxy statement filed April 29 with the SEC.
Contracts bar the men from selling any of their shares for five years, even though the stock vested immediately, said Craig Streem, Springleaf's senior vice president of investor relations.
The stock awards were valued using the $17-per-share IPO price. But what the men actually reap will depend on how the shares perform going forward. So far, so good: The shares are trading at more than $22 apiece.
Levine, who is also a board member, owned about 2.6 percent of the company and Anderson held just over 1 percent at the time of the annual proxy filing.
Both paid taxes up front on the full stock value, Streem noted.
Springleaf also detailed compensation for three other top officers, all of whom earned a more modest base salary, topped off by company shares: Minchung Kgil, chief financial officer, earned $2.54 million; Bradford Borchers, executive vice president, earned $2.76 million; and David Hogan, chief risk and analytics officer and senior vice president, earned $2.86 million.
Levine, 52, has been at Springleaf since October 2011. He previously was CEO for Capmark Financial Group Inc., a commercial real estate finance firm in Pennsylvania. He held several management roles at Royal Bank of Scotland before Capmark.
Anderson, 55, also arrived at Springleaf in October 2011. He previously was managing director in the Asset Backed and Principal Finance Department of Royal Bank of Scotland.
Springleaf, which previously operated as American General Finance, took a hard hit in the Great Recession. Private equity investor Fortress Investment Group in 2010 acquired 80 percent of the business from American International Group Inc. The deal included $20 billion in assets and $18 billion in liabilities, most of it debt.
Springleaf lends to consumers, including subprime loans for cars and home remodeling, through 830 branch offices in 26 states. The company in 2013 began offering loans online. Springleaf also owns two insurance subsidiaries.
The company laid off hundreds of employees and made other cost cuts in recent years as management restructured the business to eliminate mortgage lending.
Performance has rebounded since the Fortress buyout and Levine and Anderson's arrivals.
Springleaf finished 2013 with $93.7 million in profit, mainly because of non-controlling investments in other companies. Springleaf's core operations recorded a $19.3 million loss for the year. But the company swung to a $68.6 million profit for the first quarter of 2014.•
 
Please enable JavaScript to view this content.