Fishers Town Council will phase in property taxes on an $11 million medical office building planned for Interstate 69's Exit 210—a largely retail area near two hospitals that officials hoped would spur med-tech development.
Indianapolis-based Cornerstone Cos. could break ground this year on the three-story, 43,000-square-foot building, expected to be largely owned by the doctors who practice there.
Attorney Steve Hardin of Faegre Baker Daniels told the council June 2 that interest is strong among independent physician groups that want to be close to St. Vincent Fishers and Indiana University Health Saxony.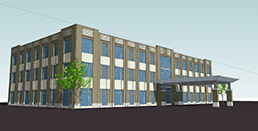 Two-thirds of the property taxes would be forgiven for six years. The four-acre site is designed to target medical and technology companies. (Rendering courtesy American Structurepoint)
Cornerstone—which builds, leases and manages health care properties—is targeting a four-acre site on Olivia Way. The building, which would back up to I-69, would be constructed of precast concrete and a glass curtain wall, Hardin told the council.
A partnership dubbed Deer Creek Point MOB LLC would own and operate the speculative building, which would be funded through the sale of "membership units" to participating doctors.
Cornerstone principals Bob Whitacre and Tag Birge also plan to purchase an interest in the company and act as its managers.
"It's a great area with visibility, demographics and rooftops being built nearby," Birge told IBJ.
The proposed project represents an $11 million investment that is expected to create 30 jobs within six years, Deer Creek Point said in its request for the property-tax abatement. The new positions would pay an estimated $45,000 a year—much better than the typical retail job.
Half the positions are expected to be created within three years, and the other half over the following three years.
The Town Council agreed to forgive two-thirds of the property taxes on the project for six years. The remaining tax liability is about what a retail project without tax breaks would pay, Community Development Director Tom Dickey told the council.
When the abatement runs out, Deer Creek Point's property tax bill is expected to be about $178,000 a year—$70,000 more than retail would generate, according to projections prepared by public finance firm H.J. Umbaugh & Associates.
The medical office building will "diversify the business mix in the area and create a higher taxable use for this parcel," Tim Gropp, assistant director of economic development, wrote in a summary prepared for the council.
Aside from the two hospitals, nearby development has been largely retail: A gas station, liquor store and fast-food restaurants are among the users.
Construction could begin this summer, pending approval of the development plan and building design. Early interest from physicians suggests the building could be "well over" half leased before work begins, Dickey said.
The Cornerstone partners are "very confident they will be able to put this project together," Hardin said in response to inquiries from the council. Work must start by July 31, 2015, to qualify for the abatement.•
Please enable JavaScript to view this content.