AYS Inc. is searching for a leader to replace CEO Ellen Clippinger, who retired this spring from the youth-serving organization she established almost 35 years ago.
Clippinger was a working mother of two when she found her calling in an empty classroom at IPS' School 70. Figuring other parents also needed after-school options for their young children, the former teacher and two colleagues from Ivy Tech launched At-Your-School Child Services with 10 students in 1980.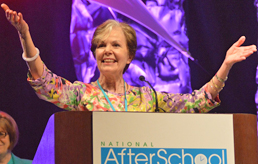 Clippinger was presented with the National Afterschool Association's Flame of Inspiration Award in 2013. (Photo courtesy AYS)
Now the not-for-profit offers more than 40 programs serving 2,000 children in five central Indiana counties. AYS also operates a training center that offers Safe Sitter classes in addition to professional development courses.
The organization also appears to be on solid ground financially, reporting total revenue of $5.4 million and expenses of $4.5 million during the year ended June 30, 2013, according to its most recent tax filings.
"It was just time for someone new to come in and give a different perspective," said Clippinger, 74. "As long as there are working parents, there will be a need for services like AYS. I don't see how that can change."
Even so, she said the landscape is shifting as charitable funding becomes more competitive and government resources more limited. Donors demand innovation, but it doesn't come cheap.
"I got pretty tired of writing grants," Clippinger said.
Families' expectations also have evolved. While safety and security have always been key, parents increasingly are looking for educational enrichment, she said, as well as help with homework.
Former Noble of Indiana CEO Ervin Picha is at the helm of AYS on an interim basis while the board of directors evaluates candidates for the position. Clippinger said she's staying out of the process to avoid casting a shadow over her successor.
"I started the organization—how do you change things with me there?" she asked. "That's why I can't go back now."
She may return as a volunteer eventually if her retirement schedule allows. For now, she's playing piano, practicing yoga and visiting family.
AYS board Chairman Tim Witmer expressed his appreciation for Clippinger in a prepared statement: "We are all grateful to her and know she has prepared this organization to continue its impact for years to come," he said.
Please enable JavaScript to view this content.