The continued revitalization of East 16th Street is about to get a boost from a Noblesville firm that's planning to invest $3 million to buy a century-old vacant building along the corridor.
Slane Capital is developing the project for Better Retail, which plans to move its headquarters from Hamilton County while converting the dilapidated structure into a hub for food-and-beverage startups.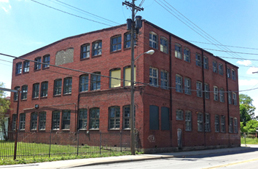 Work to convert the century-old Tinker Flats into a hub for startups will begin in August. (IBJ Photo)
Brothers Gerry and Geff Hays operate both Slane Capital, a startup investment firm, and Better Retail, which invents and produces products and technologies for grocery retailers.
"We're going to maintain the look and the feel of the building," Gerry Hays said. "We're not going to change a lot."
Work on the three-story, 30,000-square-foot building and a smaller accompanying structure is expected to start in August, with completion expected early next year.
Known as Tinker Flats, the 1915 building just east of the Monon Trail originally was home to a factory making bank furniture. In the 1950s an addition was built on the south end of the property to accommodate a recycling center.
That's where the food and beverage hub will be. Hays envisions tenant stalls in the space, which is about 8,000 square feet. He said glass garage-type doors would open the space to an adjacent courtyard that separates it from the main building.
The space would be ideal for a craft brewery, and for entrepreneurs making, for instance, chocolate, bourbon or bread, Hays said.
"The whole purpose is so people can come see people making stuff," he said.
Hays already has commitments from four tenants and plans to recruit nationally to fill the hub. The hope is that they'll stay in the neighborhood once they're able to branch out on their own, Hays said.
He draws his inspiration for the idea from a similar concept in Denver called The Source. The artisan food market occupies a former 1880s foundry in the city's River North District.
Slane Capital received a $1 million grant from the city, awarded as part of a federal Housing and Urban Development program, to buy the building and for construction and environmental cleanup costs.
Hays expect to complete the acquisition within 30 days. The building was owned by a local group that had planned to develop the property but never followed through.
"Not only does this project revitalize that building and that portion of our city, it will also bring job opportunities to that neighborhood," said Jennifer Fults, the city's administrator for community economic development.
The grant requires the project create 20 jobs for low- to moderate-income individuals, Fults said. Better Retail has 23 employees.
Hays reasons that Better Retail will have a better shot at attracting millennials to work for the company by operating from an urban warehouse than if it remained in traditional suburban space in Noblesville.
The company plans to take the top two floors of the three-story building and use the ground level for event space or possibly lease it to another tenant. Meanwhile, Better Retail would like to move its warehouse, also in Noblesville, to the nearby Keystone Enterprise Park.
The building is across from the former Gleaners Food Bank of Indiana Inc. building. It's empty, too, and also poised for redevelopment.
John Watson, whose company refurbished the old Bush Stadium into Stadium Lofts, bought the Gleaners building upon its departure in 2010. He had attempted to lease it but changed course due to lack of interest and put the property on the market about a month ago.
The one-level, 60,000-square-foot building and roughly 4.5-acre parcel is listed with Amy Burmeister at Summit Realty for $899,000. The structure likely would need to be demolished to make a residential project work on the property.
"The building doesn't have any windows, so it really doesn't have visibility for a rental or for-sale project," she said. "It's also a single story, so in terms of density, it really doesn't work for housing."
If both properties bounding East 16th Street get redeveloped, they'll be among a growing number of projects contributing to the corridor's revitalization.
Peter George and Thomas Main are set to open their Tinker Street restaurant, which like Tinker Flats is a nod to 16th Street's original name, in August in a 900-square-foot building at 402 E. 16th St.
The city is helping spur the revitalization by repaving 16th Street from Illinois Street to Central Avenue and repairing sidewalks and curbs, adding crosswalks and planting trees.
A few blocks west of the Tinker Street building, at 16th and Alabama streets, the Foundry Provisions café opened in April 2013. Farther west, at 16th and Pennsylvania streets, The Thirsty Scholar, a coffee, beer and wine bar, opened in July.
George and Main are not finished investing in the neighborhood. They have agreed to buy the dilapidated one-story building across from Tinker Street to convert into another restaurant.
They have yet to agree on a concept, but they hope to have the restaurant open within a year.
 
Please enable JavaScript to view this content.