The interstate overpass above East 10th Street historically has served as a barrier separating the Cottage Home neighborhood from downtown and nearby Massachusetts Avenue.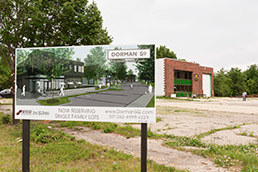 The former home of Kreager Brothers Excavating Inc. would be demolished to make room for 14 two-story homes. (IBJ photo/Eric Learned)
But that's beginning to change.

The connection of the Monon and Cultural trails has provided a link that makes the corridor a little more pedestrian-friendly and ushered in a wave of new-home construction.

A local developer plans to build 14 houses in the up-and-coming neighborhood as part of a project that could include a two-story mixed-use development along East 10th Street.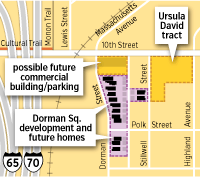 Stenz Corp. has received rezoning and variance approvals from the Indianapolis Historic Preservation Commission and plans to seek support from IHPC in August to begin building the first three homes.

The two-story, 1,600-square-foot residences starting in the high $200,000s would be built along Dorman and Stillwell streets south of East 10th Street.

Custom homebuilder Ursula David has built two custom modular homes—one for herself—and has a third one sold as part of a small, architecturally designed pre-fabricated development she launched last year.

Stenz is calling its project Dorman Sq., named for the street that runs north-south on which many of its homes will be built.

Ansty
"We see this lack of inventory for quality single-family houses that are within an easy walk to some of the downtown amenities," said Beau Ansty, Stenz's director of asset management, while explaining the developer's interest in the neighborhood.

The stretch of East 10th Street that has lured both David and Stenz is just a short walk from where the Monon and Cultural trails connect near bustling Massachusetts Avenue, making it more appealing to potential homebuyers.

Their homes, in the $300,000 range, are priced well above the neighborhood's median home value of $147,700, according to Cassidy Turley statistics.

But the higher price shouldn't be much of a deterrent, said Joe Everhart, a veteran residential real estate broker who specializes in downtown and surrounding neighborhoods. The location and a lack of new downtown homes in that price range are among the area's biggest attributes, he said.

"It's two minutes from Massachusetts Avenue," Everhart said. "If they are designed well and have good finishes, [Stenz] should have no problem selling that."

Founded in 1973, Stenz developed the downtown Residences at 429 on the Park, which added 18 condominiums and four penthouses to the top of a historic four-story office building at 429 N. Pennsylvania St.

Most recently, it built a custom home in Fletcher Place south of downtown, is reconstructing the pedestrian plaza at Vermont Street on the downtown canal, and is finishing the James Whitcomb Riley visitor's center at the historic home in Lockerbie.

The architect for Dorman Sq. is Demerly Architects. Ansty described the designs as a modern take on the historic cottages in the neighborhood featuring simple, clean lines and open floor plans.

Stenz assembled the land on which it plans to build from three separate owners, one of which was Fort Wayne-based Kreager Brothers Excavating Inc. It operated until a few years ago from the building at 10th and Dorman streets that Stenz plans to demolish to help make way for its project.

Just to the north along 10th Street between Dorman and Stillwell streets, Stenz envisions a two-story mixed-use development with retail on the ground level and residential above.

The East 10th Street Civic Association is partnering with Stenz on the mixed-use development and has received $300,000 in federal HOME Investment Partnerships Program funds from the city to build a mix of market-rate and affordable units.

The association also landed $150,000 in Community Development Block Grant funds for streetscape improvements and to help extend the Pogues Run Trail along the north side of East 10th Street.

"Together, this will set a precedent for the near-east side, offering a variety of options for home ownership and retail development," said Tammi L. Hughes, the association's executive director, in an email.

Neighborhood support

The Cottage Home Neighborhood Association supported David's project and also backs Stenz's development, said Dan Doll, president of the association.

That part of the Cottage Home neighborhood lends itself to that need for development of scale, he said. "Stenz's project is not so grandiose that it would dilute that process."

David has accumulated enough lots for nine homes but the number will shrink by at least one, as the buyer for the second home purchased two lots on which to build the house.

She doesn't foresee any competition between the separate developments.

"I'm not really concerned," David said. "If I've inspired anyone to move that way, then it's a good thing."

The Cottage Home neighborhood is bounded by Michigan Street to the south, 10th Street to the north, Arsenal Technical High School to the east and the railroad tracks next to Interstates 65-70 to the west.

It's composed of roughly 190 homes and 400 residents with an average household income of $46,384, according to Cassidy Turley statistics. Between 2000 and 2010, Cottage Home lost a striking 16 percent of its population, the stats show.

Residential projects like the one Stenz is pursuing could help reverse the trend. It plans to break ground on the first few homes by late summer, pending IHPC approval in August.

"We've had a good deal of interest," Ansty at Stenz said, "and it's really so far just been from putting the sign up and word of mouth."

Signs of life

The housing projects are part of a broader neighborhood renaissance.

New buildings include the John H. Boner Community Center, the St. Clair mixed-use senior housing project, the remodeled and expanded Jefferson Apartments, and The Peoples Health Center.

The area also benefited from Super Bowl-related investments that helped build the $11.3 million Chase Near Eastside Legacy Center, which houses a health and fitness facility and about a dozen local organizations to provide cultural programs.

And on the north side of 10th Street, across from David's two modular homes, an old factory bounded by Massachusetts and Brookside avenues has found new life.

The factory, started by Louis Schwitzer—who won the first race at Indianapolis Motor Speedway (not the 500)—originally made automotive cooling fans. Today, it houses RecycleForce and about 30 local artists who lease small studio spaces.

National Bank of Indianapolis owns the cavernous, 500,000-square-foot facility but is closing in on a buyer, said Ralph Balbar, president of Newmark Knight Frank Halakar and listing agent for the building.

"It's an awesome little piece of property," he said, "and the group that's going to buy it is going to put some improvements into it."•