Baldwin & Lyons Inc.
A vehicle insurer with neither a Flo nor a gecko, Baldwin & Lyons Inc. at least gave its shareholders a 7-percent return in 2013.
Profit rose 15 percent, to $36.6 million, or $2.45 a share.
Premiums for truck fleets rolled ahead for insurer Baldwin & Lyons. (IBJ file photo)
Premiums from its core truck fleet business zoomed ahead $50.2 million, or 21.4 percent.
Not doing as well was its professional liability insurance line, launched in 2010 to diversify revenue.
B&L subsidiary Protective Specialty sells professional liability products to everyone from insurance agencies to real estate firms. While total premiums written at B&L companies last year rose to a record $370 million, the professional liability line was the only one that generated an underwriting loss, CEO Joseph DeVito told shareholders.
He said most losses were confined to a lawyer liability line, which is being re-evaluated and will see additional restrictions.
Also last year, the insurer moved from downtown to new headquarters in Carmel.
Calumet Specialty Products Partners LP
Calumet Specialty Products Partners LP eked out a profit of $3.5 million in 2013 after posting profit of $205.7 million in 2012. Revenue for the Indianapolis-based oil refiner hit $5.4 billion, a 16-percent increase from $4.7 billion in 2012.
Calumet management attributed the profit decline to higher operating costs.
The full-year results were affected by expensive maintenance turnarounds at a couple of major refineries as well as several acquisitions and construction of a new refinery in Dickinson, N.D., said Calumet CEO Bill Grube.
One major expense, company officials said, involved the December acquisition of New Jersey-based lubricant manufacturer Bel-Ray Co. Inc. The price was not disclosed.
The company also announced investments in a pipeline in November and a facility expansion in Pennsylvania in July 2012, which Calumet officials said continued to affect the 2013 ledger.
Celadon Group Inc.
Celadon profit rose after it updated its fleet, and increased driver recruitment and training. (Photo courtesy of Bloomberg)
Celadon made some investments in 2013 that boosted profitability, and the trucking company said it will keep driving down that path.
Celadon finished updating its fleet of tractors and trailers, stepped up driver recruiting, and opened a driver-training school in Indianapolis and completed the acquisition of Hyndman Transport Ltd., based in Wroxeter, Ontario.
With more drivers on the road, generating more dollars per truck and mile driven, revenue rose 2.4 percent, to $613.6 million, and profit grew 7 percent, to $27.3 million.
Celadon ended the fiscal year June 30 with $225.7 million in stockholder equity and cash flow at $27.7 million for the fourth quarter.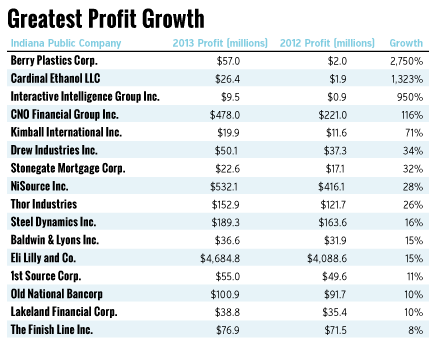 "Our balance sheet remains solid and we retain significant liquidity to support the growth of our business," CEO Paul Will said in a statement. "Our increased cash flow generated from operations will allow us to effectively continue to execute on our growth strategy."
CNO Financial Group Inc.
Unlike Rodney Dangerfield, CNO Financial shares earned some big-time respect in the market in 2013.
Shares of the company, aiming to capture the hearts and minds of "middle America" with life insurance and other financial products, finished the year at $17.63—an increase of 89 percent.
Some of that rise is likely due to share repurchases that totaled $252.6 million.
But the company also posted solid profit of $478 million, or $2.06 a share—compared with $221 million, or 83 cents, in 2012.
CEO Ed Bonach and his team have been diligently making progress in disposing of soured blocks of business from CNO's predecessor, Conseco Inc. Late in the year, CNO off-loaded $550 million of long-term-care reserves to a reinsurer.
Principal subsidiary Bankers Life posted an increase in earnings, before interest and taxes, of $311 million, up 3 percent.
Carmel-based CNO also owns insurers Washington National and Colonial Penn.
Duke Realty Corp.
Real estate investment trust Duke Realty swung to a profit as occupancy of its commercial buildings increased. (IBJ file photo)
Duke Realty Corp. ended 2013 on a high note, posting a healthy profit with a slew of projects under development.
The Indianapolis-based real estate developer reported profit of $153 million compared with a loss of $126.1 million in 2012, as occupancy rates at its properties continued to improve.
Occupancy rose to 94 percent in 2013, from 93 percent the previous year.
Funds from operations, a key measure of performance for real estate investment trusts, increased from 98 cents in 2012 to $1.07 last year.
Duke Realty started construction last year on $666 million of new developments, with more than half the amount ($362 million) in the fourth quarter alone.
Projects under construction included 11 medical office buildings totaling 590,000 square feet, eight industrial facilities totaling 3.1 million square feet, and three office complexes totaling 652,000 square feet.
Conversely, property sales totaled $877 million, including $188 million of proceeds from the sale of a 391,000-square-foot retail center in South Florida.
Hurco Cos. Inc.
Indianapolis-based Hurco Cos. Inc. saw profit from sales of its interactive controls for metal cutting and forming tools cut nearly in half during fiscal 2013 due to third- and fourth-quarter softness across Europe.
Sales declined 4 percent in Europe—its biggest market—while sales in its second-largest market, North America, flattened. In Asia, where the company had about 8 percent of its 2013 revenue, year-over-year revenue was down 26 percent. Company officials cited weak market conditions for declines in that market as well.
In the fiscal year ending Oct. 31, Hurco earned $8.2 million, or $1.25 per share, on revenue of $192.8 million. In the same period a year earlier, the company earned $15.6 million, or $2.40 per share, on revenue of $203.1 million.
Interactive Intelligence Group Inc.
Interactive Intelligence profit began to snap back as its new, fee-based business model gained traction. (IBJ file photo)
Profit at Interactive Intelligence exploded tenfold in 2013.
The software developer's performance followed a year in which earnings plummeted as the company shifted its business model to focus on subscriptions rather than upfront fees.
Interactive, which develops software used by companies to manage customer call centers, closed the year with $9.5 million in profit, which soared from a meager $906,000 in 2012 but was still below $14.8 million for 2011.
The plunge and recovery had a lot to do with the companies' move to cloud-based software.
Interactive previously set up call centers and installed computer equipment on-site, then charged a fee. Today, the tech firm provides its services through a cloud and collects subscriptions, which means revenue trickles in much more gradually.
Wall Street rewarded Interactive as it recovered from a rough 2012. Company shares almost doubled in value, to $67.36, by the end of 2013.
KAR Auction Services Inc.
KAR Auction Services benefited from a recovering auto market, and grew revenue and income despite the expensive logistical challenges of responding to Superstorm Sandy along the Atlantic coast.
Carmel-based KAR has three lines of business related to auctioning cars—salvage, whole cars and dealer financing. While Sandy provided plenty of salvage inventory, KAR said it took an $8 million hit after accounting for towing costs, leasing temporary processing locations, and temporary labor.
But there could be an upside in the long term. CEO Jim Hallett said KAR impressed auto insurers with its quick response and might have gained market share.
Revenue for the year was up 11 percent, to $2.2 billion. Profit dropped 26 percent, to $67.7 million, primarily because of a non-cash charge. Adjusted net income per share rose 11 percent, to $1.19.•
Please enable JavaScript to view this content.