A recession and rising international competition kept Indianapolis-based Vertellus Specialties Inc. from soaring as quickly as its owners planned, but the company's chief says the chemical maker—a leading manufacturer of Deet insect repellent—still will be put up for sale.
Vertellus was acquired in late 2007 by Chicago private equity firm Wind Point Partners with the intention of building the company and then selling it about five years later—in 2012.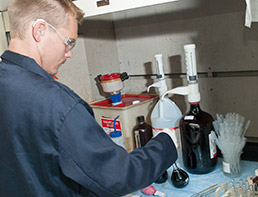 Indianapolis-based Vertellus, which traces its roots to Reilly Industries, specializes in pyridine derivatives. (IBJ photo/Eric Learned)
Wind Point stuck with Vertellus through the recession and then weathered the launch of competing pyridine manufacturing plants in China and India, and continues to streamline and look for additional acquisitions, said Vertellus CEO Rich Preziotti.
"It will probably be another two to three years to the point where the company is in a position where it can be sold and they can get the return they want," Preziotti said of Wind Point. "They invest in companies and try to build better companies."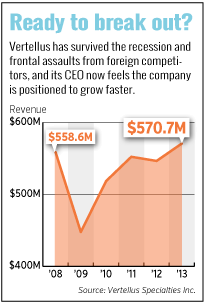 Vertellus ranked 22nd on IBJ's list of the state's largest private companies, with $570.7 million in revenue last year. The figure was up 4.4 percent from 2012.
The company resulted from the 2006 merger of longtime local chemical maker Reilly Industries Inc. and New Jersey-based Rutherford Chemicals. The buyer, New York-based Arsenal Capital Partners, sold it to Wind Point.
Vertellus sells more than 500 products to 2,000 customers around the world. In addition to the Indianapolis plant, it has seven locations in the United States, Belgium, China and India. The Indianapolis plant employs 250 and its downtown headquarters has 44.
The vast majority of Vertellus products are sold to distributors or manufacturers of end products.
Pyridine, a compound used in herbicides, insecticides, vitamin B3 and even Head & Shoulders shampoo, generates 60 percent of Vertellus revenue.
Another group of chemicals derived from castor oil find its way into paints, polymers used in aerospace and medical, and additives in plastics, among other uses. Vertellus is the world's largest maker of Deet insect repellent.
Vertellus has started restructuring its vitamin B3 business by closing a small, costly plant in Belgium and building a niacinamide plant in China slated to open in October.
The reorganization also involves expanding the Indianapolis plant with $15 million in investment over three years, increasing capacity 30 percent. The Indianapolis plant is cost-competitive because of low energy costs and its full integration with pyridine and picoline, a compound often used in agricultural chemicals.
Vertellus also contracted with Hanwha Q Cells to build and operate a solar farm on Reilly's former Maywood Plant site on Tibbs Avenue and sell the electricity to Indianapolis Power & Light Co. The plant treated railroad ties with the preservative creosote before closing in the early 1970s.
Wind Point has invested more than $100 million in Vertellus, Preziotti said.
Preziotti anticipates $600 million in revenue this year and more than $700 million annually before another three years elapse, Preziotti said.
Bob Shortle, senior managing director of Periculum Capital Co. LLC, an Indianapolis investment bank, said Wind Point likely would receive a pretty good price for Vertellus today if company valuations over time are any indication.
In late 2007, when Wind Point acquired Vertellus, such companies were selling for about eight times earnings before interest, taxes, depreciation and amortization. Valuations fell during the recession and have recovered to about nine times EBITDA, Shortle said.
A buyer probably would keep the company in one piece, Preziotti said.
Likely buyers would include a larger private equity firm or chemical company.
Vertellus will continue to invest in the Indianapolis plant because its scale and sophistication make it cost-competitive in a price-sensitive global pyridine market, Preziotti said.•
Please enable JavaScript to view this content.