Burned by the economic meltdown and the scorching summer of 2012, five Indiana golf courses are rolling out a new game this year in hopes of bringing a little more green to their greens.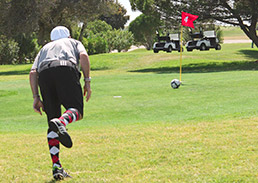 The argyle socks and soccer shoes required at American FootGolf League-sanctioned events such as this one will also be mandatory on Indiana courses. (Photo courtesy of Indiana FootGolf Association)
A golf-soccer hybrid dubbed FootGolf teed off at The Legends Golf Club in Franklin for the first time last month, drawing more than 70 entrants from across the world.
Since then, play on its 18-hole The Dye Course has been about evenly split between FootGolfers and traditional duffers, said club pro Ted Bishop—co-founder of the Indiana FootGolf Association and president of the PGA of America.
By next summer, he hopes to see organized leagues and a full schedule of sanctioned events throughout the state.

Bishop
"It's catching on," Bishop said, citing widespread growth of the sport, played with soccer balls on golf courses that have installed special 21-inch holes. As in golf, each hole has a par setting and the lowest score wins.
Already popular in Europe, the sport was introduced in California in 2011. Haggin Oaks Golf Course in Sacramento began scheduling regular play last July.
When Bishop first heard the buzz at a PGA trade show in January, about two dozen facilities in 10 states offered FootGolf, he said. By mid-June, the total exceeded 125 courses in 31 states.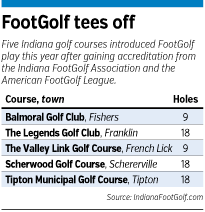 Proponents tout the additional revenue courses could get from the game, along with the possibility of an even bigger prize: new players fresh from the soccer field.
There are about twice as many U.S. soccer players as golfers, so they're a coveted demographic. And their skills drills have long included a version of FootGolf, Bishop and others said, requiring precision kicks to goal posts, trash cans and other stationary objects. Applying golf concepts makes it a game (every kick counts) and introduces the additional challenges posed by course topography.
"The potential for player development from a golf standpoint is enormous," Bishop said. The Legends keeps a database of FootGolf players, for example, and plans to offer introductory golf clinics later in the season. "It's new people, different clientele. We've got to try to put a golf club in their hands."
How many run-and-gun soccer stars will take up the game of golf remains to be seen. And some local golf course operators are content to let others do the experimenting.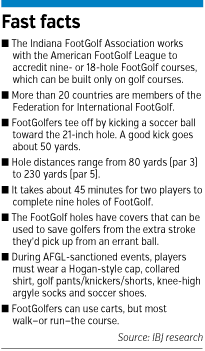 Indianapolis-based Essig Golf Management, for example, has not introduced FootGolf at the three Indiana courses it runs: Hickory Stick Golf Club in Greenwood, West Chase Golf Club in Brownsburg, and Rolling Meadows Golf Course in Gosport.
"We're going to see if it sticks," said Senior Vice President Chip Essig.
Essig wants to see how other facilities integrate the two sports, since FootGolf typically is played more quickly than golf (hole distances are shorter). That could make scheduling difficult for busy 18-hole courses like his.
"Hard-core golfers aren't going to want to mess with [FootGolfers] during their rounds," he said. "Golf is our primary business. If we use the course for something else, we can't use it for golf."
Bishop admits The Legends is in an unusual position because it offers a 27-hole championship course in addition to the quicker-playing—and under-used—par-three Dye Course, which was retrofitted to do double duty as an accredited FootGolf venue.
Competitors in both games begin from the same tee markers, he said, and FootGolfers play to holes about 30 to 40 feet on either side of the golf pin.
Reaction so far has been positive.
"It has been very well received by golfers who have been on the course at the same time," Bishop said. "We haven't had any conflicts or issues."
He has heard similar feedback from course operators in Indiana and elsewhere. Public golf courses in particular typically have slow times on their schedules that could be filled with FootGolf games, Bishop said. And a savvy designer could lay out 18 holes of FootGolf on a standard nine-hole course.
"There are creative ways to do it," he said. "Golf is such a traditional sport, sometimes tradition almost becomes our enemy."
Indy Parks is open to using its public courses in innovative ways, but Golf Operations Manager Kent Knorr said the parks department likely will wait for the game to catch on before jumping on the bandwagon.
"We're very demand-driven, and it's such a new concept," Knorr said. "If there's a push for it, we'll see what we can find."
Balmoral Golf Club in Fishers is among the early adopters, adding nine holes of FootGolf to its traditional nine-hole course in May. The private estate course also allows some guest play as it looks to more than double its golf memberships to 100.
Golf can be intimidating to the uninitiated, Course Director Sam Foley said, but FootGolf lowers the barriers to entry—for course operators and players alike.
"Anybody can kick a ball," said Foley, who designed the par-36 FootGolf course with input from Indy Eleven Coach Juergen Sommer and Indiana FootGolf Association co-founder Dan Kapsalis. All courses must be approved by the American FootGolf League.
Playing nine holes of FootGolf at Balmoral costs $10 (it's $15 at The Legends), and soccer balls are available to rent for $3. Foley said adding the game was a relatively low-cost, low-risk experiment.
"Our game's flat, and this could be a great way to get potential golfers on the property," he said. "We stand to benefit from creating new golfers, selling equipment, selling lessons."
Still, it took some convincing to get club owner Rick Eaton on board. As a golf purist, he had trouble envisioning how the course could blend the games. For him, seeing was believing, said his wife and business partner Diane Eaton.
"He's much more comfortable with it now, after watching play and seeing everyone have so much fun," she said.
The emerging sport could get a boost from this summer's World Cup soccer frenzy, said William Knox, director of sports development for the Hamilton County Sports Authority. Although he hasn't fielded many requests for FootGolf courses, non-traditional sports are gaining popularity.
And soccer is undeniably hot, he said.
"If USA wins another match, everyone's going to want to play soccer," Knox said.•
Please enable JavaScript to view this content.