Don't doubt West Coast investor Parker Hinshaw's dedication to his home state of Indiana.

He and his wife, Jean Balgrosky, in 2012 founded San Diego investment firm Bootstrap Incubation LLC and in 2013 the Bootstrap Venture Fund, which have funded three Indiana companies in less than a year. A fourth deal is about to close.

"I have lots of good reasons to want to come to Indiana," said Hinshaw, a Hamilton County native. "And, well, it's just home. You want to give back."

Hinshaw did well for himself in Indiana. He founded Westfield-based MaxIT Healthcare Holdings Inc. before selling his stake in 2012 as part of a $473 million sale.

Some of the payout he and Balgrosky walked away with went into Bootstrap, alongside funding from other MaxIT executives.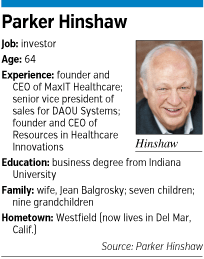 Bootstrap has since led three tech investments that, when combined with cash from other funders, totaled $14.3 million for central Indiana businesses.

Perceivant, a data analytics startup, secured $2.1 million in September 2013. CloudOne, which manages private cloud networks providing IBM software, locked in $2.8 million in venture capital in February. And Indigo BioSystems, a developer of software for laboratories, announced an $8.5 million investment in early June.

A fourth Bootstrap deal in Indiana is about to wrap up, Hinshaw said, but he would not disclose details.

Not set on Silicon

The firm, with a $5 million seed fund and $10 million venture fund, is by no means on a level with the billion-dollar investors that rain money on Silicon Valley. And Bootstrap directs plenty of its interest to its own area, with half of the deals going to California companies.

But Hinshaw plans to keep pursuing investments in Indiana.

"What I wanted to do was share the success that I've had with doing startup companies with other people who had that desire but may need a little help," Hinshaw, 64, said in a phone interview from his home in the San Diego suburb of Del Mar.

Bootstrap pursues companies that can collaborate with others in a portfolio based on life sciences, preventive health care, big data, and software as a service.

Perceivant, for instance, has integrated its analytics software with several other Bootstrap firms' products. And Indigo BioSystems, less than a month after closing its investment, is discussing how its lab software could sync with Bootstrap's life sciences businesses, founder and CEO Randy Julian said.

Having a Hoosier on the West Coast, meanwhile, gives the companies an inroad to an investment landscape that Indiana companies often find difficult to traverse, in part because investors typically prowl for deals much larger than what most Indiana tech companies need.

For instance, venture capital deals in the first quarter of 2014 in California averaged $13.5 million, versus $2.8 million in Indiana, according to PricewaterhouseCoopers.

"There are a lot of California-based investment groups that know a lot about software," Julian said. "But very few of them have the kind of roots in Indiana that Bootstrap does."

Medical history

Hinshaw's and Balgrosky's experiences in health care technology date back decades.

Before he was a business owner, Hinshaw developed and implemented systems for Community Hospitals. He also started a health IT consulting firm, Resources in Health Care Innovations, which later merged with publicly traded consultant DAOU Systems Inc.

Balgrosky had top technology officer roles for then-Holy Cross Health System in South Bend and San Diego-based Scripps Health before she became a health IT lecturer at University of California Los Angeles.

Hinshaw started MaxIT in 2001 as a broad array of technology services for health care providers.

The couple had lived in Balgrosky's home state of California since 1996. But Hinshaw knew he wanted to launch the company with a headquarters in Indiana, where he already had business contacts and family to help him run the company.

MaxIT grew to $179.4 million in annual revenue and about 1,300 people throughout the United States and Canada, with 75 of them in Westfield, by 2011, the year before it sold to Virginia-based Science Applications International Corp.

"As we approached what we thought would be the appropriate exit point for MaxIT, we started planning for what we would do next," Hinshaw said.

He and Balgrosky weren't going to turn away from their experience in technology and running businesses.

"We concluded we needed to keep doing that in order to be happy."

Indiana's benefits

The couple was already considering an incubator and investment firm when they sold MaxIT.



They stepped up plans after the buyout, and Bootstrap was ready for business two months later.

The firm started targeting investment deals in its immediate area of San Diego, but by 2013 it started eyeing Indiana.

"I'm very proud of my Indiana roots," Hinshaw said. "I think there's a value system, a work ethic, a wholesome, basically, way of thinking that, when applied to business, creates a very positive energy."

Much lower operating and labor costs played a large role as well, he acknowledged.

And a lack of venture capital in the state makes it much easier for an out-of-state investor to secure a deal, he said.

Perceivant, which began in 2012, was Bootstrap's first Indiana investment.

The downtown-based data analytics company was operating with two people when it began discussions with the investment firm in mid-2013. It has seven people today, with much more ambitious plans to top 50 by 2018.

"We'd probably be at far less of a headcount" without the investment, said company founder and CEO Brian Rowe. The deal also helped Perceivant obtain tax credits from the state to support the hiring spree.

Perceivant is also able to tap support services, such as sales and marketing, which Bootstrap provides through its incubator, Rowe said. Also, the company gained access to Bootstrap's connections in California, which is a much larger market for Perceivant.

"We didn't just want to get cash," he said about the investors he spoke with. "For our situation and what we're doing, it's great to have Parker available. He's lived it. He's done it. And he's seen it be successful."

Accidental fund

Bootstrap last year decided it was time for another round of fundraising, so Hinshaw turned to his colleagues from MaxIT and other friends in the Indianapolis area.

"I'm pretty naïve from the standpoint of investing in venture funds. I just knew I trusted Parker," said Bootstrap investor Mark Fangman, who worked for Hinshaw since the 1980s, most recently as executive vice president of sales for MaxIT.

Hinshaw solicited investments with plans to replenish the company's coffers for seed funding.

"I got a $6 million response, basically," he said.

He decided to keep going, and eventually pulled in $10 million. It was enough to start a venture fund for slightly more established companies, ones pulling in $500,000 or more in annual revenue.

CloudOne and Indigo BioSystems both received investments from the more recent fund.

On their own

The 2,000 miles between Bootstrap and its growing number of Indiana investments means the firm lets its portfolio companies operate without much day-to-day control.

"They kind of let us run our own show, but that's not to say that they're disinterested," said John McDonald, CEO of CloudOne.

Hinshaw plans to keep out of daily business, saying he chose the investments he did largely because he trusts the executives to run their own companies.

He has no intention of moving the businesses closer to him as many investors do. Too many employees leave the companies, costing more money and leaving little benefit, he believes.

"The idea of uprooting and moving offices would be way out of whack for me," he said. "I just don't get that."

And much like how he plans to keep the companies in place, he sees no reason to move from California.

"It's basically between 72 and 82 [degrees] every day. I'm 75 yards away from the Pacific Ocean. I have family here," he said. "Why would you leave that?"•