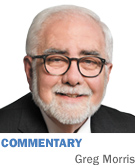 The hot topic of late, unfortunately, is that the city of Indianapolis appears to be under siege. There's a war in some of our streets, and public safety officials need help battling a bold criminal element. The community is grieving for another fallen police officer, 22-year IMPD veteran Perry Renn. Officer Renn was just doing his job when he lost his life to more senseless violence.

A lot of opinions have been expressed in the media of late as to what needs to be done to curb the violence. Some of the ideas would take decades to pay off. But, there are some shorter-term strategies I can endorse that will show more immediate results. First, I fall on the side of those who suggest much stiffer penalties are needed for crimes committed with a firearm. I don't know what the correct number of years of prison time should be, but the penalties should be much more severe than they are now.

Most of the shootings so far this year involved people with serious criminal records. These people need to learn that, if they use a gun in a crime, they might not see the light of day again. Also, citizens need to be confident that violent felons aren't returned to the streets via an early release.

Also, you've got to go after the illegal guns on the street and the people who provide them to anyone with a criminal record. As I endorse this strategy, I'll point out that you won't find a more passionate pro-gun advocate than I am.

And I do think we need more police officers on the street. But that costs money. Where's the funding going to come from? Possibly a portion could come from a small tax increase for Marion County residents. But I don't believe that's the only place we need to look. What about finding more money from people who live outside the county, but work here? I fall into that category.

I'm able to reap all the benefits afforded to me from working in the great city of Indianapolis and yet, currently, my personal tax contributions don't touch the costs of services and amenities I use. That's the way our current tax structure is set up. Your local/county taxes stay in the county you live in, and they don't go to the county you work in. The 205,000 or so of us who work in Marion County but live outside the county aren't contributing our fair share to help Indianapolis continue to keep up with its infrastructure and public safety needs.

Now, I'm not advocating a huge tax increase. But the local/state tax dollars I'm already paying are not distributed equitably. Some of that money could be used to help adequately fund public safety and infrastructure needs in Indianapolis.

It's very complicated, and the devil is in the details, but I am advocating for a major overhaul of how we look at regional distribution of state and local tax dollars we're already paying. Don't we have a multibillion-dollar state surplus right now?

The Indianapolis Chamber has advocated for a small commuter tax for those of us who live in the suburbs and work in Indianapolis. That could be a small part of the tax overhaul needed. The bottom line is, I'm willing to pay more to help keep our city strong, growing and well-protected. I'm willing to pay more for better public safety resources, better infrastructure and modern mass transit.

If Indianapolis isn't financially healthy and strong and considered a safe place to live and work, you can't run and hide in the suburbs and think everything will be fine. We're a regional economy and we need regional revenue strategies to address pressing needs. As Indianapolis goes, so goes Carmel, Fishers, Zionsville, Avon, Brownsburg, Greenwood, and so on.

Now, I know many of my Republican friends, along with all the anti-tax bloggers, aren't going to like any kind of tax increase. You'll point out that 92 percent of the total city budget is already dedicated to public safety and that, if there isn't enough money, we need to find more cuts. Also, I do understand we're already paying extra food and beverage taxes to enjoy amenities like Lucas Oil Stadium.

I admit I don't have all the answers. But I do know we're fighting a war in some of our streets. It takes money to fight a war. Whatever the correct strategies are deemed to be, we need to work together to find the funding needed to beef up public safety and put more police officers on Indianapolis streets.•

__________

Morris is publisher of IBJ. His column appears every other week. To comment on this column, send e-mail to gmorris@ibj.com.