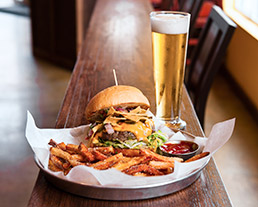 More than 125 craft beers help a wide range of burgers go down smoothly at The Pint Room. (IBJ Photo/Eric Learned)
Two obvious questions will likely arise when you hear that a new burger joint has opened in Carmel's downtown near the Monon Trail. The first: Is it better than Bub's? The second: Is it livelier than Scotty's?

I'm going to dodge both questions. For two reasons.

First, because, in any town, there's always room for more than one delicious burger joint or fun drinkery. Second, because The Pint Room (110 W. Main St., Carmel, 571-8400) also offers a dizzying selection of beer, which gives it a separate (but complementary) draw.

I won't however, dodge the satisfying food produced in the open kitchen of this Ohio-based import. It began with the Soup of the Day ($4/$6). Now, one can reasonably object to the fact that the selection on my visit was Cheeseburger Soup and the only alternative was Chili. Why have two meat-based bowls—and no other soup—when, chances are, diners will be getting carnivorous with their entrees as well? Still, while the menu-planner might have stumbled, the kitchen delivered with hearty, but not overwhelming, full-flavored pleasure.

The pleasure continued with the burger itself. Here, USDA prime chuck and Kobe beef are hand-pattied into a dozen or so sandwich combos, including the Hangover (smoked cheddar, smoked bacon, hash browns and egg), the California (Taleggio cheese, avocado, arugula, alfalfa sprouts and cherry pepper relish), and the P-B-B- & J (sea-salted peanut butter, candied bacon, Monterey Jack cheese, and both strawberry preserves and sliced strawberries).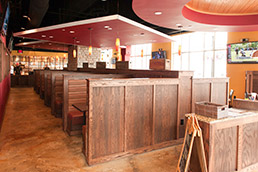 Cut line goes here. (IBJ Photo/Eric Learned)
After much deliberation, I settled on the Nacho Burger ($13), which judiciously used pickled jalapeno, onion, guacamole, lettuce, pico and tortilla strips to accentuate rather than dominate the burger. The brioche roll did a reasonable job of holding things together and the side of fresh-cut fries proved as addictive as they should be (sweet potato fries or kettle potato chips are the no-upcharge alternatives).

Straying from the core offerings, we also tried the Spicy Peanut Chicken Sandwich ($11) which was mildly spicy, vaguely peanutty, and couldn't quite contain its bean sprouts and green onions within its multigrain roll. Not bad, just not worth skipping a burger for.

If you are having a meat bypass, consider opting for one of the salads. The Three Berry ($9) provided more than just the title trio. In addition to strawberries, blackberries and blueberries, it also featured cantaloupe, goat cheese, tomato, candied pecans—in moderation—and spinach with a well-balanced honey mustard dressing.

Of course, if the food were the main attraction, the name would probably be different. This is The Pint Room, after all, which means 125 draftable craft beers in the lineup with a list of availables both on the wall and covering a side of the menu.•

—Lou Harry