Navient Corp., which employs 2,300 in its Fishers, Indianapolis and Muncie offices, is in the running for a big contract with the U.S. Department of Education even as the student-loan-servicing company faces criticism after admitting it overcharged military service members by millions of dollars.

The Delaware-based company, which split off from Virginia-based Sallie Mae on April 30, is one of four companies in the running for a contract to originate student loans for the federal government.

That contract, currently held by Ireland-based Accenture, was valued at $880 million over 9-1/2 years—or an average of $93 million per year.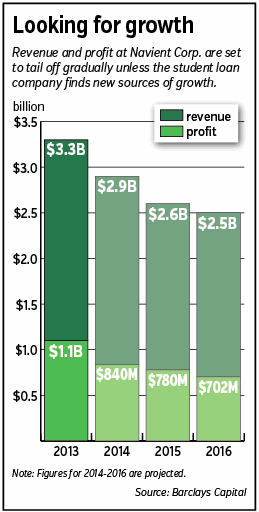 That's not much for a company that had revenue last year of $3.3 billion. However, Navient's core business of loan servicing is expected to decline and the company is looking for new sources of growth.

Barclays Capital analyst Mark DeVries expects Navient's revenue to plummet 26 percent by 2016, to $2.5 billion. He also expects Navient's earnings from its core business to plunge 37 percent by 2016.

Navient could avoid that outcome by acquiring new blocks of loans or, as the Department of Education contract would help it do, branching into new lines of business.

DeVries recommends buying Navient's stock because, as its student borrower clients pay off their loans, it will free up money—now required to be held as reserves—that Navient can use to buy back its own stock. The new lines of business, if they materialize, would just be icing on the cake.

"Although we view Navient as more of a run-off entity that will return capital to shareholders, we forecast a long tail of net interest income from the loan portfolios, stable earnings from the servicing/collections business, and significant capital returns, with the potential for valuation upside if it can make accretive investments in the business," DeVries wrote in a May 2 research note.

Navient's executive team, which is led by former Sallie Mae CEO Jack Remondi, has said one of those "accretive investments" could be a new business originating student loans on behalf of the federal government.

"The strength of this company is, our history is, that we are able to handle large volumes of highly complex activities. We do it in a very efficient, cost-efficient manner and with high performance and in a strong compliance infrastructure. And those three key skill sets will serve us very well as we work to expand our business—whether we're doing it for the Department of Ed, Treasury, or state and municipal entities," Remondi told investors during an April presentation.

Navient is competing against Accenture, Nelnet and Team Great Lakes for the U.S. Department of Education contract.

If Navient wins the contract, which would not begin until October 2015, it's not clear it would have a direct impact on Indiana, where the largest chunk of Navient's employees work.

However, because Navient's Indiana work force includes staffers who serve the rest of the company—such as human resources and information technology professionals, as well as loan servicing personnel—it's likely that any boost in business would have some impact here.

"We can't comment on any particular new contract possibility, but new business is good for the company and that's good for Indiana," wrote Navient spokeswoman Patricia Christel in an email.

The major hurdle for Navient may be opposition from critics upset that it and Sallie Mae charged current and former service members higher interest than they should have under federal rules. In May, the two companies agreed to pay $60 million in restitution.

About 30 percent of the restitution is going to service members who filed the correct documentation to qualify for lower interest payments, but whom Sallie Mae charged higher interest rates due to "processing errors." The rest will go to service members who would have qualified for lower interest payments but who failed to file all the correct paperwork.

After announcement of the settlement, the AFL-CIO; the U.S. Student Association; the American Federation of Teachers; and Jobs With Justice, a coalition of union groups, promoted a petition asking Education Secretary Arne Duncan to cancel contracts with Navient and Sallie Mae, whose corporate name is SLM Corp.

The two companies decided to split so Sallie Mae could focus on traditional banking services for students—private loans and savings accounts, for instance—while Navient focuses on collecting payments for government entities.

"We think the government shouldn't be in business with a company with a record of shameful and deceptive loan servicing and lending," stated a May 22 email seeking signatures.

In a June story, The Washington, D.C., newspaper The Hill noted that Navient and Sallie Mae also have been the target of criticism from the Obama administration's Consumer Financial Protection Bureau.

"Navient may face an uphill messaging battle in order to win the contract," The Hill stated.

In late June, Navient did win a five-year extension of a separate contract it holds with the U.S. Department of Education to help those who take out student loans find and stick to repayment plans. However, nine Democratic senators announced earlier this month that they are looking into that decision by the Obama administration.

Most of the Navient personnel who work with military service members are based in Fishers, Christel said in her email. She defended Navient's record of service to borrowers in the military.

"Navient helps more Americans successfully pay back their student loans than any other servicer," Christel wrote, noting the loans Navient handles are 30 percent less likely to default than those handled by other companies. "We're very proud of our service to service members, and our Fishers center has played a key role."•