The Indianapolis International Film Festival opens July 17 at the Indianapolis Museum of Art, but I've been screening its films for weeks both as an IIFF jury member and to create this preview. Of course, a big part of film fest pleasure is the unexpected, so I'll limit spoilers. And please note the festival offers far more than the films I mention here (find a full lineup at www.indyfilmfest.org). Let's take the films I did see alphabetically:
The apocalyptic short "Aftermath" tells a harrowing survivalist story with minimal dialogue, maximum impact and armrest-clutching intensity. "Beginning of the End" fragments a common breakup story by showing only the first and last minutes of key dates. Strong acting by both partners helps considerably. "Ben's at Home" is in dire need of a stronger obstacle at its core, but this light tale of a man who opts to live his life at home should be a good entry film for those looking for a slight rom-com variation. "Big Significant Things" seems cliché at first—guy hits the road (without telling his girlfriend) in order to find himself before fully committing. But surprising details make the trip worth taking.
In the strongest of the narrative films I screened, the sadly poetic "Bluebird," a young boy is left on a school bus over a freezing night, and its driver (Oscar-worthy Amy Morton) and the boy's mother (ditto Louisa Krause) are just two of the townspeople affected. In the emotional short "Bravest, the Boldest," a Harlem mother dodges the Army officers at her door delivering dire news. "Confusion Through Sand" takes us to the battlefield and uses harried animation to capture the intensity and fear.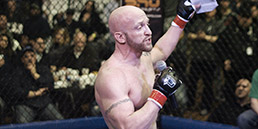 "Fight Church." (Photo courtesy of Indianapolis International Film Festival)
Should a church be promoting mixed martial arts cage fighting? What if its pastors are the combatants? One of the strengths of "Fight Church" is that it offers compelling voices on both sides of a question you probably never knew was being asked: "Can you punch someone in the face in the name of Jesus?"
My guiltiest pleasure of the fest is "Fort Tilden," which will inevitably be compared to "Romy and Michelle's High School Reunion." In it, a pair of dimwitted gals shirk responsibility in order to make their way across Brooklyn for a day at the beach. Some may be put off by the fact that just about every complication on their amoral trip is the result of their own idiocy and selfishness but, to me, that's part of the fun.
An edgy cross between "You've Got Mail" and "Looking for Mr. Goodbar," "Heart Machine" focuses on a young man (John Gallagher Jr., best known from Broadway's "Spring Awakening") who comes to suspect his Skyping gal pal isn't really where she says she is. A terrible title and a sagging middle mar "I Believe in Unicorns," an otherwise well-made, well-acted piece about a teen girl who takes off with her sketchy boyfriend. Like being forced to watch a way-too-long wedding video of people you don't know or like, "Ice Saints" offered the only excruciating viewing experience of all the IIFF movies I screened.
"Impossible Light" should empower civic-planning dreamers with its story of a massive art project. "Jingle Bell Rocks!" spends a bit too much time with its central character but, nonetheless, is a fun look at obscure Christmas songs and the people who seek them out (I only wish the Phoenix Theatre's Bryan Fonseca had been included). A clueless woman travels halfway around the world under the delusion that the film "Fargo" contains clues to an actual buried bounty in "Kumiko, the Treasure Hunter". I had trouble believing the core premise, but the episodes along the way keep things interesting.
The term "military operations" usually implies an attack, but the gripping "Last Days in Vietnam" focuses on evacuation, combining remarkable footage and heartbreaking talking-heads commentary into an outstanding documentary. "Point and Shoot" chronicles how an aimless American ends up fighting with rebels in Libya without trying to turn its subjects into a flawless hero.
Film festivals can be overrun with movies about twentysomethings trying to find themselves—and homecoming movies are a dime a dozen—but "Skook" transcends the genre's clichés by offering a complex heroine and looking in a very human way at what and why we allow ourselves to forgive. Less successful is "These Hopeless Savages," a difficult-to-buy, mismatched-guys, road-trip movie that livens up with the arrival of a fun, interesting female character—then makes the mistake of ditching her shortly thereafter.•
__________
This column appears weekly. Send information on upcoming arts and entertainment events to lharry@ibj.com.
Please enable JavaScript to view this content.