Compare Ted Green to famous documentary filmmaker Ken Burns and a smile spreads across his face. He allows himself to ponder that for just a moment.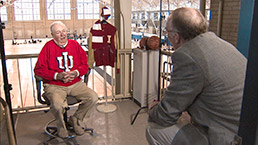 Ted Green interviewed Bob "Slick" Leonard five times. (Photo courtesy of Ted Green)
Then comes a chuckle that morphs into a hearty laugh.
"I feel like a single-A ballplayer talking about Babe Ruth when I'm talking about Ken Burns," Green said.
That's not the way former Indiana Pacers coach and longtime broadcaster Bob "Slick" Leonard—the focus of Green's latest work—sees it.
"This guy is something else. I mean, what a worker," Leonard said. "He's one of the best researchers I've ever seen."
Green recently completed production of "Bobby Slick Leonard: Heart of a Hoosier," a 90-minute documentary that will debut at Bankers Life Fieldhouse July 29. The television premiere will air on WFYI Channel 20 Aug. 7—the day before Leonard is inducted into the Naismith Memorial Basketball Hall of Fame.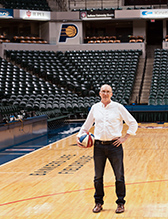 Filmmaker Ted Green spent 15 months researching and writing a documentary about the life of Indiana Pacers coach and broadcaster Bobby "Slick" Leonard. Green interviewed 37 people on camera for the film. It premieres at Bankers Life Fieldhouse July 29 and on WFYI-TV Channel 20 Aug. 7. (IBJ photo/Eric Learned)
In four years, Green has gone from a behind-the-scenes Indianapolis Star editor working on the sports and digital fronts to one of the best-known local filmmakers. The elevation of his new career has been as fast as the election of Leonard, 82, to the hall of fame was slow.
This isn't Leonard's first go-around with Green, who interviewed him several times in 2012 when Green was producing "Undefeated: The Roger Brown Story," a 71-minute documentary that won an Emmy.
"He spends so much time with you when he's working on these projects, he becomes part of the family," Leonard said.
Jeannie Brown, widow of the late Pacers great Roger Brown, said Green became so close to her family that he and his wife and 13-year-old twin daughters still come over for birthday parties and other social events—18 months after filming wrapped up.
Green's ability to gain his subjects' trust might be what allows him to unearth facts never before made public.
"Even with people who may be shy or aren't very forthcoming, he has a manner that just helps people open up," Brown said.
She called Green "soft-spoken and patient," often odd characteristics for someone who worked in the rough-and-tumble world of big-city journalism.
Newspaper days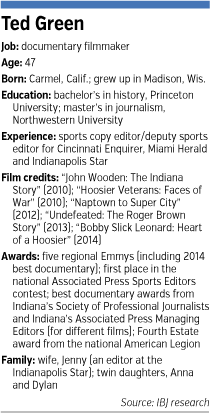 After graduating with a bachelor's in history from Princeton University, the California native who spent most of his youth in Madison, Wisconsin, enrolled in Northwestern University to pursue a master's in journalism.
"I really didn't have much of a firm career plan," Green said. "When it came to journalism, I really didn't know what I was getting myself into."
With two degrees in hand, Green said, he worked odd jobs for a temporary agency for six months until landing a full-time job as copy editor for the Vero Beach Press Journal in Florida in 1991.
"I wanted no part of it, but my parents were thrilled, so there was no saying no,'" Green said. "I packed up my U-Haul and my [pet] fish and away I went."
In less than a decade, Green went from the Florida paper to the Cincinnati Enquirer as sports copy editor and then to the Miami Herald, where he eventually became deputy sports editor.
When he and his wife, Jenny, had twin daughters in 2001, they began to rethink where they wanted to live. Jenny took a job as an editor with the Indianapolis Star and for the next three years, Ted was a stay-at-home dad, penning his first—and only—novel. He said it sits in his underwear drawer.
"Someday, I'd like to revisit it," he mused from a small office inside WFYI-TV Channel 20, where he now works as an independent contractor.
Love of storytelling
It was his love of literature and storytelling that propelled Green, the son of a University of Wisconsin professor, into documentary filmmaking.
"My goal as a kid was to be Cormac McCarthy or William Faulkner," Green said.
But in 2004, he was called back into journalism, taking a job on the Star's copy desk, where he worked with sportswriters and headed up enterprise and investigative projects. He was later in charge of the paper's Indianapolis Colts coverage.
"If I learned my craft and really earned my chops at Miami, I was able to spread my wings working for the Star," Green said.
His boss, then-editor Dennis Ryerson, saw Green's talents blossom.
"I regard Ted as an absolute genius when it comes to storytelling," said Ryerson, who now lives in Denver. "His work is magical."
Along the way, Green discovered a fondness for working on digital and Internet projects. He created the Star's "Manning Meter," an online tool that allowed readers to compute almost any statistic available on then-Colts quarterback Peyton Manning.
Green was put in charge of the Star's online sports coverage, and in 2009 began to dream of unique ways to cover the 100th birthday of legendary basketball coach and native Hoosier John Wooden.
Project gone wild
Green had an idea for a short online video and began collecting clippings and photos on Wooden's past.
"Much of what was known and has been told was after he arrived at UCLA and became the wizard of Westwood," Green said. "I wanted to take a look at his Indiana roots."
"John Wooden: The Indiana Story" was born. But the five-minute video Green envisioned turned into a 35-minute opus.
Skeptics of Green's hours-long toiling on the project emerged. Co-workers wondered why Green had photos and clippings of Wooden spread across the newsroom floor.
"When I found out how much time he spent on it and how long [the video] was, I thought, 'holy crap!'" Ryerson said. "I thought it was going to be a three-minute video. I had some explaining to do to my supervisors."
Someone at the Star recommended Green take his documentary to WFYI.
"It was about as cold a call as you can make," Green recalled.
The video caught the eye of Clayton Taylor, WFYI's vice president of production, who took it to CEO Lloyd Wright.
"I could see from his initial documentary that he had a way of telling a story that would connect with the audience," Wright said.
With Ryerson and Star ad executives rallying around it, Marsh Supermarkets agreed to sponsor Green's documentary.
"Once we explained the project and sold the sponsorship, that was the end of the questions [from Star management]," Ryerson said. "The project paid for itself many times over."
Later, Purdue University came on as a sponsor and the documentary has aired on public TV stations in 80 percent of U.S. markets.
On the heels of that success, Green partnered with longtime Star staffer Dawn Mitchell to produce "Hoosier Veterans: Faces of War." That documentary, too, was sponsored by Marsh.
"I experienced more joy working on those two projects than I had on any I had worked on in newspaper journalism," Green said.
Buoyed by his success, Green left the Star in late 2010 to pursue filmmaking full time. His timing could not have been better.
He finished "Naptown to Super City," about how Indianapolis used sports to spur economic development, in time for the documentary to be aired as Indianapolis was hosting the 2012 Super Bowl.
In March 2013, he completed "Undefeated: The Roger Brown Story" as the former ABA Indiana Pacers star was set to be inducted into the basketball hall of fame.
Money concerns
But his transition hasn't been without its bumps. As an independent filmmaker, he left his regular paychecks behind. It's up to Green to raise much of the $200,000 to $250,000 to make each of his films—that's about one-fifth of what ESPN pays to make a documentary.
"I'm proud of what we've been able to produce within our means," he said.
Not only does Green research and write the documentaries and is involved with direction, he's also the narrator. Initially, he did narration to save money, but Wright said, "We've found he has a great voice for the work."
Green admitted that, the first couple of years outside the comfy confines of the Star, he took "a big pay cut."
"It's a new career and you have to pay your dues," Green said. "You can't just say you're 47 and you're immune to paying dues."
Now Green is making about what he did as an editor at the Star, adding, "The satisfaction I get from the work I do has never been higher."
Green isn't the only one satisfied. The sponsor base for his documentaries continues to grow. WFYI also provides lots of support, including personnel and facilities.
"Part of being a good community partner is being involved in quality community projects, and these documentaries certainly fall into that category," said Ed Bonach, CEO of CNO Financial Group, which has sponsored Green's last two projects.
With the release of the Slick Leonard documentary fast approaching, Green is already mulling ideas for his next project. He said it's too early to reveal plans.
"What Ken Burns does so well is, he researches things so thoroughly," Green said. "I have to do my research before I make any decisions. Content is the most important thing to Ken Burns. And it's the most important thing to me.
"If you don't have the content, nothing else works."•
Please enable JavaScript to view this content.