The owner of a nightclub in the heart of Broad Ripple believes his landlords nearly doubled his rent for just one reason: to force him and his mostly African-American clientele from the building.

Charging racial discrimination, Anies Alfayyad last year sued brothers Marc R. Fortney and Eric M. Fortney, who own the building at Broad Ripple and Guilford avenues that houses Alfayyad's Bleecker Street bar.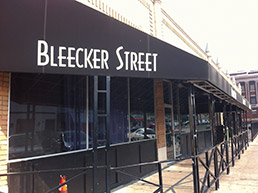 Anies Alfayyad has operated Bleecker Street on this spot since 1999. (IBJ photo/Scott Olson)
Alfayyad won a major victory July 14 when a federal judge ruled that his case could move forward in part despite attempts by the Fortneys—who deny the allegations—to get it dismissed. A trial is set for Oct. 14 in U.S. District Court in Indianapolis.

Judge William T. Lawrence's decision comes at a time Broad Ripple is wrestling with image issues tied to increasing violence. City officials July 10 took the unusual step of closing a two-block portion of Broad Ripple Avenue to motor vehicles on Friday and Saturday nights for the rest of the summer to reduce violence in the business and entertainment district.

Alfayyad has occupied his space near the strip since 1999. The Fortneys bought the building in 2008 and soon after opened their Brothers bar next to Bleecker Street.

It didn't take long for Alfayyad's relationship with the new landlords to sour, his suit claims.

Alfayyad asserts in his complaint that the Fortneys regularly used the terms "ghetto" and "those types of people" to identify Bleecker Street customers and further told him that he needed "to get rid of these people."

Though the Fortneys never used the terms "black" or "African-American," Alfayyad believed that's whom they were referring to, according to his suit.

He also claims the Fortneys play country music at their bar while Bleecker Street customers are on the patio to send a "hostile message" to them.

The Fortneys declined to comment on the pending case. But Michael Rabinowitch, a lawyer at Wooden & McLaughlin LLP who is representing them, disputed Alfayyad's claims.

"It's clear from the defendants' filings that they strongly deny the tenant's allegations of wrongdoing and deny that they did anything that's discriminatory," Rabinowitch told IBJ.

Alfayyad could not be reached for comment, and his attorney, Hamid Kashani, didn't return phone calls seeking comment on the suit.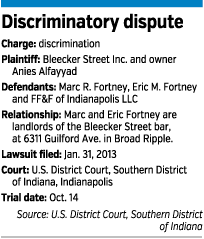 Alfayyad's disagreement over his rent started when his lease came up for renewal in July 2009, about a year after the Fortneys purchased Broad Ripple Square, the building that houses Brothers and Bleecker Street.

Alfayyad had been paying $15.45 per square foot, but the Fortneys countered with $27.50, nearly double Alfayyad's rate, claiming that's what the Broad Ripple market supported.

The Fortneys agreed to reduce the rate to $25 per square foot, according to the complaint, but only if Alfayyad agreed to prohibit dancing, hip hop music, disc jockeys, live entertainment and exotic dancers.

Alfayyad refused but ultimately agreed to the new rate.

In the meantime, Alfayyad attempted to sell his business to three different prospects, including a team that owns numerous restaurants in the Broad Ripple area.

The team, Bill Ficca and Jamie Browning, own interests in such establishments as 317 Burger, Northside Social and Usual Suspects, next to Bleecker Street on Guilford Avenue. Ficca and Browning declined to pursue Bleecker Street after failing to negotiate a better lease rate, according to the suit.

Reached by phone, Ficca lauded the location of Bleecker Street but not the rent.

"It continues to be unrealistically high; that's the reason we walked away," he said. "At the time when we looked at it, the market was more in the $15 range. Given where things are right now, people are even struggling to pay that."

In his decision, the judge said Alfayyad presented enough facts to allow part of his complaint to move forward.

"The defendants maintain that the statements [they made] refer to the behavior of Bleecker Street's clientele, rather than their race," the judge wrote. "However, a reasonable jury also could infer—depending on what testimony it finds more credible—that the defendants' displeasure with Bleecker Street was based on the race of its customers."

The judge rejected Alfayyad's other claims of discrimination against the Fortneys.

No evidence suggests the brothers eliminated parking spaces meant for Bleecker Street or that they denied customer access to his bar, the judge said. In addition, the Fortneys did not discriminate against Alfayyad when he attempted to sell his business and transfer the lease.

While Ficca and Browning rejected the rent, another prospect lacked the financial wherewithal to satisfy the Fortneys, and the third prospect wanted the space for a bar that might compete too closely with Brothers.•