The site of the former Wishard Memorial Hospital could become home to a new combined downtown hospital for Indiana University Health.
IU Health has decided to merge its University and Methodist hospitals at some point in the future, either by consolidating one of those facilities into the other or by building an entirely new site where they would merge.

Hess
"It could be where the old Wishard is, a new hospital," said Dr. Jay Hess, dean of the IU medical school, whose professors will treat patients at the combined hospital. He also noted that a new hospital would be better suited than University and Methodist to the way health care is delivered now and in the future.
The Wishard site, at Indiana Avenue and West 10th Street, is just a possibility at this point, according to IU and IU Health officials. Other locations on the IUPUI campus or downtown also could become home to a new hospital.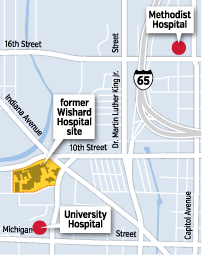 It's not clear that building a new hospital—which could have a price tag of $1 billion or more—would prove to be the right direction. IU Health must balance the operating efficiencies it would gain from a new facility against the investments it has in its older facilities and the headaches of finding new uses for older facilities.
Another issue is the potential traffic and parking problems it could face if it diverts all the traffic that flows into its Methodist campus, at West 16th Street and Capitol Avenue, to the already-congested IUPUI campus.
A committee of more than 20 people from IU Health and the medical school is studying those issues and aims to make recommendations to the IU Health board by October. It's not clear when the board might make a decision. Once it does, the consolidation will be a long process, perhaps extending over a decade.
"The former Wishard property has been mentioned by some, so while it could be a viable option, it is merely 'on the radar' until we are closer to turning to the facilities portion of the project," IU Health spokeswoman Whitney Ertel wrote in an email. "First we will determine the future model of medical care, then how and where it will be delivered."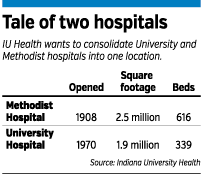 Under that future model, IU Health does not expect to see fewer patients. In fact, the aging of baby boomers almost certainly will produce a surge in the need for medical care. But less of that care will involve staying overnight in a hospital.
That's due partly to advances in technology. It also stems from changes in how health care is paid for: Consumers are bearing more of the cost and health insurers are pushing health care providers to do everything possible to avoid expensive surgeries and hospital stays.
That's causing lots of hospitals around Indianapolis and around the country to look at ways to consolidate their facilities or to consider if they could operate more efficiently with a new facility, said Don Altemeyer, a principal at Indianapolis architecture firm BSA LifeStructures who focuses on academic medical centers like the IU Health-IU medical school complex.
"Everybody has old buildings, and buildings they don't need," Altemeyer said.
Reusing Wishard
Those trends drove Wishard, which has since changed its name to Eskenazi Health, to vacate its 17-building complex last year and move into a new, $754 million hospital a little farther west on 10th Street.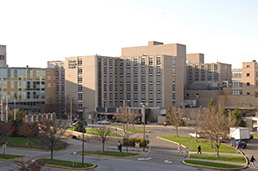 Indiana University plans to raze the core of the former Wishard Memorial Hospital. It could become home to a replacement for IU Health's Methodist and University hospitals. (IBJ file photo)
In exchange for access to that site, which was part of the IUPUI campus, Wishard gave its former site to Indiana University, which is now mulling what to do with the 1.3 million square feet of buildings.
IU has said it plans to build up a health sciences hub at that site, with a new drug discovery center started by the IU medical school, a life sciences business incubator, dentistry labs, academic space for the school of public health, and potentially joint classrooms for medical, nursing and dentistry students.
IU already has identified three main buildings it will tear down—which together include more than 500,000 square feet. It could knock down two more buildings that have more than 180,000 square feet, said Tom Morrison, IU's vice president of facilities and planning.
"Is it possible that a hospital could fit on that site? I think the answer is yes. Because anything is possible," Morrison said, noting that a hospital could be built with more stories to give it enough space.
But Morrison stressed that IU has done no planning for a hospital there or anywhere else on the IUPUI campus, which has other locations that could accommodate a new hospital.
Putting a new hospital on the former Wishard site could create traffic problems. Already, more than half the traffic that flows to IUPUI each day comes in via 10th Street, according to IU's 2011 master plan.
And Morrison does not view the streets around that site as having excess capacity, which would likely be needed if IU and IU Health decided to bring even more patients, staff and visitors.
IU did inherit the former Wishard parking garage, which could be expanded, Morrison said. However, the Methodist hospital campus has four large parking garages for its staff and patients and visitors.
"If you're going to increase the number of people who come on to the peninsula, it will drive the need for some different traffic alignment and the need for parking," Morrison said.
Potential cost savings
Consolidation alone will save IU Health money, although IU Health officials have declined to say how much.
A rule of thumb in hospital architecture, Altemeyer said, is that an academic medical center needs about 3,000 square feet per bed. By that metric, Methodist and University would need a combined 3 million square feet or less to serve patients.

Altemeyer
The two hospitals currently boast much more, about 4.4 million square feet.
Because it costs $15 to $20 per square foot per year just to maintain a hospital, according to Altemeyer, IU Health could save $20 million to $30 million per year just in maintenance costs.
On top of that, IU Health could save money by eliminating duplicate equipment and support staff.
If IU Health combined University and Methodist simply by renovating one of them, it also could save money. Altemeyer estimated renovations cost 10 percent to 40 percent less per square foot than building new, which runs $325 per square foot or more.
Sometimes, however, renovations simply can't be done. New hospitals require about 15 feet from one floor to the next, to accommodate modern ductwork, which is critical for reducing infections.
But older facilities, such as Methodist and University, tend to have only 10 feet to 11 feet between floors. The only way to bring in modern ventilation systems is to convert an entire floor from patient care to ductwork and wiring, something Methodist already has done in some areas.
A new facility would have the advantage of allowing IU Health to operate more efficiently. Since the mid-1990s, hospitals have tried to bring all staff and equipment to patients, rather than wheeling patients around to different departments.
That allows them to employ fewer nurses and therapists, to keep infection rates down, and to keep patient satisfaction up.
In addition, IU Health is in the midst of implementing the Lean Six Sigma processes to help it cut $1 billion in annual expenses.
Altemeyer said a well-designed facility can contribute about 30 percent toward those efficiencies.
"You can see why they're looking at this," he said.•
Please enable JavaScript to view this content.