In "A Piece of Her Heart: A Tribute to Janis Joplin" (at the Cabaret at the Columbia Club July 25-26), Karen Irwin gave one of the most astounding, magnetic performances I've seen on a musical stage. Not just this musical stage. Any musical stage.
Presenting neither a traditional concert nor an impersonation show, Irwin and her rock-solid band offered a stunning fusion of biography, autobiography, history, and soul (and blues)-searching, all punctuated by great songs given no-holds-barred performances. Sans wig, sans period costumes, sans impersonation, Irwin found the beauty in Joplin's not-pretty styling, filtering it through her own persona and sensibilities. What emerged was a show celebrating two artists—Joplin and Irwin.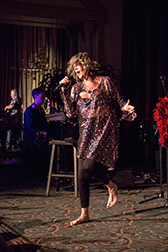 Not your typical Cabaret show: Karen Irwin wailed the Joplin songbook. (Photo courtesy of Mark Sheldon)
The smartly written evening opened boldly, with Irwin in the back of the house singing "Mercedes Benz," quickly following it up with "Me and Bobby McGee." By knocking out (and knocking the ball out of the park with) two of Joplin's most familiar songs, she both got the audience on her side and dispensed with the "waiting-for-the-hits" syndrome. From there on, Irwin seemed to be living Joplin's songs, moment-by-musical-moment, taking time in between to explore the roots of this unique sound. And just when we thought her voice couldn't give any more, Irwin was at the ready with commentary—including thoughts from Joplin—about voice cracking and vocal imperfections.
I don't rave often. And as much as I want to share my enthusiasm for what I saw on stage at the Cabaret, I hesitated when writing this column. That's because the same Karen Irwin who shook me to the core wailing "Ball and Chain" and "Try" directed a play of mine a few years back. She and I have had long talks about life and theater (and the intersection of the two). And, when I've been out of town, she's even fed my cat.
She is a friend, you see. And those of us in this critical position have to be careful about both conflict of interest and the impression of conflict of interest. Our reputation depends on that credibility—off-stage feelings about the talent shouldn't affect our opinions of what happens on stage. Cross the line and we look like Fred Flintstone and Barney Rubble when they awarded their wives first place in the Miss Water Buffalo contest they were judging.
As such, I considered not mentioning the show at all.
But given what I witnessed at the Cabaret—given the honesty of Irwin's passionate performance and the holistic beauty of the program—I just couldn't do that. If, after all of this disclosure, you still doubt my credibility in this case, well, I suggest you seek out anyone who had the pleasure of being at the Cabaret for Irwin's sold-out shows.
__________
Speaking of vocalists, I also attended, 24 hours earlier, the Great American Songbook high school vocal awards competition at the Palladium.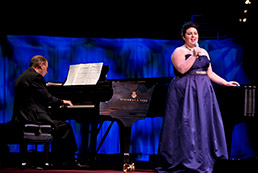 Maddie Baillio took the top prize at the Great American Songbook high school vocal competition. (Photo courtesy of The Palladium)
In it, a dozen teens from around the country competed for top honors and career grooming from the Great American Songbook Initiative. The winner—Maddie Baillio of League City, Texas—was the front-runner from the beginning, when her sincere, understated and lovely version of "Misty" set the bar very high. In the end, she scored a $3,000 award plus a year of appearances pushed by Feinstein and company. (Last year's winner, Julia Goodwin, is, as of this writing, still in the running on "America's Got Talent.")
My only regret of the evening is that the dozen talented teens weren't then invited over to Karen Irwin's Saturday show for a master class in stage presence.•
__________
This column appears weekly. Send information on upcoming arts and entertainment events to [email protected]
Please enable JavaScript to view this content.