A stunning string of sales of minor-league baseball teams this year suggests the Indianapolis Indians' current stock buy-back offer might be undervaluing the franchise.

The Indians likely would fetch well over $40 million and possibly $50 million or more in today's market, sports business experts said. But the $30,814 per share the AAA farm club is offering its stockholders values the team at $22.2 million, based on the 719 current shares of Indians stock.

The buy-back offer is considerably higher than the $15,329 per share Indians officials offered in 2006, but sports business experts say it's still deeply discounted from the current trend.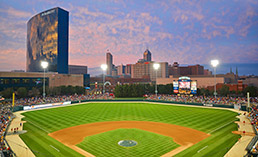 Indians officials say they continue to focus on providing affordable, family-friendly entertainment at Victory Field. (Photo courtesy of Indianapolis Indians)
"I would guess that, if they put 100 percent of the team up for sale in this current market, they'd do better than [$22.2 million]," said Robert Caporale, chairman of Boston-based Game Plan LLC, a sports business consultancy that helped broker sales of the Boston Celtics and Los Angeles Dodgers, in addition to several minor-league baseball deals. "Potentially, they could do a lot better."

This year alone, three minor-league transactions have served as an eye-opener.

In January, a group led by multiple franchise owner Ken Young paid $16 million for the class AA Huntsville Stars. Young plans to move the Stars out of their 30-year-old stadium in Alabama into a new, $36 million home in Biloxi, Mississippi. When that is done, he said, the value of his team will be about $22 million.

In June, former Texas Rangers CEO Chuck Greenberg bought the class AA Frisco Rough Riders in Dallas for a record $32 million.

Before the ink could dry on that deal, HWS Group, led by former IMG executive Michael Savit, shattered the short-lived record by paying $40 million for the class A Dayton Dragons in Ohio.



The demand doesn't stop there.

Art Silber, who owns the class A Potomac Nationals in Virginia, said he's had calls from serious buyers who offered $15 million for his team, "without even looking at the [financial] books."

Stuart Katzoff, who led a group that includes Indiana Pacers owner Herb Simon, bought a AAA team in Tucson, Arizona, in 2006 for $15 million. After moving the team to Reno, Nevada, Katzoff is convinced it is now worth north of $30 million.

Irrelevant for Indians?

Indians officials seem unfazed by the recent transactions.

"Since the Indians are not for sale, those amounts have no relevance to our operation or long-term goals," said Bruce Schumacher, the team's vice president of corporate affairs. "Our focus continues to be on the presentation of wholesome, low-cost family entertainment at Victory Field … while steadily building the franchise's value."

But it would seem logical to use recent transactions as a gauge to value the Indians, said Mark Foster, portfolio manager and chief investment officer of Columbus, Indiana-based investment firm Kirr Marbach & Co.

"There's so little liquidity in a company like the Indians, that it can be a challenge to determine value," Foster said. "I would think looking at sales of other minor-league teams would be one of the best gauges of what the market is."

Schumacher
The Indians buy-back offer is figured "based on previous year's earnings," Schumacher said.

Schumacher said in an email response to questions that the buy-back offer price "is determined by the Indians board," but would not elaborate on the formula. It does not seem to directly correlate to earnings.

For its 2013 fiscal year, the team listed revenue of $11.8 million, earnings before taxes of $2.3 million, and profit of $1.4 million. For the 2005 fiscal year, off of which the 2006 buy-back price was presumably based, revenue was $7.8 million, earnings before taxes was $1.5 million, and profit was $962,000.

One thing is certain: The Indians are consistent moneymakers. If the team grinds out another profit this year—and with attendance nearing a record high, that's almost a sure bet—it will mark its 39th consecutive one. The Indians also have a strong balance sheet, with almost $11 million more in assets than liabilities.

A lot more than current financial performance goes into computing the value of a minor-league baseball team, Caporale said.

"Sure, you have to take into account revenue and [earnings before interest, taxes, depreciation and amortization], but you also have to consider the market and league the team plays in, the quality of its venue, and the lease deal and naming rights it has with that facility, the team's Major League Baseball affiliation and its management," he said.

One major factor that has helped minor-league teams with a Major League Baseball affiliation churn out reliable profits and increase in value is that player salaries are paid by the parent club.

Unfavorable lease deal

With a better lease deal and a Victory Field naming-rights sponsor, the Indians could be worth even more.

The Indians have one of the least favorable lease deals of any professional sports team in Indianapolis. In addition to paying $500,000 annually to lease Victory Field—known to be one of the best venues in minor-league baseball—the team also pays for day-to-day upkeep, operations and capital expenses.

The Indiana Pacers and Indianapolis Colts pay far less to lease their facilities. Also, the city pays outright for the Colts' stadium operations, and gives the Pacers a hefty subsidy to cover theirs.

The Indians' Victory Field lease expires March 31, 2016; the team is currently negotiating with the Capital Improvement Board for a new one.

"If the Indians' first priority is to its shareholders, as many would argue it should be, they should be seeking a much better lease deal," said Richard Sheehan, a business professor at the University of Notre Dame whose areas of study include the economics of sports. "There's no way you could argue that getting a better lease deal wouldn't boost the value of this team and the investment the shareholders have in the franchise."

A public service

Indians officials have said the primary reason they buy back stock is to give shareholders who want to cash out of the thinly traded company a place to do so.

There are so few Indians stock transactions that the team was delisted from NASDAQ's Pink Sheets earlier this year.

One of the most recent sales of Indians stock on record was in 2010, when the state's Attorney General's Office auctioned off eight shares of unclaimed stock ranging in price from $25,500 to $27,505 apiece. But, Sheehan pointed out, that was before the recent explosion in valuations.

While the Indians say the buy-back is a service to shareholders, Foster said the team is buying back the stock "at a considerable discount."

But, he added, that's a strategy often employed by companies to protect the value of remaining shares. When the Indians buy back shares, they retire them, giving remaining shareholders a bigger slice of the team.

In the Indians' case, the biggest beneficiary would be Indians Chairman Max Schumacher—Bruce's father—who owns more shares than anyone. He has 310 shares, or just over 43 percent of the team.

Two-sided comparison

When looking at stocks as a whole, Foster said, the Indians' valuation isn't far off base. Current stock prices of companies on the Standard and Poor's 500 represent 1.6 times their annual revenue. Stock prices on the Russell 2,000, an index of smaller companies, reflect two times revenue.

The Indians buy-back offer values the team at nearly two times annual revenue.

But "professional sports teams aren't like other companies," said Caporale, who helped broker the record sale of the Dayton Dragons. "There's a scarcity of this commodity. There's always going to be a very finite number of them as a whole. And that's often going to put the valuation at a premium."

According to recently published financial data, the Frisco Rough Riders sold at 3-1/2 times annual revenue and the Dayton Dragons sold at four times annual revenue.

If the same formula were used to value the Indians as was used in Dayton, the local team would carry a value of more than $47 million.

Caporale wouldn't comment on the Dragons financials or compare them to the Indians. But he said, "If the [Indians] are generating over $1 million annually in real profits, they're doing really well. I mean really, really well."•