Gwen Robinson is having a tough time unloading the former Gatling Gun Club building on North Illinois Street downtown that she purchased at auction nearly four years ago.
Robinson, who owns AJ's Lounge on North Senate Avenue near West North Street, bought the Civil War-era structure with the help of an outside investor and had planned to move her bar there.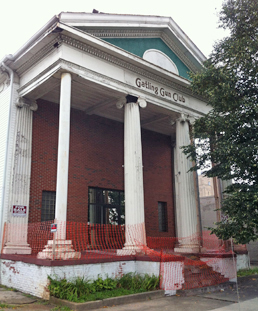 After plans to redevelop the club as a bar fell apart, deals for apartments and a bed-and-breakfast also failed to pan out. (IBJ Photo/Scott Olson)
But renovating the building at 709 N. Illinois St. became too much of a project, and a "headache," she said.
"I'm hoping like heck," Robinson said of getting the investment back. "I've got my fingers and toes crossed."
Robinson paid $250,000 in November 2010 for the 8,000-square-foot building constructed in the early 1860s as a house and then converted into the club in 1919. It's been vacant since 2008.
The men's private club, which struggled to attract younger members in recent times, was founded in 1910 and was named for Richard J. Gatling, a city resident who invented the famous repeating gun in 1861.
AJ's Lounge, meanwhile, has been at its current address since the late 1960s and a part of her family for decades, Robinson said. She's decided to keep the bar on Senate Avenue for now. When she bought the Gatling Gun Club building, she had been seeking a larger space where she could add a kitchen to serve more meals.
She put the gun club building back on the market about a year ago and has received some interest. One group considered redeveloping the building into apartments and another, from Cincinnati, thought it might be ideal for a bed and breakfast. But she couldn't reach terms with either.
Mark Dollase, Indiana Landmarks' vice president of preservation services, toured the building before gun club members sold it and said it still holds potential, despite a series of remodels through the years that have disqualified it from appearing on the National Register of Historic Places.
"What I loved about the place is that in the back is an open courtyard that's walled in, and it has an amazing view of the skyline," he said. "You could really do some cool and interesting things with the building."
Perhaps a brewpub or winery, Dollase suggested.
Dollase has been unable to confirm through the years that Indiana architect Francis Costigan designed the building. Costigan lived from 1810 to 1865 and designed the Lanier Mansion and the Charles Shrewsbury House, both of which are in Madison, Indiana, and on the National Register. But there's no historical mention that ties him to the Gatling Gun Club building, despite some assertions he's the designer.
The timing seems to match up, though. He left for Indianapolis in 1851 and operated a hotel called the Oriental on the site of the former Canterbury Hotel, which now is undergoing a conversion to a Le Meridien.
In 1919, Gatling Gun Club members gutted the residence and tore out walls upon making it their headquarters. After World War II, they added a room in the back that served as the bar area. The addition of a brick façade and updated windows look out of place behind the building's towering columns, one of which is narrower and badly mismatched compared with the other three.
"That poor house has suffered a lot of indignities through the years, but it also could be a really spectacular property," Dollase at Indiana Landmarks said.
The group would welcome the opportunity to assist potential buyers with a redevelopment of the property, he said.
 
Please enable JavaScript to view this content.