Mainstreet Property Group, already the fastest-growing company in the Indianapolis area, now has the fuel it needs to nearly triple its pace of construction of senior care facilities around the country.
Mainstreet CEO Zeke Turner said his company's $2.3 billion deal with Ohio-based Health Care REIT will allow Mainstreet to build $1 billion worth of new facilities per year. This year, Mainstreet plans to build $350 million in new facilities.
Turner calls Mainstreet's projects post-acute-care facilities and argues that they are critical to help hospitals transition patients out of their facilities sooner in order to provide care at lower costs.
"The market opportunity in post-acute is so great that we already know the location of the next 200 locations which we'll be developing—201, actually, by ZIP code," Turner said. He wants to build those facilities over the next five years, or roughly 40 campuses per year.
 

Turner
Post-acute care, which focuses on short stays by patients before they go home, is getting a lot of focus in the long-term-care industry. For example, Louisville-based giant Kindred Healthcare has spent three years reorienting its strategy around post-acute, rather than around patients staying for months and years at its facilities.
But veterans of the long-term-care industry say Mainstreet's strategy to add capacity doesn't make sense because fewer patients are being hospitalized and, as a result, fewer are coming out of hospitals into post-acute facilities, which are also called skilled-nursing facilities.
"I don't know what they're smoking, but maybe they know something I don't know," said Vincent Mor, a professor of health care services, policy and practice at Brown University. "Right now, the occupancy rate in most skilled-nursing facilities is relatively low precisely because there are fewer people hospitalized."
Proving its strategy
Mainstreet so far has been able to persuade enough real estate investors and long-term-care operating companies to support its efforts. But many observers are taking a wait-and-see approach on whether Mainstreet's facilities can achieve the performance Turner claims they can.
"We will be watching the performance over the coming months and years to gauge how the model is working and its acceptance as part of the health care continuum," wrote Deutsche Bank analyst Vin Chao in a note to investors.
The deal with Health Care REIT, announced Aug. 13, guarantees Mainstreet "several hundred million" dollars in financing to build 45 facilities. Turner said he is working on other ways, including crowdfunding, to finance the rest.
Mainstreet's revenue rocketed to more than $66 million last year, from just $11 million two years earlier. The company now employs 40 people, and expects that number to rise to 100 in three to five years.
Mainstreet's recent growth was partly due to Turner's creation, in 2012, of HealthLease Properties, a real estate investment trust that acquired many of the facilities Mainstreet had developed up to that point.
The deal with Health Care REIT allows Mainstreet to cash out its own REIT—which was laden with debt—and yet still have a ready buyer for many of its future facilities.
"As Mainstreet's development pipeline expanded, HealthLease was not able to keep up its acquisition pace and access sufficient capital to acquire all of the Mainstreet developments, given HealthLease's smaller size," wrote Jefferies & Co. analyst Omotayo Okusanya in a note to investors. So it made sense for Mainstreet to develop the same kind of relationship it had with HealthLease, but with a larger company. Health Care REIT is one of the largest owners of health care real estate properties in the United States.
Oh, and Mainstreet Property Group will enjoy a payday of about $40 million for its ownership stake in HealthLease Properties, pending shareholder approval of the deal.
"We've not really given anything away at this point," Turner said.
Beyond Indiana
While most of Mainstreet's building so far has occurred in Indiana, and while the company will continue to build up its corporate headquarters in Carmel, fewer and fewer of its projects will occur here.
The firm has another eight projects planned around the state for 2015. But the balance of the 45 projects Mainstreet will develop with Health Care REIT, as well as the others it hopes to develop over the next five years, will be outside Indiana.
On top of these post-acute-care facilities, Mainstreet plans to build facilities specifically focused on long-term patients. Turner said Mainstreet's market research shows current demand for 400 to 500 new long-term-care facilities.
Existing operators of long-term-care facilities have pushed back hard against Mainstreet's aggressive building in Indiana—and nearly persuaded the Republican-dominated Legislature this year to halt all new construction of long-term-care facilities.
Occupancy at Indiana's long-term-care facilities is about 75 percent, significantly below the national average.
"We still like Indiana," Turner said. "But the Indiana market has seen quite a bit of new development."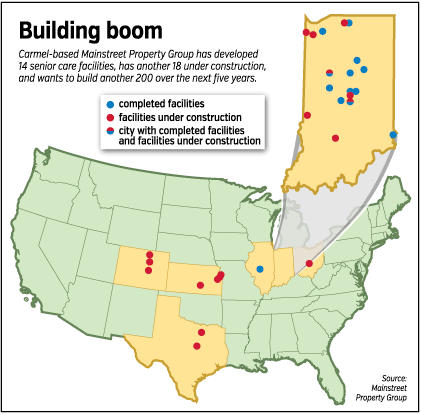 Turner also pointed out that the average age of long-term-care facilities is more than 35 years. Rather than the industry being "overbuilt," Turner said, it's "underdemolished."
If Mainstreet's true strategy is to build new facilities next to old facilities and then peel away patients, it stands a better chance at success, said Mor, the long-term-care scholar.
"This is not a post-acute play; it's a real estate capacity play," Mor said. Which is why, he noted, Mainstreet is trying to develop primarily in states that have no restrictions, known as certificate of need laws, on building facilities. Mainstreet is trying to expand right now in Colorado, Kansas, Ohio, Pennsylvania and Texas.
Mor also noted that Mainstreet, which handles only the real estate—not the operations—of its facilities, will need to sign up operators with the right relationships with hospitals and insurance plans. Those organizations are forming much tighter bonds with the post-acute providers because the federal Medicare program and private health insurers will stop paying hospitals if too many of their patients return to the hospital for the same conditions within 30 days.
"No matter how pretty the facility is, if you have to re-hospitalize them, the hospital eats it," Mor said.
That's why other long-term-care operators—such as Kindred nationally, as well as Indiana-focused companies like American Senior Communities—are making the switch to post-acute care primarily by renovating their facilities, rather than building all new, and by adding physicians, nurse practitioners and lab technicians.•
Please enable JavaScript to view this content.