Perhaps the most visible sign of the sweeping changes under way at United Way of Central Indiana is what the public won't see this year: the giant thermometer that shows up in front of its Meridian Street headquarters each fall at the start of corporate-campaign season.
Gone, too, is the annual emphasis on a fundraising target—last year's campaign fell just short of a $42.5 million goal—in favor of a focus on several long-term outcomes leaders believe will improve the community as a whole.

Murtlow
"One of the things we're trying to do is get rid of this impression many have that United Way is the organization that always has its hand out," CEO Ann Murtlow said. "This is all about what we want to achieve. It's really important for folks to understand that."
Encouraged by the success of a recent effort to improve access to quality child care, United Way spent nine months putting together The New U—a strategic shift intended to speed change by investing in programs that make a measurable difference in the areas of education, income, health and basic needs.
The end game: helping all central Indiana residents become self-sufficient by overcoming barriers along the way.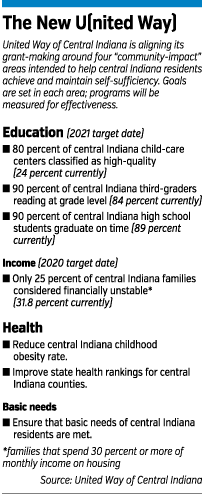 When the initiative is fully implemented in two to four years, United Way allocations will be tied to results. Agencies that demonstrate alignment with and progress toward achieving the community goals will get financial support. Those that don't won't.
"There was a lot of apprehension [from agencies] at first," said Gina Hays, executive director of Mental Health America of Greater Indianapolis and the new president of United Way's Agency Executives Council. "We're still trying to figure out where we fit, but it seems like a good way to go. … In order to make significant impact, significant change, you've got to focus."
United Way may lose some of its 91 certified human-services agencies in the process, but Murtlow said the transition period is intended to minimize impact on their operations.
In the meantime, a moratorium on agency applications imposed during the recession five years ago will remain in place through March 2016.
"Our first priority is to get our existing agencies aligned," said Murtlow, a former Indianapolis Power & Light CEO hired to lead the local United Way in February 2013. "We'll evaluate it every year to see where we are."
United Way has long worked to address community needs through its agency network and others in the charitable sector, but the long-term approach—and clearly identified metrics—is fairly new.
Day Nursery has received United Way funds for years and likely will continue to since the grant-making organization identified early-childhood education as a top priority. (IBJ file photo)
Several years ago, the organization identified early-childhood education as a big-picture priority, setting out to increase the number of high-quality child care centers in central Indiana.
Just 15 percent of licensed centers and registered day care ministries in the area scored in the upper tier of the state's Paths to Quality rating system in 2011, United Way said. By last year, 24 percent had achieved that status. The ambitious goal: to reach 80 percent by 2021.
"We've really moved the needle on that now, and we've done it in a number of different ways," Murtlow said, citing a public-information campaign that educated parents, Statehouse lobbying that resulted in law changes, and grants—including some to non-certified agencies—that addressed facility needs.
"It's exciting because we're seeing others come along in this, too," she said.
Indianapolis Mayor Greg Ballard in July proposed a five-year, $50 million preschool program for low-income 4-year-olds, which would be seeded with a $25 million city grant to the United Way. Local stalwart Eli Lilly and Co. later said it would raise $10 million to support the initiative if it moves forward, including a lead gift of $2 million from the Eli Lilly and Company Foundation.
"The strategy is very clearly producing a measurable impact in a few key areas," said Rob Smith, senior director of corporate responsibility at Lilly and president of its foundation. "We believe United Way is well positioned to help the community address very different underlying challenges."
Education—from preschool to third-grade literacy to high-school graduation rates—is a priority for United Way because of its broad implications, Murtlow said.
"We know it's the best path out of poverty," she said. "It's your income strategy."
Health is important in large part because of its impact on learning, and income stability is a key facet of self-sufficiency. United Way of Central Indiana's board added basic needs to the mix given the correlation to everything else.
"If you're worried about survival, you can't really think about bettering your situation over the long term," Murtlow said.
Although United Way established the goals and will keep an eye on progress, leaders know it will take a village to improve the community. The organization already supports a number of so-called "collective impact" programs working to connect at-risk families with needed resources, for example. And it's the fiscal agent for the Jump IN for Healthy Kids initiative, which is attempting to reduce childhood obesity.
Support from donors also is critical, and the United Way will continue conducting its workplace campaigns. But Murtlow and others believe the new focus on results will be more effective than overt pleas for money.
"Based on the reaction we're getting from this community, we believe fundraising will increase substantially as people understand what we do," she said.
Local fundraising consultant Angela White said post-recession donors are increasingly interested in the impact of their contributions, so showing progress toward the goals should be an advantage.
"Any non-profit that is able to articulate outcomes or intended outcomes—the difference a gift would make—is on the right track, in our opinion," said White, CEO of Greenwood-based Johnson Grossnickle and Associates. "Donors are looking to make their money work."
The potential downside: losing donors whose giving priorities aren't a good fit, or those who have personal connections to charities that don't fall under the United Way umbrella after the transition period.
Murtlow believes donors will embrace the organization's long-term objectives.
"We put these high-level goals in place—goals that essentially everybody would agree: If we make these, our community would be a better place for everyone," Murtlow said. "We don't want to be talking about the same things in 15 years."
And when this year's campaign kicks off Sept. 12, those are the goals she and others will address—not an eight-figure financial target.
"It won't be all about the money," she said. "We are aiming at these top goals, and we know we have to raise more to be able to do that, but we want people to understand where we're going. We want them to buy into the mission."•
Please enable JavaScript to view this content.