There's never been a better time to be a professional sports franchise operator in Indianapolis. Season-ticket renewal rates and attendance are near record levels.

But some observers wonder whether too much of a good thing could turn into a bad thing if spending on sports outruns growth in the local economy.

For now, the bounty is substantial. Consider: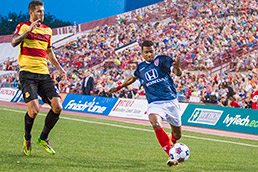 The Indy Eleven have packed the IUPUI track and soccer stadium with 10,400 fans for each home game, and say attendance could go much higher in a new downtown venue. (Photo courtesy of Indy Eleven)
• The Indianapolis Colts have sold out every home game since the second week of 2003. That's 96 straight games including the playoffs, and last year the team sold 105 percent capacity of Lucas Oil Stadium including standing-room-only tickets.

• Last season, Indiana Pacers attendance was up 5,279 per game since 2007-2008, and Bankers Life Fieldhouse sold out 28 times. Only four years ago, sellouts totaled six.

• The Indianapolis Indians have seen attendance grow 1,200 per game since 2009. Last year, the team notched its highest total attendance since 2000, and this year is on track to break its all-time mark of 659,237, set in 1998.

• The new Indy Eleven soccer team is set to sell out all 14 of its home games (10,400 fans apiece) at IUPUI's track and soccer stadium and is leading the North American Soccer League in attendance.

• To kick off May, the Indianapolis Motor Speedway launched the Grand Prix of Indianapolis, which drew more than 35,000, while the Indianapolis 500 is holding steady in drawing 300,000.

The WNBA's Indiana Fever, meanwhile, has held steady at attracting about 8,000 fans per game over the last six seasons.

Thompson
"I don't know that you're seeing this type of cumulative sports success anywhere else in the country right now," said Milt Thompson, an Indianapolis sports attorney and marketer, who serves on the board of the Indianapolis Indians and the Capital Improvement Board, which manages the city's sports venues.

Sure, there have been some sports casualties in Indianapolis. The Brickyard 400 NASCAR race has seen attendance decline more than 100,000 over the last five years, there is no longer a regular PGA golf tournament in town, and the city's ATP Tour tennis tournament folded after 2009.

The Pacers have had to scale back ticket prices in recent years, and the IMS, Indians and even the Colts have had to pump the brakes on ticket-price increases to deal with economic swoons and competition for Hoosiers' disposable income.

But the victories locally outweigh the losses. The Colts' season-ticket renewal rate stands at 95 percent and the Pacers' is above 90 percent. Both teams report double-digit sponsorship sales increases.

Saturated market?

But all this success has some wondering if the city is reaching its sports saturation point.

Morris
The Pacers and Colts have made recent playoff runs—which sucks more money out of people's pockets; the Indy Eleven is seeking state and local financial assistance to build a downtown soccer stadium; and the Indy Fuel, a minor-league hockey team, is starting its first season at the renovated State Fairgrounds Coliseum this October.

"You have to look at the area's local GDP, the gross salaries and the number of jobs," said Mark Rosentraub, a former IUPUI dean and author of several sports business books.

The metro area's gross domestic product—a measure of private, corporate and government spending—has grown from $107 billion in 2011 to a projected $121 billion this year, according to the U.S. Bureau of Economic Analysis.

It's a nice uptick—13 percent—after a long recession, but isn't enough to explain even greater revenue growth in Indianapolis' sports teams.

During the same period, the Pacers have seen a 27-percent revenue increase and Colts revenue is up 14 percent, according to Forbes. The Indians have seen revenue increase 27 percent, according to team filings. Add to that the new revenue stream created by the Eleven, the Fuel—with nearly 1,500 season tickets already sold, and the new race at the IMS.


Cities such as Charlotte, North Carolina, and Denver have seen bigger GDP increases and not nearly the same boom across all their sports teams.

"You could well be looking at a real shift in the spending of discretionary income," said Rosentraub, now a dean at the University of Michigan.

Exactly where the money being funneled to Indianapolis sports is being shifted from is difficult to say.

Pacers President Jim Morris, who has been involved in the city's sports movement since the 1970s, and Colts Chief Operating Officer Pete Ward, who has been here since 1984, say the local teams have done a good job of pulling fans—and their money—from the larger region and beyond.

"For us, it all stems back to [Colts owner] Jim Irsay's initiative to be one of the most aggressive teams in terms of regional sales and marketing in the NFL," Ward said. "We've done statewide, year-round marketing for years and we also pull significant numbers of fans from places like Louisville. That's really a growing market for us."

The Pacers have aimed their marketing at Bloomington, Fort Wayne, Muncie and Lafayette, in addition to the metro area.

Indy Eleven General Manager Peter Wilt has a different explanation.

"This town is just sports hungry," he said.

In 2012, Wilt, who has run teams most recently in Chicago and Milwaukee, didn't realize just how deep that hunger went. He was surprised by the demand for Eleven tickets, which has been far greater than the 10,400 capacity for the team's home venue on the west edge of downtown. He said the team is drawing double what he thought it could when team owner Ersal Ozdemir asked him more than two years ago to study the market.

"This community has a fervent and vibrant soccer community which has simply been underserved," Wilt said. "I think that's been proven."

Cannibalization

Wilt, like a lot of other professional team owners and managers in Indianapolis, doesn't see the city's other teams as primary competition.

"I'm not at all convinced those dollars from Indy Eleven fans would have gone to other sports teams," he said.

But that line of thinking wasn't always pervasive. Before the Fever launched in the summer of 2000, Indians officials voiced concerns that their ticket sales could be cannibalized.

"I think we've all learned a lot of things along the way," Morris said. "Sure, there are sports fans that follow and cheer for multiple teams, but these teams also have a dedicated fan base that supports those teams specifically and passionately."

Morris said some common denominators contribute to local teams' success.

First, all are fielding competitive teams.

"There's no marketing like winning," he said.

That theory might be tested this season for the Pacers with the defection of up-and-coming star Lance Stephenson to Charlotte and the potential season-ending leg fracture suffered by NBA all-star Paul George last month.

But winning is only part of the equation, Morris said. All the teams here play in "state-of-the-art facilities, which add to the experience," he said.

"There's no place like Bankers Life Fieldhouse in the NBA, Lucas Oil Stadium is spectacular, and Victory Field with its downtown setting is the best minor-league ballpark in the country," he said. "Few other cities—big or small—can boast that collection of venues."

And a third significant factor fuels Indy's sports success, he said: active, local ownership.

Thomson said "a culture" of supporting the hometown teams also has slowly developed in this market.

"Certainly, to a degree, sports fandom has become bigger nationwide," Thompson said. "But I think Indianapolis is ahead of the curve, because it's become interwoven into our culture here, passed down from parents to their children. I think some of that has to do with youth sports organizations here like USA Football and Play Ball Indiana."

Morris said the more sports properties in the market, the merrier.

"I'm excited about the soccer team," he said. "I'm not worried about the Indy Eleven competing with the Fever or Pacers. I'm more concerned with Indianapolis competing with other cities … with St. Louis, Denver and Cincinnati, but also Tokyo and London. The more sports teams and other things we have to offer here, that helps draw more people here to visit and to work across all industries."

Concerns persist

But Rosentraub said there's still reason for caution, especially when it comes to building new infrastructure.

He pointed out that the original financial model for the Pacers and the fieldhouse didn't work, and the city has been forced to subsidize the team to the tune of $10 million annually to operate the facility. The initial deal called for the Pacers to pay for fieldhouse operations and in return keep the money from all basketball and non-basketball events. That revenue stream has not been enough to keep the Pacers viable.

The city's Capital Improvement Board has also had to find a way to pay for operating Lucas Oil Stadium, which is much bigger and more expensive than its forerunner, the RCA Dome.

For now, the Indians pay for the vast majority of operations and maintenance at Victory Field. But the minor-league team's lease deal with the city expires in early 2016, and renewal negotiations are under way. Some speculate the Indians will seek a more lucrative package.

With the updated Fairgrounds Coliseum opening last spring and the Eleven planning to approach local and state officials—for a second time—early next year about a new stadium, concern about oversaturation is bound to ratchet up.

"I've always felt there's difficulty in supporting all the infrastructure," Rosentraub said. "At some point, those buildings start competing against each other."•