Indiana Landmarks is going to court over the unauthorized demolition of a historic home in Fall Creek Place.

The not-for-profit in 2002 paid more than $24,000 to stabilize the home at 2520 N. Delaware St. and added protective covenants to the deed that expressly barred demolition.

But the vacant and crumbling home—likely built in the 1890s—was demolished in April without the required city permits or notification to Indiana Landmarks.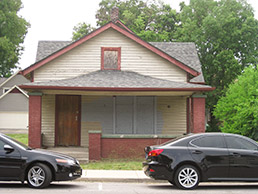 The home was one of several in the neighborhood that Indiana Landmarks bought and stabilized over the years. (Photo courtesy of Indiana Landmarks)
The property owner—and defendant in the suit filed Aug. 22 in Marion County Circuit Court—is an entity controlled by Arthur Rhea, who does not have a listed telephone number and could not be reached.

The suit says Rhea, in conversations with Indiana Landmarks officials, had expressed a desire to redevelop the land for a commercial use. The organization conducted inspections and pressed Rhea repeatedly since 2008 to make repairs to the home and prevent its decay, as required by the protective covenants.

The preservation organization had purchased the home from the city in 2002, and spent $24,189 on a new roof, masonry and window repairs, new gutters and downspouts and exterior painting, the suit says.

Landmarks then sold the property—which sat adjacent to the popular specialty grocer Goose the Market—with covenants attached. The property sold again in 2003, before Rhea's Delaware Street Enterprises LLC bought it in 2007.


Davis
"It's not just an isolated little house,"said Indiana Landmarks President Marsh Davis. "It was part of a much broader urban revitalization program. The goal was to have it inhabited and maintained."

The home's condition worsened under Rhea's ownership, and in March it drew the attention of Health and Hospital Corp. of Marion County.

The health department on April 1 issued a demolition order for the building—requiring the property owner attend a hearing in late May or request demolition permits from the city, said Health and Hospital spokesman Curt Brantingham. He said the home was not flagged as historic because it does not sit within a historic district. He noted the protective covenants likely would have been uncovered in the formal hearing process before demolition.

But the home owner did not wait for a hearing or apply for demolition permits—which would have triggered a five-day waiting period during which Landmarks could have intervened. The contractor that tore down the structure didn't apply for permits, either.

The city's Department of Code Enforcement got a tip April 28 that work was being done to the property without a permit, said spokesman Adam Baker. The next day, the city issued a stop-worker order. By then, all that was left of the house was a pile of rubble.

Code enforcement still hasn't heard back from the property owner, Baker said. Meanwhile, the property has wracked up almost $900 for fines and unpaid permit fees. The division is preparing to turn the case over to the city prosecutor.

Indiana Landmarks' suit says the property owner's "actions have impaired the unique character of the neighborhood" and "permanently altered the landscape of Delaware Street."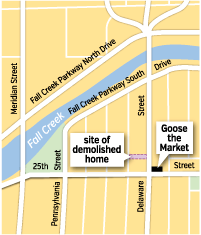 The organization is asking for monetary damages covering its investment in stabilizing the home, along with attorney fees and a mandate that Rhea rebuild the property with exterior architecture "as nearly as possible" reflecting the previous structure.

Davis, the Landmarks president, said Rhea contacted his organization to set up a conversation shortly before IBJ went to press.

"It's always good to communicate," Davis said.

Landmarks is represented by Karoline E. Jackson and Christopher P. Jeter of Barnes & Thornburg.•