The Indianapolis Star sports department in one month has lost four reporters and a columnist with a combined 123 years of experience at the paper.

Kravitz
Well-known reporters Phil Richards, Mike Chappell, Phil B. Wilson and Mark Ambrogi left the state's largest daily newspaper in September. And last month, columnist Bob Kravitz joined WTHR-TV Channel 13.

Throw in the 2013 departures of two other sports reporters—IU beat writer Terry Hutchens for Scout.com and Indianapolis Colts and Indiana Pacers beat writer Mike Wells for ESPN—and about half The Star's sports writing staff has turned over in 14 months.

The timing of the most recent round of departures came at a particularly difficult time for The Star—on the eve of the onset of the Colts season.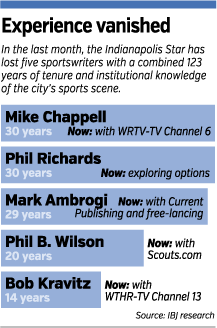 While it has become commonplace for print reporters on national beats to jump to television networks, it's less common on the local level. But that trend may be picking up steam.

WDRB-TV Channel 41 in Louisville, Kentucky, has hired six journalists from print publications to contribute to its website during the last two years, said Barry Fulmer, the station's news director. WRAL-TV Channel 5 in Raleigh, North Carolina, made at least three hires from newspapers in recent months, station officials said.

Local TV stations are finding newspaper sports reporters attractive for the same reason Internet sites have sought them out for several years.

"They have a deep knowledge of their field and are used to producing a constant stream of content," said Jim Brown, IUPUI journalism department executive associate dean emeritus.

That, along with continuing economic difficulties experienced by daily newspapers, is creating unprecedented turnover in the industry, Brown said.

"Twenty years ago, seeing the type of turnover they've seen in a single department in such a short period at The Star would be almost unheard of," said Brown, who led IUPUI's journalism program for 28 years before retiring in 2010. "Now, it's just a tumultuous industry, and increasingly you've got reporters and writers looking for other opportunities whether on TV, radio or the Internet. Keeping some sense of stability in a newsroom is difficult right now."

Chappell
Just two years ago, Chappell, Richards, Wilson and Kravitz made up The Star's four-man team covering the Colts. Chappell has been one of the paper's lead Colts writers since the team arrived in Indianapolis in 1984.

Despite some staff changes last year, those four remained an integral part in the paper's effort to cover the Colts and the ever-popular NFL.

Stephen Holder, who was hired last year as the lead Colts beat writer, will continue in that capacity. So far, Zak Keefer, who joined The Star in December 2011, and veteran motorsports writer Curt Cavin have been handling secondary Colts stories.
Taylor
Star Editor Jeff Taylor said the recent departures don't represent "a flight or exodus from The Star."

The departures come as The Star is reorganizing its staff and cutting its newsroom personnel by about 15 percent. The reorganization caused a number of tenured staffers to consider what one Star staffer called "a relatively generous buyout"—or severance package.

Chappell and Richards, who had both been with the paper 30 years, along with Ambrogi, who has been with The Star 29 years, took advantage of The Star's most recent buyout offer.

Taylor said "plans and staffing are in place to cover the Colts as usual" this year. A national search for Kravitz's replacement is well underway, Taylor said, adding that external and internal candidates will be considered to fill other vacancies within The Star's sports department. Keefer will continue to cover the Colts this season, he added.

"You don't replace years [of experience] right away, but you can replace talent with talent," Taylor said. "And that's what we're going to do, hire really good people. Really good people adjust quickly."

While there's no timeline on the new hires, Taylor said they will be made as soon as possible. In the meantime, Taylor said, "We have a deep enough bench to make sure we put experienced people out there."

He added: "We're looking for talented, smart beat writers who know how to cover a team."

As part of the changes, former sports-department head Ronnie Ramos has been promoted to managing director, the No. 2 position in The Star's newsroom.

Jenny Green, a long-time Star staffer who has served as page-one editor, has become sports editor—which now is called director of sports and visual operations.

"Jenny is a very talented editor with very strong news judgment and who is a good manager," Taylor said. "We think she's a very good fit for this job."

Chappell followed Kravitz's path to TV, taking a job covering sports for WRTV-TV Channel 6.

The more prevalent move for print journalists is to exit to write for websites, Brown said. Wilson, a Star vet of 20 years, followed that path, departing to cover the Indianapolis Colts and Indiana Pacers for Scout.com.

Ambrogi has taken a job with Current Publishing, where he's covering Hamilton and Boone county sports. Richards is weighing his options.

While Kravitz said "the loss of anyone with 25 to 30 years of institutional knowledge is devastating," he added that he has a lot of faith in the remaining Star sports reporters.

"The Star sports department is still in good hands," he said. Kravitz especially lauded Holder, who The Star last year hired away from the Tampa Bay Times, where he covered the NFL's Buccaneers.

Richards isn't as optimistic.

"If institutional knowledge counts for anything, it will be a substantial deficit," he said. "Nobody at the Star is local anymore. The Star has virtually no one with ties to the community and no one with a grasp of the local community. And I think that matters."

Bobby King, a Star reporter and president of the Indianapolis Newspaper Guild, said the departed staffers "were familiar to readers" and were "sources of insider knowledge." However, he said, "the people who remain here are very talented. They're not only good reporters and writers, but they are also adept at the video and social media skills that are so crucial to our future."•