Localstake LLC, a crowdfunding startup that connects investors with small businesses, has seen business activity take off as it enters its second year, even as the crowdfunding industry at large awaits the finalization of federal rules.
The seven-employee Indianapolis firm launched in June 2013, raising funds for two companies in its first six months. Over the following eight months, it brokered funding for eight companies and has eight in queue. Localstake's investor count tripled from August 2013 to August 2014 to more than 3,100, and they've poured more than $3 million into various small businesses so far.
"I think some of the recent regulatory changes have helped shed some light on this opportunity," said co-founder Brandon Smith about what's fueling growth. "We've definitely seen an influx in business activity and businesses that are interested in pursuing this type of financing."

Smith
Nationally, one of the most common crowdfunding platforms is Kickstarter, where backers contribute to a project in exchange for a gift. Localstake and other platforms take a similar approach, but instead of a T-shirt, the return on investment is monetary.
Localstake has done some equity deals, where investors get a slice of ownership, but it has honed in on debt financing, or so-called crowdlending. Small businesses looking for capital can list a securities offering on Localstake's website, and investors with as little as a few hundred dollars can invest. The money is repaid with interest through revenue sharing.
The federal JOBS Act of 2012 paved the way for some of what Localstake does. But the U.S. Securities and Exchange Commission hasn't finalized all the rules from that federal legislation, industry observers said, particularly those allowing non-accredited investors to engage in crowdfunding.
Accredited investors are organizations or institutions with at least $5 million in assets or individuals with at least $1 million in liquid net worth.
"We're hopeful those rules are finalized this fall so that we can have equity crowdfunding for everybody early next year," said Jason Best of Miami-based Crowdfund Capital Advisors, one of three co-authors behind the crowdfunding investment framework used in the JOBS Act.
Localstake nonetheless has been able to carve out a niche in the nascent industry. In 2013, the SEC lifted restrictions on the public solicitation of private securities offerings, expanding their reach beyond personal investment banking networks. That allowed Localstake to post offerings online.
And in July, Indiana enacted its own rules allowing non-accredited investors join the crowdfunding fray. It's one of 12 states that have taken that step, according to crowdcheck.com.
These investors can only invest within state borders, but the two law changes paved the way for Localstake to advertise private offerings to a broad audience and attract a variety of investors. So far, Localstake has brokered investments between $250 and more than $100,000 in companies including Indiana-based Moody's Butcher Shops, FastTrack Student Loans and Biologics Modular.
It also helped channel capital to two Michigan companies and one Wisconsin company.
The interest in alternative financing, including raising cash through crowdfunding, has been driven in part by small businesses' struggles in obtaining bank loans.
"If you go talk to 10 small businesses in your community that are successful small businesses with cash flow and profit," Best said, "I would assume that no more than two of them could get bank financing today."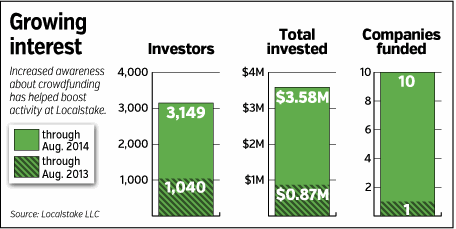 The path to financing may be rockier for startups. Bloomington-based Cardinal Spirits, which was founded in 2012, had considered venture capital firms and other alternatives before settling on Localstake.
The company hasn't sold its first bottle of Vodka yet, president and co-founder Jeff Wuslich said, although it generates revenue by selling ancillary products. It was able to raise $850,000 through Localstake last summer and currently is building its micro-distillery.
"There are very few deals a year," Wuslich said about venture capital firms, "and very few are interested in Indiana in a non-tech-related startup or a non-life-sciences startup."
Localstake is not the only online lending platform out there. Websites like Funding Circle USA and Lending Club, both based in San Francisco, also facilitate capital to small businesses in need.
But Smith said that in many cases, such peer-to-peer lenders are more interested in the loan information—purpose, grade, interest rate—than in the company.
"This is more a pure financial transaction," Smith said. "With crowdfunding, you are investing in a specific business and learning about that particular business as a part of your investment decision."
The capital raised through Localstake doesn't come cheap. Smith declined to provide effective annual percentage rates, but said the deals crafted so far allow investors to get anywhere from 1.5 to 2 times their investment back.
The terms vary because the loan payments are a percentage of gross income. So if a company is doing better than expected, it could pay off its loan sooner than expected, and vice versa. Smith said the target term is about 5 years.
"We do believe there's added value in that you're marketing your business through this method and you're gaining potential customers as well," Smith said.
Smith said Localstake encourages investors to be evangelists in the companies they fund, as opposed to being passive lenders. And thanks to new rules for unaccredited investors, it also empowers business owners to put their investment opportunity in front of people they already know.
Lauren Leibowitz, a member-administrator with the National Crowdfunding Association trade group, said Localstake stands out in the crowdlending space because its co-founders are broker-dealers. The designation allows them to facilitate the securities transactions, not outsource them.
Besides Smith, the other co-founders are Ryan Flynn and Kevin Hutchen. While the website is their primary tool, the three don't have backgrounds in tech but come from the investment banking world.
"I really like Localstake because they promote that they have that financial industry experience," Leibowitz said. "But the funding portals, if they do have it they don't put it out there. They're really just soliciting the deals."•
 
Please enable JavaScript to view this content.