Carmel-based Old Town Development LLC expects to file plans this week for a $150 million redevelopment project on 11 acres in the suburban community's blighted Midtown area, between Carmel City Center and the Arts & Design District east of the Monon Greenway.
Mayor Jim Brainard and other city leaders joined Old Town officials at a Monday afternoon news conference announcing the proposal: Several structures are on the drawing board, including a 700-space parking garage and a 60,000-square-foot office building overlooking a public plaza next to the Monon.
Old Town principal Justin Moffett said the plaza—loosely modeled after Faneuil Hall Marketplace in Boston—could serve as a gathering place for events or a rest stop for residents and visitors using the recreational trail. The office building was designed to look like a revitalized industrial facility.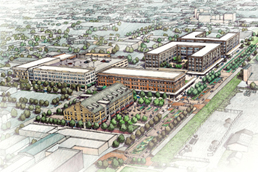 Carmel Mayor Jim Brainard sees the $150 million project as a connector between City Center and the Arts & Design District. (Image: Old Town Design Group)
All told, the project would include as many as 270 flats/condominiums, more than 200,000 square feet of offices, and as much as 85,000 square feet of commercial and retail space.
Construction will occur in phases over about five years, beginning with the $15 million plaza and office building as early as next summer. Moffett said Old Town already has lined up private financing and likely will partner with other developers on the office space.
Old Town also expects to ask the city for tax-increment financing revenue to help pay for the parking garage and other public improvements, but Moffett said the company will move forward with the project regardless. If the public money doesn't come through, the developer could reconsider the parking garage and project density, he said.
Carmel has helped fund other redevelopment projects as the city works to build an active, walkable downtown.
As part of the Midtown proposal, Old Town plans to connect 4th Street with Range Line Road, relocating family-owned Miller Auto Care in the process. Moffett said owners Keith and Debbie Stockberger have been accommodating during the planning process.
Old Town Development is the development arm of custom homebuilder Old Town Design Group, which has been reinvigorating residential areas north of Main Street, the heart of the Arts & Design District.
The company also is developing the 40-home Gray Oaks neighborhood near 146th Street and Gray Road, and it's seeking approval for its plans to transform the former Sunrise Golf Club on Westfield Boulevard into an empty-nester community offering a variety of housing options.
Moffett said the 5-year-old builder has completed $25 million in residential projects so far and has another $20 million presold and planned for the next 18 months.
A Carmel native who grew up in Old Town (and still lives there), Moffett said he and business partners Jeff Langston and Andrew Greenwood want to revitalize the largely abandoned industrial area to the south. 
"We have to make big changes," he said.
Brainard, who set out to reinvent downtown Carmel when he was elected nearly 20 years ago, has called Midtown a key connection between the work-in-progress City Center and the Arts & Design District—ultimately creating what the city calls "a largely self-reliant urban environment."
Building density development is more cost-effective than greenfield development, Brainard said Monday, citing the lower cost of providing city services.
To that end, years ago the Carmel Redevelopment Commission hired Washington, D.C.-based urban planning firm Speck & Associates LLC to come up with a vision for the former industrial area.
That plan, delivered in 2012, calls for widening the Monon and building a pair of one-way, one-lane streets on either side of the recreational path. It also recommends including several public spaces along the trail, highlighted by a prominent Water Tower Square about halfway through the 10-minute walk from City Center to Main Street.
Old Town's Midtown plans include the northbound road just east of the Monon.
Principal City Center developer Pedcor Cos. owns about 15 acres west of the trail and is working on its own plans for upscale offices and housing on the site. Last year, the Carmel City Council refused to support Pedcor's application for a state tax credit that would have helped pay for the $100 million project. Critics said the city could not afford the necessary public improvements associated with the proposal.
The Midtown area is bordered by Main Street to the north, City Center Drive to the south, Range Line Road to the east and 3rd Ave SW to the west.
Officials said successful redevelopment of the area will be a boost for nearby businesses. The planned office and commercial space is expected to result in 800 to 1,000 new jobs, the city said, in addition to 300-400 construction jobs each year while it's being built.
Old Town will share details and updates on the Midtown project on a new website that debuted on Monday.
Please enable JavaScript to view this content.