Community Health Network will spend $175 million to give its Community Hospital East a face-lift and to expand emergency and outpatient services on the east side of Indianapolis, the hospital system announced Wednesday morning.

The investment comes after years of questions about Community's commitment to the east side, which was vibrant when Community East opened in 1956 but has since become relatively poor compared to the neighborhoods around Community's other major hospitals in Castleton and near Greenwood.

Community executives said the renovations, which will begin this fall and extend over several years, prove their long-term commitment to the east side of the city.

"We want our communities to know that, as we like to say, 'We're Here. For Good,'" said Bryan Mills, CEO of Community Health Network, in a prepared statement. "That means Community will remain firmly rooted on the hospital campus where our story began, with a facility redesigned for the future of healthcare."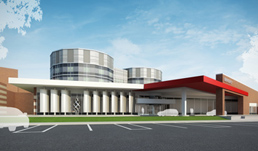 The expansion and renovation of Community Health East will include a modernized building exterior. (Image courtesy Community Health Network)
The renovated hospital will have 64 rooms in its emergency department, nearly double the number it has now, as part of a 17,000-square-foot expansion. That's to handle the 62-percent rise in patient visits to the Community East ER since 2008.

Community will also expand the hospital's ambulance bays, bring in new imaging equipment and refresh the decor in patient rooms.

In 2012, the most recent year for which figures are available, Community East posted a profit of $34.9 million on revenue from operations of $392.9 million. That was a reversal from 2011, when the hospital posted a loss of $21.2 million on revenue of $341.6 million.

Community, like nearly all hospitals, has been seeing fewer patients spend the night at Community East, due to financial pressures on patients, new money-saving initiatives from health plans and advances in surgery techniques that help patients go home sooner.

But the incidence of chronic diseases continues to be high, according to an assessment of east-side health needs conducted by Community. Those include asthma, diabetes, congestive heart failure, high cholesterol, high blood pressure and obesity.

Community's plan calls for the construction of three health pavilions in its East Region, which Community officials say will make it easier for patients with chronic diseases to get the regular checkups they need to manage their conditions. One of the two pavilions to be built in the first phase of the plan will be located in Beech Grove, the southeast-side community where Franciscan St. Francis Health closed a hospital in 2012. A third pavilion will be built in the East Region during the second phase of the plan. All three pavilions will house doctors' offices and diagnostic equipment.

"Community Health Network has been steadily investing in the East Region during the past several years," said Scott Teffeteller, president of Community's East Region. "Community has shown its commitment to the region with two new health pavilions, an expanded Community MedCheck, a new pharmacy, additional primary care and specialty care physicians, and a partnership with the Jane Pauley Community Health Centers. This next initiative will allow us to improve the health of residents in the region and improve the quality and experience of care, while reducing health care costs."