At AllPoints Midwest industrial park in Plainfield, developer Browning/Duke Realty is finishing a massive distribution facility for Wal-Mart Stores Inc. and starting construction on another before even signing a tenant.

Yet, surging demand from retailers for large e-commerce warehouses alleviates any fears local firms Browning Investments Inc. and Duke Realty Corp. might have about the facility's sitting empty.

"We have a list of people we're talking to," said Charlie Podell, senior vice president of Duke's Indiana operations.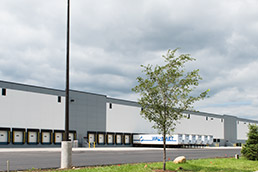 Local developers Browning Investments and Duke Realty are finishing the interior of a sprawling new e-commerce warehouse in AllPoints Midwest in Plainfield. (IBJ Photo/Eric Learned)
A robust stable of buildings ready to be occupied, perhaps even more so than tax incentives, is critical in attracting e-commerce firms to Indianapolis, said David Holt, vice president of Conexus Indiana, the state's advanced manufacturing and logistics advocacy group.

"The challenge is that we don't have a lot of brand new buildings," he said. "We're starting to build those, but we need more because we have lost out on some economic development opportunities to Ohio."

The Indianapolis area for years has relied on its central location, strong labor pool, affordability and

abundance of land to serve as a distribution hub for the Midwest. Those assets now are becoming even more important as the next generation of warehousing begins to sprout quickly—mammoth e-commerce centers built to deliver products to a consumer's doorstep within a few days, if not the day the order is placed.

Retailers are stepping up e-commerce operations and opening facilities at a dizzying pace as online shopping becomes more prevalent.

Jake Sturman, vice president of the industrial group at Jones Lang LaSalle's Indianapolis office, discussed the topic at IBJ's Commercial Real Estate & Construction Power Breakfast on Sept. 12.

"Same-day delivery for Indianapolis is huge, because Amazon is here," he said at the event. "So if anybody else tries it, I think this would be a good test market."

The opportunity for same-day delivery, he said, has sprung out of Peapod and Green BEAN, because groceries need to be delivered the same day.

The need for new e-commerce warehouse space in the metro area is partly driven by the industrial sector's low vacancy rate.

The local market absorbed 673,000 square feet of industrial space in the second quarter, lowering the rate to 7.1 percent from 7.2 percent at the start of the year, according to CBRE statistics.

Incentives important

Local municipalities and the state are aggressively enticing companies to build e-commerce centers by offering attractive incentive packages—in some cases even for speculative buildings.

The city of Lebanon took the unusual step by offering, for the first time, financial incentives for a speculative project, further illustrating the zeal in which such developments are sought, said Mark Writt, a senior vice president in CBRE Group's industrial group. He is the leasing agent for the building along with Tom Cooler, also of CBRE.

"It is tax-abated, like Plainfield has done over the years," he said.

Suburban Kansas City, Mo.-based NorthPoint Development is building the $25 million speculative distribution center on 67 acres at State Road 32 and Interstate 65 near Lebanon Business Park.

The 741,000-square-foot warehouse, expandable to 1 million square feet, is expected to be finished by the end of the year.

In another example, Indiana beat out Illinois for the Browning/Duke Wal-Mart distribution facility at AllPoints Midwest. While that might not seem like a huge coup, consider that the 1.2-million-square-foot warehouse, set to open next summer, is just one of four the Bentonville, Ark.-based company is building in the United States to meet growing e-commerce demand.

The jostling to lure the e-commerce centers via tax breaks is getting quite competitive, Holt at Conexus said.

"They don't want to have to wait for a year or six months—that's really the issue," he said. "The state has all kinds of incentives [to offer]."

To that end, Browning/Duke is constructing its 936,410-square-foot spec building on 63 acres near the Wal-Mart facility and should finish it by the end of the year.

"Everybody is trying to get the product to the client when the client wants it, and more and more, the client wants it right now," said Mark Hosfeld, Duke's vice president of industrial leasing.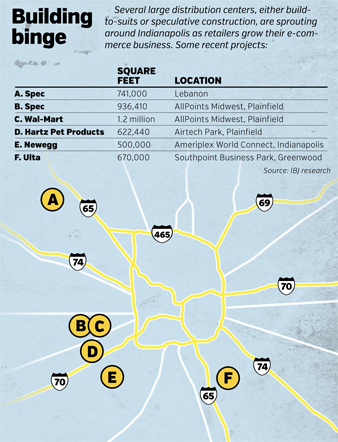 The Wal-Mart center will be able to distribute goods to more than 160 million people—about half the country—in one to two days.

The mammoth facility just east of Ronald Reagan Parkway and north of U.S. 40 in Plainfield features 40-foot ceilings—the highest in the local industrial market by 4 feet.

E-commerce centers are designed differently than warehouses that ship directly to stores, and typically employ more people, because items are picked individually for consumers rather than in bulk amounts for stores.

Wal-Mart added the clearance to provide for an expansive, four-level shelving and conveyer system in the middle of the building. The multi-level system enables the retailer to stack and pick more products around the clock by going vertical.

Even so, there's still enough space on the 64-acre site to expand the facility more than 200,000 square feet.

Amazon leading the way

Internet retail giant Amazon.com is helping blaze the trail in Indianapolis, announcing in August that it would extend its same-day delivery service to the city.

The Seattle-based company operates fulfillment centers in Indianapolis, Plainfield, Whitestown and at Jeffersonville near Louisville, and has 5,000 employees in Indiana.

Same-day delivery in the area includes Indianapolis, in addition to Greenwood and Franklin to the south, Plainfield to the west, and Carmel and Noblesville to the north, Amazon spokeswoman Julie Law said.

But the trend toward e-commerce fulfillment isn't just relegated to retail behemoths such as Amazon and Wal-Mart.

Online electronics retailer Newegg Inc. landed incentives from the state and Indianapolis late last year to build a 500,000-square-foot distribution center in AmeriPlex World Connect on the west side. The facility should be open by the end of the year.

The fulfillment center will enable California-based Newegg.com to handle 30,000 different products and ship tens of thousands of orders daily to Midwestern customers.

Newegg has begun testing same-day delivery in Los Angeles and is exploring the service at its Indianapolis location by using third-party delivery companies such as FedEx and UPS, according to an emailed statement from the company.

And beauty-products maker Ulta Inc. received incentives from the state and Greenwood to build a 670,000-square-foot facility in Southpoint Business Park, between Graham Road and Interstate 65. The center should begin shipping in 2015.

Amazon customers can order as late as noon, seven days a week, and get same-day delivery for such items as movies, video games, school supplies and family necessities for a flat service charge of $5.99.

Whether enough consumers are willing to pay the extra charge to support same-day shipping remains to be seen.

"Given that you can get to any side of the city within 20 minutes, same-day delivery in Indianapolis doesn't seem to be a very big obstacle," said Writt at CBRE. "But do consumers pay that premium? Do we need it that quickly?"

Judging from the burst of construction activity, retailers are betting they will.•