The $14.5 million defamation verdict awarded against State Farm Fire & Casualty Co. in favor of a contractor who accused the insurer of defaming him remains in place after the Indiana Court of Appeals on Sept. 16 rejected the company's request for a new trial.
Joseph Radcliff and his Fishers-based company, Coastal Property Management LLC, alleged defamation against State Farm after the insurer sued Radcliff and his company for racketeering and insurance fraud. The suits were initiated after State Farm received bad press for denying homeowners' claims for hail damage following a colossal spring storm in central Indiana in 2006. Radcliff helped homeowners fight State Farm for coverage.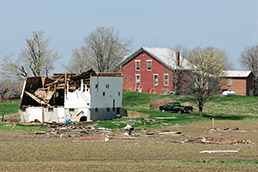 Wind and hail from an April 2006 central Indiana storm caused widespread damage, including at this New Richmond farm, between Lafayette and Crawfordsville. (AP photo)
A Hamilton County jury in 2011 awarded Radcliff $14.5 million on his defamation counterclaim. At the time it was awarded, it was one of the largest defamation awards in U.S. history. State Farm appealed, but the Court of Appeals affirmed the award in April 2013 and the Indiana Supreme Court denied transfer in October 2013.
In State Farm's first appeal, it claimed it was entitled to judgment based on the public interest privilege for crime reporting and statutory immunity, and that Radcliff had failed to prove actual malice by clear and convincing evidence. While it appealed, State Farm also filed a so-called Trial 60(B) motion to reopen the case on the grounds that it had evidence fraud may have been used to obtain the verdict.
State Farm contended that two ex-employees of Radcliff could testify that the defamation judgment may have been procured by fraud. The insurer sought new discovery, hearing and a new trial.
While its Trial 60(B) motion was pending, State Farm was ordered to pay Radcliff the $14.5 million defamation judgment, which had grown to more than $17 million because of post-judgment interest.
In an affidavit State Farm obtained after the verdict, Myisha Richards, Radcliff's former office manager, claimed she saw Radcliff intentionally shred documents after his arrest for insurance fraud. State Farm argued this was new evidence, since Richards did not provide it before trial. However, State Farm had had the opportunity to depose her before trial and chose not to reschedule her deposition after it was canceled due to a family emergency.
The judges also noted that ex-employee Charles Mulligan's testimony regarding Radcliff's work on homes outside of the 10 at issue during the trial would have been excluded, anyway, based on a court order. The court also found that State Farm had obtained information from Radcliff during his deposition that he was arrested in Florida on a domestic violence incident but chose not to pursue it. State Farm claimed Radcliff withheld information about the arrest.
"Simply put, the record does not reveal fraud or any unfair impediment to State Farm's ability to fully and fairly defend against Radcliff's claim of defamation. After all, State Farm had at its beck and call the complete panoply of pretrial discovery devices, including deposition notices and demands for document production. It was offered access to depose Richards, if it had chosen to take advantage of that opportunity. State Farm availed itself of none of these measures," Judge Patricia Riley wrote.
"Had it done so, common sense suggests that it easily could have discovered this 'new' evidence prior to the entry of the verdict. Based on the record before us, State Farm's quest in uncovering this evidence was hampered by its own reluctance to undertake a detailed investigation. Because we will not grant State Farm relief from its own omissions, we affirm the trial court and conclude that it properly denied State Farm's [motion]."•
Please enable JavaScript to view this content.