The Rev. Jeffrey Johnson has been preaching since he was 17, and now, at 52, he speaks to 6,000 every Sunday at Eastern Star Church at 5750 E. 30th St. and satellite locations on the northwest side and in Fishers. Named to IBJ's class of Forty Under 40 in 1999, Johnson has made preaching a passion.
IBJ: Who is the best living preacher?
JOHNSON: Bishop T.D. Jakes [Potter's House in Dallas]. He really explains what God's Word says and then makes it simple enough that anybody can get it and help us with the application.
IBJ: What are the elements of a good sermon?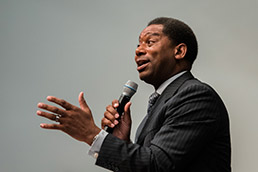 Jeffrey Johnson (IBJ Photo/Eric Learned)
JOHNSON: To observe the text, read the passage and understand who wrote it, when they wrote it, who they wrote it to, and what initially they were trying to get across. And then interpretation. Those writers were writing to a particular group of people for a particular reason. And then illustrations. Jesus used illustrations all the time—come to me as little children. And then application. One of the things that I struggled with as a youngster is, I sat under storyteller pastors. And a lot of times they would tell Bible stories, and I couldn't understand how to apply that to my life.
IBJ: What about attention spans?
JOHNSON: [Laughs.] I use things to try to hold their attention. Like stories and anecdotes and illustrations. I've even at times dressed the part. If I was Samson, I wore what Samson would have worn. Everybody uses technology and screens now and all that stuff, but if attention spans are 20 minutes and I preach 40 minutes, I know people are going to be in and out. Hopefully, they will get enough of God's Word to make a difference.
Everybody wants things in 140 characters or less. [But] I don't know if this affected their attention span, because children can sit down for two hours and play one game.
IBJ: What are the hardest types of sermons to deliver?
JOHNSON: Those that challenge people. In a natural sense, we are very, very selfish. I'm concerned about myself, my house, my car, my family. But God wants us to be concerned about other people. Jesus was always blessing other people and never looking out for himself.
IBJ: How is preaching different from other types of oratory?
JOHNSON: Preaching, to me, is really trying to reach the hearts of people for God. Our message is the love of God through his son, Jesus Christ. That's what distinguishes us.
IBJ: Why preach when there are so many other ways to communicate?
JOHNSON: There is still something very, very powerful in the spoken word. It's still what initiates faith, and sustains faith, and encourages and empowers people.
Click here for other interviews.
 
Please enable JavaScript to view this content.