Should Purdue become like Stanford–a smaller, more exclusive university? That's the way it was going when Mitch Daniels arrived in 2013. Undergraduate enrollment had dipped 7 percent since 2008 as admissions standards rose. But now the former governor has changed course and wants to grow Purdue's student body.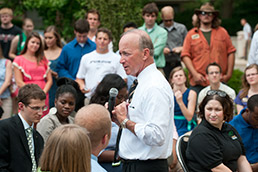 Mitch Daniels (Photo courtesy of Purdue University)
There are a lot of places, and this is one, where there's been a debate about getting smaller. Some people look at it this way: The number of high school graduates is flattening, and meanwhile, K-12 continues to struggle. Ask anybody. I used to ask university presidents, "What can Indiana do better?" And they said, "Do a better job of K-12. Our problem is, we can't find the students who can do the work we need them to do."
There have been people who have said, "Well, the answer in view of all of this is a smaller university." And I must say, from the outside, I thought I understood that argument. OK, go be Stanford. [Stanford University had 7,061 undergraduates last year compared with Purdue's 29,440.]
But then you get here and you say, "Now wait a minute. We're a land grant university, the whole point of which was to open the doors of higher education beyond the elites, and spread learning as far as it could be, and by the way, to teach certain kinds of things, the kind that build an economy." That's still a pretty noble mission. So my own thinking evolved in this rather quickly—even in view of the challenges: demography, the quality, the preparedness issues.
I now believe the goal is, let's teach as many students as we can attract and accommodate. Let's take on the challenge of doing that, and still raising graduation rates, and completion rates.
[This] could bring revenue that allows us to keep the place affordable. So it's not all about trimming that and cutting that—and of course you're going to look for those opportunities—but any business knows you can't cut your way to prosperity, ultimately. And so we do have to think about ways to grow the revenue.
Click here for other interviews.
Please enable JavaScript to view this content.