A booming apartment market is transforming downtown's streetscape and bringing hundreds of new residents.

But as the mostly low-rise buildings go from construction to occupied, a new question is emerging: Will their architecture and materials stand the test of time?

Architects and developers who spoke with IBJ gave a mixed grade to downtown's new residential structures. Many worry about the prevalence of cement-fiber siding—often described as HardiePanel, the trademark name of one line of the product. And they say a lot of the buildings are looking similar, partly because most are four or five stories tall.
CityWay mixes fiber-cement siding wtih brick and steel. (IBJ Photo/Eric Learned)
"We as architects, designers and developers need to build with materials that are longer-lasting," said Drew White, founding partner of Axis Architecture + Interiors, which is working on a handful of downtown apartment projects. "I'm not quite sure HardiePanel is that material."

George Tikijian, who brokers sales of apartment complexes, is more concerned about design.

"Some of the stuff that's being built, you just think, 'Boy, in 10 years it's going to look dated,'" Tikijian said. "A lot of what's being built is flat-roof, flat-sided, HardiePanel construction, and they're getting huge rents."

The dilemma: As costs of construction continue to rise, he said, "People have to figure out how to make a building as affordable as possible and look good."

There are signs of improvement in both design and materials among downtown's newest buildings, local architects and developers say, and it will continue getting better as downtown land available for development becomes scarce and demand for downtown living drives prices high enough to justify taller projects.

In a comment at a recent IBJ Power Breakfast, TWG Development principal Joe Whitsett called on fellow developers to invest in higher-quality buildings—beyond the requisite granite countertops and stainless-steel appliances tenants demand.

"There are projects in town I will say that I don't think are of the highest-quality material, and I don't know that they will sell for any less than we will sell ours for," said Whitsett, who has focused mostly on rehabbing older buildings as apartments but has begun construction on the brick-and-glass-heavy Pulliam Square on a former Indianapolis Star parking lot. "There is another test, which is what's better for the community, what's better for the long term."

Striking a balance

A push from within the industry to aim higher on design is a sign of progress, said Bill Browne, principal at Ratio Architects.

"These developers clearly are trying to find the balance between using higher-quality material and medium-quality material," he said. "As development and pricing starts moving up, it's going to allow for some increase in quality of product and materials."

Browne, who also chairs the Indianapolis Historic Preservation Commission, said that, at recent IHPC hearings, some developers pushed back against approval of projects that use mostly cement-fiber siding on new apartments in historic districts.

The panels are not as sturdy as brick and are used at least in part to reduce the cost of construction.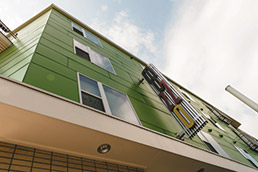 The Mozzo is sided almost entirely with fiber-cement. (IBJ Photo/Eric Learned)
"These products haven't been tested that long," said Browne, whose firm designed the mostly brick 9 on Canal project by Valparaiso-based Investment Property Advisors. "You don't know how they're going to react to the longevity of weathering."

But Tadd Miller, principal in apartment developer Milhaus, contends the panels will last if properly maintained. His Artistry project at East and Market streets is one of the highest-profile buildings downtown to use the panels.

He said HardiePanel has a similar aesthetic to wood but is sturdier and more sustainable. He described the mix of materials that go into a building as a Rubik's Cube of sorts with a different solution for each development. The company's Circa project, just off Massachusetts Avenue, includes a lot more brick than Artistry.

"We're trying to appeal to 10 different demographics that are moving downtown and we need multiple options for people to choose from," Miller said. "Two hundred and forty-eight people are paying big checks for rent to live at Artistry, and they love it." (In particular, they love the unusual rooftop, skyline-view swimming pool.)

'Design and eclecticism'

The bottom-line philosophy for Miller is that buildings should be colorful and different and showcase materials beyond a mix of brick and EIFS, or exterior insulation finishing system. (He names the popular Cosmopolitan on the Canal by Flaherty & Collins Properties as a downtown project that follows a more suburban-looking, brick-and-EIFS model.)

"We believe the quality of design and eclecticism of having lots of different genres is what makes neighborhoods great," Miller said. "It's very important to us that you don't bring the suburbs downtown. There's a reason I don't live in Carmel. There's too much freaking brick. It all looks the same."

White said developers should strive for balance—mixing in other materials including various types of brick, Indiana limestone and natural wood. Buckingham Cos.' CityWay, for instance, uses a mix of fiber-cement paneling along with brick and steel.

Overall, White sees the apartment boom as positive for the city.

"Over 90 percent of people who work downtown don't live downtown. We're changing that," he said. "We're going at the right pace."

Developers are largely bound by economics (rents they can charge plus their cost of land) and building codes that allow up to four stories with wood construction and five stories with a concrete podium structure.

The going rent downtown is about $1.60 per square foot, which supports the construction of a standard five-story building, developers said.

But a taller project like Flaherty & Collins' proposed 28-story Market Square tower requires rents of about $2 per square foot. The developer is also relying on a big-city subsidy to foot some of the costs of extra infrastructure to support such a tall building.

"Even though they can get higher rents because the market is even stronger than they thought, they have to get higher density," Tikijian said of apartment developers. "Once you build with concrete and steel, the costs go up dramatically."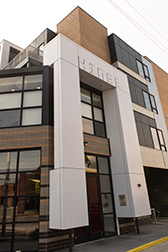 Varied design is credited for helping keep occupany rates high at The Hinge apartments. (IBJ Photo/Eric Learned)
Meanwhile, wood construction imposes design limits: It can't support just any façade material, and wood buildings can look flat since architectural openings are more limited than with steel-and-concrete structures. That doesn't mean wood buildings with cement siding have to look bad.

"You can make it look really good or make it look obviously like it's cement siding over a wood structure," said Craig Von Deylen, a developer and partner at architecture firm Blackline Studio.

He noted that more than 50 percent of the cladding on The Hinge in Fletcher Place—his own project and one with a reputation as being architecturally strong—is cement siding, mixed in with other materials, including a unique color of bricks.

Von Deylen plans to use an environmentally friendly cement panel called Eco-Cem over a rain screen on his newest project, Slate, which is under construction along Virginia Avenue just northwest of The Hinge.

On the other hand, Milhaus' Mozzo—a new apartment building next door that Blackline designed but does not show in its portfolio—is almost entirely cement siding. It also does not include structured parking.

"It's not exactly the most beautiful building," Von Deylen admitted. "Mozzo is a landmark for a bad reason and Hinge is a landmark for a good reason."

Improvement ahead

Overall, Von Deylen gives downtown's new apartment buildings a B or B-.

"We're getting better," he said, and that will continue as the market matures, rents firm up, and enough buildings open so that tenants start choosing where to live based on which buildings they consider cool.

Hinge, he noted, is 100-percent occupied, and units never sit vacant more than three days.

Miller, who developed Mozzo, defended his project, pointing out that it replaced a vacant former BMV branch and environmentally tainted parking lot in an area that hadn't seen new residential development in years.

He said projects that pioneer an area can sometimes seem out of context years later, pointing to Ryland's Firehouse Square townhouses at Ohio and New Jersey streets as an example. The project, one of downtown's first modern residential developments, was constructed in 2001. Its low-rise character seems out of place today.

"Half the people call me and they despise it, and half the people love it," Miller said of Mozzo. "That's a great project because I made an impact in the neighborhood and changed the block."

Even critics of Mozzo consider it an upgrade from the nearby Villagio at Page Pointe (built in 2005), which appears to take design cues from waterfront condo buildings in Florida and fronts Virginia Avenue with a drab parking garage.

"I think Indianapolis has a long way to go to catch up to some places, but we're way ahead of Midwestern peer cities," Miller said. "Most cities have one developer using the same floor plan."•