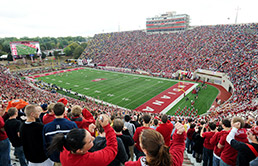 The Big Ten Conference became the first major college sports league to guarantee four-year scholarships across all sports.
Big Ten athletic directors, senior woman administrators and faculty representatives agreed to the change during meetings this week at conference headquarters in Rosemont, Illinois. The Indianapolis-based National Collegiate Athletic Association, college sports' governing body, currently gives universities the choice of offering one-year renewable scholarships or longer ones.
The policy is effective immediately, meaning all current Big Ten athletic scholarships are now guaranteed, said Chad Hawley, the Big Ten's associate commissioner of compliance. The 14 universities in the Big Ten provide about $200 million in direct financial aid to almost 9,500 athletes in 42 sports.
"If you came into the Big Ten as a scholarship athlete, that scholarship will not be taken away from you in accordance with what's being guaranteed here," Hawley said in a telephone interview.
The new policy, which applies specifically to undergraduate degrees, states that scholarships won't be reduced or canceled as long as the athlete remains "in good standing" with the school and athletic department. If an athlete leaves school for a "bona fide reason" he or she will be allowed to return with the assistance of a scholarship.
Hawley said the language of the policy was intentionally flexible so that individual institutions could define the terms in accordance with their own standards.
Academic progress
Hawley said that an athlete won't lose a scholarship if he or she leaves school early to pursue a professional sports career, or suffers a career-ending injury. He said the "in good standing" wording is meant to imply that any athletes making academic progress, following team rules and having a positive impact on campus society are covered.
"For a student-athlete quitting a team, it's hard to see how they could remain in good standing with that team," he said. "We want to make sure that the student-athletes are taken care of, but part of it too is that the student-athlete is committing to the institution as well."
Partial autonomy
The NCAA in August granted partial autonomy to its five richest and highest-profile leagues, including the Big Ten. The following day, a U.S. district judge ruled that the NCAA's structure creates a cartel that violates antitrust laws by limiting what schools can offer athletes. The NCAA said it will appeal the decision, which would lead to players being paid for their names, images and likeness.
The Indianapolis-based NCAA also faces an antitrust lawsuit brought by labor lawyer Jeffrey Kessler and an attempt by Northwestern University football players to create the first college athletes' union.
Last week Indiana University, a Big Ten member, quantified the total value of a four-year athletic scholarship, including services and goods above traditional tuition, fees, books, room and board. For an out-of-state athlete, the total was $240,274; it was $135,766 for an in-state athlete.
The NCAA in 2011 passed legislation allowing universities to offer multiyear scholarships as opposed to the standard one- year renewable, though many schools have been slow or reluctant to do so.
Individual schools, including the University of Southern California, have offered four-year scholarships to its football and basketball teams. The Chronicle of Higher Education said in a 2013 report that 35 of 56 schools surveyed said some offered multiyear scholarships, though they comprised less than 10 percent of all athletic scholarships.
Please enable JavaScript to view this content.