The way companies do business is changing in almost every industry. And the media business is no exception. Traditional media—newspapers, television and radio—are all reinventing themselves. In this new landscape, I find many people have the misconception that newspapers, and thus IBJ by association, don't deliver news and information to as many people as we did five to 10 years ago.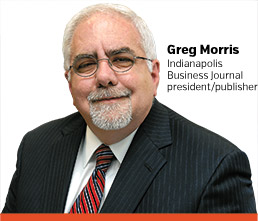 The fact is, IBJ's reach has never been greater. The way people receive their news has changed, but overall, we've never had more readers. Between our highly targeted newspaper that reaches 35,000 readers a week, ibj.com's more than 220,000 unique monthly viewers, eight daily/weekly e-newsletters with an excess of 200,000 readers, and events that generate an annual attendance of more than 5,000 people—the IBJ brand has never been more prolific.
While the dramatic increase in audience is a positive story, the decline of print advertising in larger-market newspapers is another story. The old funding model in which about 85 percent of revenue comes from advertising and 15 percent from paid subscribers doesn't work anymore. The new model is closer to a 50/50 split. This is the direction IBJ has to head if we are to continue to produce the high-quality content our readers have relied on for almost 35 years.
In that vein, in the coming weeks, IBJ readers will be given an opportunity to choose from enhanced subscription and access options. The choices readers make will dictate what digital content can be accessed under our new ibj.com metered-paywall business model.
More access means more opportunity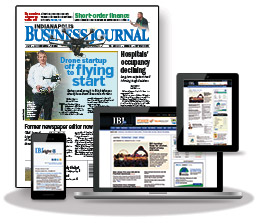 IBJ solely printed a weekly newspaper until it began a daily news fax in 1997. Today, IBJ reaches hundreds of thousands of people through print, digital products and events.
The value of IBJ begins and ends with content. Our readers turn to IBJ for news they won't see in other media for days or weeks, if ever. But IBJ is about more than being in the know. Readers rely on our coverage to inform business strategy, and to identify and evaluate opportunities—for their businesses and organizations, and for themselves.
They want the chance to read and revisit IBJ stories about prospects and partners, customers and competitors. And they want access on their schedules, and in their preferred formats.
To that end, we are expanding and enhancing our digital content. For the first time, we're offering online readers easy, instant access to all IBJ content. Every story, video and blog post, the complete weekly print issue, plus archives, and top lists will be available.
Smart and simple by choice
Our best subscription option, IBJ Premium digital + print, offers unlimited access to all IBJ content in both print and digital formats.
This "best of both" combination includes:
• An award-winning business newspaper published weekly, delivered directly to your home or office.
• Fifteen magazines and supplements.
• Print edition of the IBJ Book of Lists.
Plus …
• Instant, unlimited access to all content on ibj.com—including the contents of the print issue, archived issues, breaking news, all daily/weekly e-newsletters such as IBJ Daily and Eight@8, and top lists in html/PDF/Excel formats.
• Discounts on IBJ event registration (13 events scheduled for 2015).
• Special pricing on the Excel download of the Book of Lists and in the IBJ Bookstore.
A second subscription option—digital only—includes everything listed above, with the exception of the weekly print edition of the newspaper and the annual print edition of the IBJ Book of Lists. And, of course, subscribers will still have the choice of receiving only the print edition.
IBJ.com metered paywall explained
If you're a paid IBJ Premium digital + print subscriber or a digital-only subscriber and logged in to ibj.com, you don't need to worry about the metered paywall. You'll have unlimited access to everything.
However, beginning Oct. 18, website visitors without one of those subscription options will have more limited access. If you are an unregistered website visitor, you'll be able to read three articles, blog posts or full e-newsletter stories (click on "more") before you will be asked to become a registered user. After registering, you'll receive a limited number of free looks per month. If you want to read more than the free monthly allowance—and you don't want to wait until next month when the meter resets—you'll need to sign up for either the IBJ Premium digital + print or digital-only subscription.
Of course, the way to avoid the metered paywall and to enjoy additional benefits and privileges is to have an IBJ Premium digital + print or digital-only subscription. Then, you'll have access to everything without interruption.
Here's some great news: If you're already a print-only subscriber, you'll be able to upgrade your subscription to IBJ Premium digital + print for free. Your account must be paid and in good standing to qualify for the free upgrade. You can upgrade at www.ibj.com/upgrade on or after Oct. 18. Of course, you may keep your print-only subscription if you like, but why pass up all the added benefits provided at no additional cost?
If you already have a subscription that includes digital, you don't need to do anything. You'll receive the additional benefits of our enhanced digital subscription when you log in using your email and password.
The bottom line is, when you're a paid IBJ subscriber, that includes digital; you'll have more access to more information than ever before. In the coming weeks, get ready to enjoy more benefits as an IBJ subscriber.
These changes reflect an increasing demand for business coverage, delivered in multiple formats—digital and print. We are responding to that call by expanding our offerings of professional, insightful, local reporting that has earned 19 journalism awards in the past three years alone. And we'll continue to earn your trust with every issue, every story, every day.
Thanks for reading and supporting IBJ!•


Greg Morris
Indianapolis Business Journal
president/publisher
Please enable JavaScript to view this content.