Almost four years ago, Michael Gargano, deputy director of the state's Family and Social Services Administration, and his wife, Ann Lathrop, president of the Capital Improvement Board, decided to make a major move. Major in more ways than one.

The couple had lived in the Lawrence area since the late 1990s, near the former Fort Benjamin Harrison. After its 1996 decommissioning, the facility was converted to mostly civilian uses, including Fort Harrison State Park. The fort's venerable old officers' quarters, arrayed around an immense parade ground ringed by a one-mile circular road nicknamed The Loop, were turned into private residences.

"In the fall of 2010, I said to Ann, 'We ought to look over on The Loop,'" Gargano recalled.

In truth, he'd already snooped around and noticed a couple of abodes for sale. Lathrop, though initially far less enthralled than Gargano, eventually agreed to take up residence in one of the former fort's unique and uniquely idiosyncratic dwellings.
Prior owners had retored the home to much of its circa 1910 glory. (IBJ photo/Eric Learned)
The officers' quarters, comprising 35 residences, were built from 1908 to 1910, shortly after Fort Ben's official 1906 opening. Their varying sizes and layouts follow strict military protocol. At the top are five "general's quarters," each at around 11,000 square feet. Below them sit 15 slightly more modest but still extremely large duplexes that housed colonels and majors.

"Ours is a 'major,'" Lathrop said.

Judging from the layout, majors did quite well for themselves. The couple's 5,400-square-foot home includes a basement; a first floor with a porch, parlor, dining room, bathroom and kitchen; a second floor containing bedrooms, and a top-floor master suite. A main staircase and a much-used service staircase at the back of the home connect everything.

"We call it the human Stairmaster," Lathrop said.

Though the building is a duplex, the couple said they never, ever hear their neighbors. Because the house, appropriately enough, is built like a fort.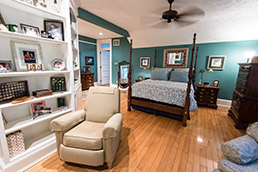 The master suite occupies the entire top floor. (IBJ photo/Eric Learned)
"There's three brick walls between us," Lathrop said. "We don't hear anything."

The space was extensively renovated by the previous owners, who (among a great many other things) removed about 30 coats of paint from the first-floor dining room's built-in cupboard.

"They said they knew whatever surplus color the Army had a lot of at any given time, because it had been blue, then green, then white," Lathrop said. "Whatever they had was slapped on as new folks came in."

The couple learned to treat the home's plaster walls with kid gloves, because it's difficult these days to find someone with the skills to make repairs. Their extensive art collection hangs from old-school picture rails, and the walls themselves are decorated with elaborate raised designs applied with custom-cut stencils.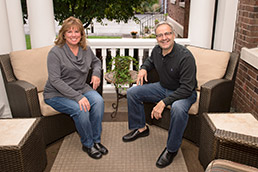 Ann Lathrop and Michael Gargano moved from another area of Lawrence Township. (IBJ photo/Eric Learned)
Gargano and Lathrop redid the kitchen, knocking out the wall between the butler's pantry and cooking area to create a modern, more spacious food-prep zone. They also installed new lighting fixtures pretty much everywhere, most either period reproductions or actual antiques. The globe light illuminating the second-floor stair landing, for instance, formerly resided at the University of Michigan.

"That was hard because my husband [an Ohio native] is an Ohio State fan," Lathrop said.

The third floor has been converted into a master suite that includes an office, bedroom, kitchen area and bath. The centerpiece of the master bath, almost by default, is an immense (and immensely heavy) cast-iron, claw-foot tub.

"It's not going anywhere," Lathrop said. "If it did, it would have to go in pieces."

A massive bathtub remains from the house's military days. (IBJ photo/Eric Learned)
Or perhaps not. The home's front and back entrances sport extra-wide "coffin doors," specially designed so that, in case of a funeral, the coffin could be easily brought in, placed in the parlor, then taken away for burial.

The master bedroom includes a small but complete dining area, for when the couple desires a late-night snack but doesn't want to negotiate the two flights of stairs between themselves and the first-floor kitchen. A cramped extra bedroom under the home's eaves has been transformed into an ample walk-in closet.

The house will be part of the Lawrence Holiday Home Tour on Dec. 6. But though Lathrop and Gargano love their military duplex, it's not by any stretch a one-of-a-kind dwelling. The government contractor who built it apparently used the same design at other bases around the country, including, the couple has heard, at the famed Presidio in San Francisco.

"Someday, we'll have to get out there and see if we can find our house," Gargano said.•