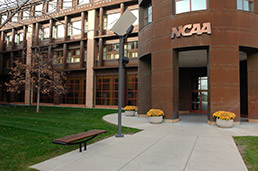 A federal judge overseeing a first-of-its-kind head injury settlement with the NCAA expressed concerns Thursday about some terms and the scope of the $75 million deal that encompasses all athletes going back decades.
Facing a crowd of attorneys in a Chicago courtroom, U.S. District Judge John Lee wondered why college sports like rifle teams, swimming and golf would be covered by the proposed agreement along with football and other contact sports.
"I'm going to assume there aren't a lot of risks of concussions in rifling," Lee said at the hearing. He is considering whether to grant the deal preliminary approval.
The settlement, announced in late July, calls for the NCAA to toughen return-to-play rules for players who receive head blows and create a $70 million fund to pay for thousands of current and former athletes to undergo testing to determine whether they suffered brain trauma while playing football and other contact sports. The Indianapolis-based NCAA, which admitted no wrongdoing in the settlement, would also set aside $5 million for concussion research.
Unlike a proposed settlement in a similar lawsuit against the NFL, this deal does not set aside any money to pay players who suffered brain trauma. Instead, athletes could sue individually for damages.
Plaintiffs' attorneys say the provisions would ultimately improve player safety and leave open the possibility of damage payments later. Critics contend it will allow the NCAA to settle individual lawsuits on the cheap while a single, class-action lawsuit could have been worth $2 billion or more, though such a suit would have faced numerous legal hurdles to proceed.
The settlement is primarily directed at men and women who participated in basketball, football, ice hockey, soccer, wrestling, field hockey and lacrosse. There is no cutoff date for when athletes must have played a designated sport at one of the more than 1,000 NCAA member schools to qualify for the medical exams.
Lee questioned that, saying it left open the possibility of former college athletes from the 1950s or even further back being covered by the terms.
"Doesn't it make sense to have a more manageable period?" Lee asked.
Richard Lewis, an attorney for the plaintiffs, said it was precisely those who played decades ago who are, in many cases, suffering are most from lingering brain trauma.
"The older players are the ones that needed it (the settlement) the most and needed it the soonest," he told Lee.
In all, 10 lawsuits filed nationwide were consolidated into the one case in Chicago, where the first lawsuit was filed in 2011. The lead plaintiff is Adrian Arrington, a former safety at Eastern Illinois who said he endured five concussions while playing, some so severe he has said he couldn't recognize his parents afterward.
Among other settlement terms, all athletes would take baseline neurological tests each year to help doctors determine the severity of any concussion during the season; concussion education would be mandatory for coaches and athletes; and a new, independent Medical Science Committee would oversee medical testing.
Please enable JavaScript to view this content.