A splash park and ice rink could be built on the City-County Building's plaza as part of a city-sponsored contest to remake the outdoor space.
Mayor Greg Ballard on Oct. 23 unveiled the winning design submitted by Baltimore-based Design Collective, which will receive $15,000 and a chance to build its design when funding becomes available.
Estimated cost of the project is $12.5 million. The city and the Central Indiana Community Foundation have begun fundraising efforts to pay for design and construction.
"The winning plan will re-create the City-County Building plaza into downtown's new back yard," the mayor said in a written statement.
The design strives to cater to every demographic, age group and group size, judges said in their description of the winning design.
Besides the splash park and ice rink, the design also features a cafe, game area, presentation platform and outdoor seating area. It also recognizes the former Marion County courthouse that stood on the site until its 1962 demolition by outlining the building's footprint with pavers.
Finishing second and third were Chicago-based PORT Architecture and Urbanism and Cleveland-based Westlake Reed Leskosky, which will receive $7,500 and $2,500, respectively.
PORT's design lifts the eastern and western edges of the plaza to create a "bowl-like" change in elevation, and the 25-foot raised platforms create a variety of spaces for various activities, the judges said.
The project's cost was estimated at $7.5 million, far less than the winning bid. But it is anticipated that the construction costs will rise significantly, and judges also questioned the amount of maintenance required.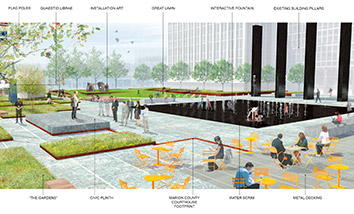 Westlake's proposal, which finished third, called for a tree grove at the center of the space with an adjacent splash park that could be converted into an ice rink. A kiosk pavilion featured outdoor seating to the west and a shade pavilion to the east that could be used by food trucks and street vendors.
Estimated cost of the project was $7 million.
"The space creates a great 'corporate' plaza," judges wrote in their conclusions. "However, other than the splash park/ice rink, there are a limited number of programmed uses."
The city in April launched the redesign contest in hopes of improving the deteriorating plaza at the City-County Building bordering Washington Street. The competition was funded by a $50,000 grant from the Central Indiana Community Foundation through its Inspiring Places Initiative.
The contest drew 23 designs vying to revamp the nearly two-acre space on the north side of Washington Street.
On the south side, preliminary work has begun on the $20 million transit hub to be built on a half-block surface parking lot. That project should be finished by the end of 2015.•
 
Please enable JavaScript to view this content.