A division of the Indy Chamber is applying to become a U.S. Small Business Administration-affiliated microlender, a move aimed at boosting its available capital and expanding its territory in a wide-open frontier of finance.
The 124-year-old chamber already offers microloans through its Business Ownership Initiative, putting it in rare company among its peers across the country and giving it a leading position as a one-stop shop for small businesses. But that's not enough. BOI is looking to beef up its role as a microlender as demand for these mostly low-five-figure loans continues to grow.

Grice
"Naturally, we hope we get the designation. But even without it, we've grown this program significantly in the last two years," Indy Chamber CEO Michael Huber said. "We believe—and the local banks have confirmed this for us—that we're really reaching an important gap in services in our community."
The BOI Microloan Program has a roughly $2 million fund to make these loans, but nearly half of that already has been deployed. And because of its diverse history, much of the program's funds are restricted to Marion County, even specific neighborhoods within the county.
Becoming an SBA intermediary would pave the way for BOI to receive an initial infusion of about $750,000 from the SBA and would allow the program to expand to eight surrounding counties. The program over time could receive as much as $5 million from the SBA—money that BOI would have to repay.
Microloans are loans of less than $50,000 that some businesses struggle to obtain from traditional financial institutions. Such low amounts often aren't worth the bank's or credit union's while, and sometimes collateral or credit scores pose a problem for small-business owners.
BOI was an independent microlender before it merged into the chamber in 2012. It started out with about $150,000 in capital, officials said, but got grants from the city of Indianapolis and JP Morgan Chase's charitable arm to grow the fund.
'Cutting edge'

Huber
The lending component is one of the recent additions to the chamber's arsenal of services. The organization also hosts the Women's Business Center and the Central Indiana Small Business Development Center.
Ian Scott of the Association of Chambers of Commerce Executives said several chambers across the country are involved in connecting small businesses with financing, but Indy Chamber's latest venture puts it in rare company.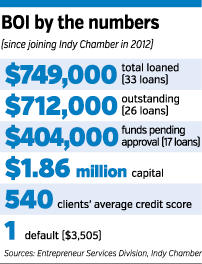 "This is an innovative program that is certainly on the cutting edge of what chambers are doing to support small- and medium-sized businesses," Scott said.
Three SBA intermediaries make microloans in Indiana. The Anderson-based Flagship Enterprise Center has been the most active, accounting for 45 of the 56 SBA microloans closed through Sept. 6 this year, according to the latest available SBA statistics.
ACCION Chicago is another SBA microlender, and Community Action of Northeast Indiana in Fort Wayne is the third, earning the SBA designation earlier this year.
Stacey Poynter, acting director for SBA's Indiana district, said he looks forward to the chamber's application.
"The banks, sometimes, don't like to do these smaller loans," Poynter said. "So there's a niche there. You cannot have enough microlenders."
SBA microloans effectively are lines of credit. The money is loaned to intermediaries at near-0-percent interest rates, and that capital is then extended to the borrowers at rates now between 6.25 percent and 8.25 percent. If the borrower defaults, the intermediary is still on the hook for repaying the SBA.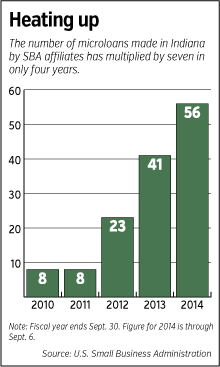 As an intermediary, BOI would not be able to use SBA money for operations, officials said, and all interest income on SBA funds is returned to the SBA. Julie Grice, who oversees BOI as the chamber's vice president of entrepreneur services, said the $1.2 million annual operating budget is supported by grants, service fees and interest income from its other microloan funds.
Never too small
The loans made by BOI so far have been as small as a few thousand dollars and have allowed businesses like Kountry Kitchen at 19th Street and College Avenue to make unexpected repairs.
The smaller the loan, the more personal the collateral, Grice said. One loan has been secured by three guitars, she said. Another involved a lawnmower.
Terry Blake, 61, said he borrowed and repaid $10,000 through BOI in 2012 to open a second location of the franchise Cell Phone Repair. The profits from his first store helped cover the equipment needed for the second one, but they couldn't support the hiring and training of new employees.
Blake already had emptied his retirement account and gotten a traditional SBA loan through a bank to open his first store in 2010. He couldn't secure funding for his second store, he said, because banks in town didn't see his inventory of cell phone parts as valuable collateral. He heard about BOI through his attorney.

Poynter
"We would have struggled mightily if we weren't able to get that injection," Blake said. "That store gave us the room to expand our capabilities and do the work necessary to support our business-to-business contracts."
BOI's borrower profile is risky—the average credit score is 540, Grice said. But the loans are tied to various business assistance programs, which helps mitigate the risk.
"It helps their business if they can have these free resources stay very close to them throughout repayment," Grice said, "so we can make sure that the loan adds growth to their business and not just debt."
Of the 33 loans extended to date, officials said, BOI has seen one default, of $3,505.
The region has a few other non-SBA microlenders, including Indianapolis-based Lynx Capital Corp., which focuses on minority businesses, and Grameen America, a Bangladesh-based lender that opened an Indianapolis office in 2012. The Boone County Economic Development Corp. and the town of Zionsville also have microlending initiatives.
Flagship is the Big Kahuna with respect to SBA microloans in the state, but that might change if BOI joins the fray. Adam Hoeksema, Flagship's loan program manager, said he doesn't see BOI's entry as a bad thing, and the two organizations already send referrals to each other.
"We're not coming anywhere close to saturating the market," Hoeksema said. "So I think the more we make people aware that microloans are available, I think both organizations will benefit from that."•
Please enable JavaScript to view this content.