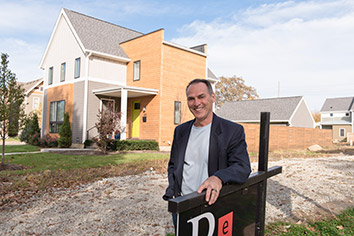 For residents of the near-east-side Holy Cross neighborhood, the railroad tracks separating it from downtown might as well have been the Berlin Wall.
"I do not want to say it's an obstacle, but it's an obstacle," said Patrick Dubach, president of the custom-home builder Re-Development Group, who can see the tracks from his office on East Michigan Street.
The barriers are beginning to fall, as Dubach and others are helping to attract more residential and commercial development.

Dubach
Dubach's Re-Development Group is building 16 custom homes on 1.6 acres the company purchased in 2012 at the southeast corner of New York Street and Highland Avenue where two 1960s-era office/warehouse buildings stood.
His firm will have finished five of the homes by December, and has broken ground on two more. Prices range from $285,000 to $400,000, more than double the neighborhood's median home value of $139,960, according to Cassidy Turley statistics.
Re-Development Group also built the Highland Stacks condo project in 2010 on Sturm Avenue, where one unit is listed now for $349,900.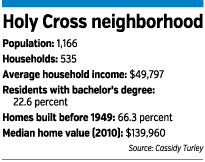 Dubach, a former executive at a stainless-steel company, started Re-Development Group in Holy Cross in 1998. The neighborhood—which stretches from Interstate 65 east to State Street, and from East Michigan Street south to East Washington Street—was so disfigured then that the company was able to build nine new homes and refurbish 13 more within a two-block stretch north of New York Street.
On East Michigan Street, in the same building occupied by Re-Development Group, Society of Salvage + Rewind Antiques opened in August 2013. And the Downtown Doggie day care is moving from North New Jersey Street downtown to Vermont Street and should open in its newly constructed building by December.
The activity in Holy Cross might not rival what's occurring in neighborhoods such as up-and-comer Fletcher Place just southeast of the Mile Square, but leaders expect more to come.
For example, they're hoping a vacant building at the corner of Highland Avenue and Michigan Street will attract commercial redevelopment within a year or so.
Holy Cross at least is beginning to close the gap. Near East Area Renewal, the community development corporation whose area includes Holy Cross, no longer targets the area for subsidized housing projects.
"Holy Cross is a neighborhood that we pay attention to for a lot of different reasons," NEAR Executive Director John Franklin Hay said. "But it's not one where we're looking to do any new development, because the market has taken over."
The neighborhood is beginning to attract young professionals who rented downtown and wanted to stay and buy a home without breaking the bank.
Jake Oakman, director of communications and media relations at the Indiana Office of Tourism Development, bought his condominium in 2011 for $155,000.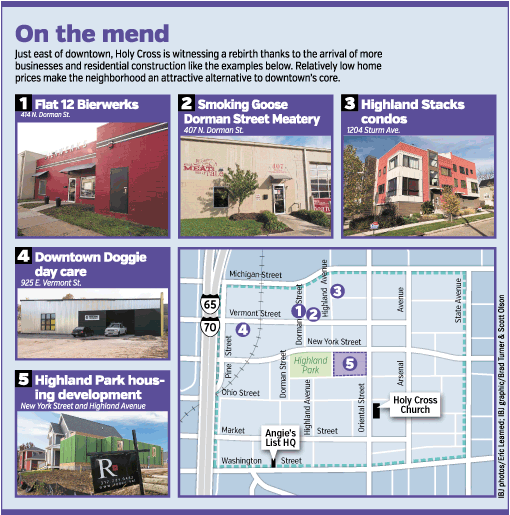 He had rented in the neighborhood since 2004 and chose to remain in Holy Cross.
"I liked that the neighborhood was undergoing a renaissance," he said. "And I liked the mix of residents. There are those who moved in last month and others who have been there since the Eisenhower administration."
Signs of a slow but steady commercial revitalization can be traced to the arrival in late 2010 of the Flat 12 Bierwerks microbrewery, which brings a significant amount of traffic.
Across from Flat 12 on Dorman Street, the Smoking Goose Dorman Street Meatery, which sells fresh meats, opened in October 2011. Owner Chris Eley also operates Goose the Market at Delaware and 25th streets.
Eley considered other areas but felt most accepted in Holy Cross.
"Businesses like ours often get [relegated] to industrial parks and to rural areas because some people feel like they could be a nuisance," he said. "We wouldn't have gone into a neighborhood where we weren't welcome."
Holy Cross' history dates to the city's founding. It was one of the first areas settled in Indianapolis, in 1819, by George Pogue, who built a cabin at present-day Pogue's Run Creek and Michigan Street.
On the eastern bank of Pogue's Run, from New York Street to Michigan to the north, Eli Lilly and Co. employees twice have cleared brush as part of the company's annual Day of Service in an effort to start a trail that will connect to the Monon and Cultural trails, and up to Brookside Park.
Dubach, who, with his wife, has lived in the neighborhood since 2002 and serves as president of the neighborhood association, also wants to see Vermont Street become more pedestrian-friendly and serve as a link to Lockerbie Square and downtown.
Vermont Street connects directly to the much more prominent Lockerbie neighborhood to the west, but for now the two might as well be miles apart.•
Please enable JavaScript to view this content.