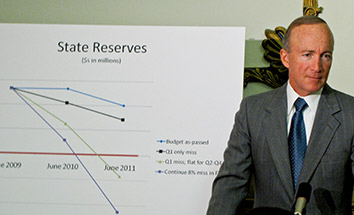 Purdue University is giving school President Mitch Daniels nearly $111,000 of incentive pay.
The Purdue trustees' compensation committee voted Wednesday to give Daniels 88 percent of the incentive money allowed in his contract.
Committee chairman Mike Berghoff said Daniels came closest to meeting goals of increasing graduation rates and reducing student debt, the Journal & Courier of Lafayette reported. Berghoff says the one area where Daniels fell short was fundraising.
Daniels has a $420,000 annual base salary since becoming Purdue's president in January 2013 after his second term as Indiana governor ended.
The adjustment, for 2013-2014, brought Daniels' total compensation for the fiscal year to $530,880.
In terms of salary alone, Daniels is one of the lowest paid presidents in the Big Ten Conference. Indiana University President Michael McRobbie received base pay of $544,848 in 2012-13, plus $567,076 in additional compensation, making him one of nine public college presidents to make more than $1 million.
The incentive pay vote came as Daniels was traveling to India for a university trip.
Please enable JavaScript to view this content.