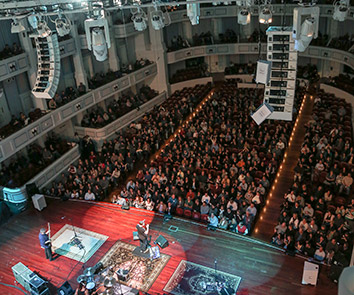 Nearly four years after the Center for the Performing Arts' Carmel high-profile debut, its second full-time CEO says the startup has stabilized operations and is ready to grow its eclectic mix of programming.
The not-for-profit closed the books on its 2013-2014 season in June with an operating surplus of almost $200,000, better than the $497,000 deficit it reported the previous year—and the $225,000 shortfall it expected.
It now has a year-old strategy in place and a new fundraising chief on the job after a 15-month search. CEO Tania Castroverde Moskalenko is focused on increasing revenue and adding activities at the three-venue arts campus.
"I just did an analysis of our programming, and we're only at 50-percent capacity," said Moskalenko, who joined the center in mid-2012. "We have so much room to grow."
Having capacity is one thing. Finding the cash is another.
The center's board and development staff are striving to increase individual donations about 15 percent this year, to $611,500, and they hope to boost sponsorship revenue 30 percent, to $538,500.
The city of Carmel provides annual financial support—$2.5 million for the 2014-2015 season—that amounts to almost a third of the center's $9 million annual budget, and it pays $79,000 a month in maintenance expenses for the city-owned venues anchoring the Carmel City Center development.
Just don't call the city's support a subsidy.
"I would like to change the conversation. This is a service we're providing," said Moskalenko, a Cuban immigrant who came to Carmel from a city-run arts center in Germantown, Tennessee. "Really, [the $2.5 million] is a fee for us to fill the halls and City Center with activity. It keeps people coming here."
Mayor Jim Brainard described the relationship between Carmel and the center as a partnership, likening it to Indianapolis' collaboration with pro sports teams that use the city-owned sports venues.
"This is the anchor of our new downtown," he said, adding that the entire complex cost "less than the retractable roof at the Colts' stadium."
The $175 million arts campus also provides a base of operations for six independent resident companies that produce shows of their own.
Among the most prominent: Booth Tarkington Civic Theatre, which is celebrating its centennial season after moving from Indianapolis in 2011, and the 39-year-old Carmel Symphony Orchestra.
The center's programming—everything from the Charlie Daniels Band to the Moscow State Symphony Orchestra, from classical ballet to a Mexican dance company—is intended to expose audiences to a range of artistic experiences.

Moskalenko
Last season, 95,305 tickets were sold campus-wide; 44,896 of those were for "The Center Presents" shows—those put on by the center itself. Paid attendance has gradually declined since the first full season in 2011-2012, which Vice President of Marketing and Communications John Hughey said is typical for newly opened arts centers nationwide.
The center, which has a staff of about 100, also has reduced the number of shows it presents. This year, 58 performances of 52 shows are planned, Hughey said, compared with 72 performances of 58 shows last year and 78 performances of 64 shows in 2012-2013.
Such adjustments are to be expected, Moskalenko said, as the center settles into a manageable, sustainable schedule.
Range of genres
Most shows fall into one of six genre-specific concert series: classical, country, songbook, dance, jazz and blues, and world stage. Other offerings include pop and rock, family shows and holiday performances.
"Our shows and outreach should reflect the community we serve," Moskalenko said.
Each series is assembled to include a full spectrum of artists, she said, from seasoned pros that fill the house to up-and-comers still hoping to make it big.
Sometimes, the sellouts are surprising—as when Indian percussionist Zakir Hussain's September show had to be moved to The Palladium's 1,600-seat concert hall when the 500-seat Tarkington filled up. Ticket-holders for George Winston's Nov. 20 performance at The Tarkington also are being reseated in The Palladium, Moskalenko said.
And while country and songbook concerts tend to move the most tickets, she said maintaining the variety of shows is an important aspect of the center's mission.
"There's a lot going on here," she said. "They can't all be sellouts. … For us, it's deeper than that."
Equally important: helping the audience connect with the arts—and the artists—through master classes, workshops, Q&A sessions and pre-concert discussions.
"We're always looking for that connection," Moskalenko said. "Artists aren't just doing a performance and leaving."
When she arrived, Moskalenko started a monthly book club to draw the community into the facility to talk about the arts. She hoped a dozen people would come to the first one; 75 showed up, and attendance has since been capped at 60.
Monthly Saturday-morning "Peanut Butter and Jam" sessions targeted at kids age 1-7 also have proven popular—which Moskalenko hopes will be a sign of things to come for the center and other arts venues.
"We need to come together to figure out how to inspire the next generation of arts patrons to participate," she said.
Increasing such activities is one of the goals of the strategy, which Moskalenko developed in collaboration with the volunteer board. They also fine-tuned the center's organizational chart, streamlining the management team and adding a vice president of development—a key position leading what officials hope will be an increasingly robust fundraising effort.
The job was filled last month by Diane Syrcle, who left a similar job at the Oregon Symphony in Portland to move to Carmel.
New fundraising firepower
Much as Moskalenko brought stability to the executive office after a period of turmoil—the inaugural CEO resigned six months after the venue opened and board Chairman Frank Basile stepped in on an interim basis—Syrcle is expected to get the fundraising program firing on all cylinders.
"Having someone in-house to help direct fundraising efforts is definitely an improvement," said Basile, a heavyweight in the local arts community who remains on the board after handing the reins to his successor in July. "It will help free up Tania to do more big-donor cultivation and solicitation."
"We're absolutely moving in the right direction," agreed Don Gottwald, the new board chairman.

Financial hawk Luci Snyder, who presides over the Carmel City Council's finance committee, likewise is encouraged by the staff addition. Although the council often disagrees over fiscal matters, she said, the elected body is united in its support for the Center for the Performing Arts.
"We understand they're on what I call a 10-year shakedown cruise," she said, referring to a test period typically conducted before new ships are put in service. "We're paying the mortgage on that thing. If it goes belly-up, it isn't good for anyone. … We have to help out."
Added Michael Lasley, producing director for the Civic, which is acquiring an ownership stake in The Tarkington: "It's in no one's best interest for anyone to fail. We all need to succeed."
Long-term strategy
Eventually, Brainard would like to see the center build an endowment that can provide ongoing financial support in the city's stead. But he said that's a long-term goal—much like his vision for a free-standing Great American Songbook Foundation museum and regular PBS broadcasts of the center's gala concerts.
"That all takes money," he said.
The Center for the Performing Arts' visibility gives it an advantage over other startup arts groups, said Indianapolis fundraising consultant Jessica White, and the Palladium should be a draw for sponsors looking to get their names in front of a large audience.
But White said the city support could turn off some individual donors who believe they're already paying for the venue with their tax dollars.
"That always makes people question" the need for additional contributions, she said.
Moskalenko disagreed, saying the city funding makes for a more compelling appeal, since the center can assure donors that their gifts will be used to improve programming.
"We're not using [donations] to pay the electric bill," she said. "They're not going to pay to cut the grass or replace equipment."
If that's the case, White said, the center will have to show donors results.
"It takes time for that message to get out and people to believe it," she said.
Another potential complication: brand confusion on the part of patrons who don't understand that the resident companies operate independently from the center. Each is its own not-for-profit with its own board—and fundraising needs.
Symphony CEO Alan Davis acknowledged the occasional mix-up, like when Willie Nelson fans called for tickets to his Palladium concert, perhaps because they had seen the CSO perform there and thought it managed the place.
It costs the symphony $3,500 more to produce each show in the Palladium versus its previous home—Westfield High School's auditorium—but the average audience has doubled in size, and patron donations are up "markedly," he said.
One reason: The acoustics are so good in the concert hall that the musicians can hear one another better—pushing them to the top of their game.
"It has created such a difference in our ensemble," Davis said.•
Please enable JavaScript to view this content.