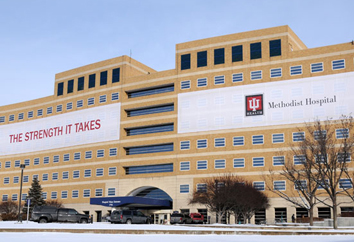 Key parts of Indiana University Health's business bounced back in the third quarter, helping the hospital system boost its revenue and profit.
Indianapolis-based IU Health saw big increases in outpatient surgeries and imaging tests in the three months ended Sept. 30, according to a report to bondholders issued last week.
Across IU Health's 19 hospitals and numerous walk-in facilities, outpatient surgeries rose 13 percent, to more than 20,000, while imaging exams surged 11 percent, to nearly 332,000.
Those increases, as well as a 4-percent boost in emergency room visits, offset continuing declines for inpatient visits and inpatient surgeries, which each declined about 3 percent.
All those categories had been either flat or down the previous four quarters, as patients in Indiana and nationwide significantly slowed their use of health care services.
While IU Health is the first of the major Indianapolis-based hospital systems to report third-quarter financial results, other hospital chains around the country have also posted improved results this month.
"The broader trend of improving utilization is pretty evident," Brian Tanquilut, a hospital analyst at Jefferies & Co., told Reuters.
Tanquilut's comments came after two for-profit hospital operators, Tenet Healthcare Corp. and Community Health Systems Inc., announced better third-quarter results, in part due to an increase in insurance coverage created by Obamacare.
The turn of fortunes gave a big boost to IU Health's bottom line. It pulled in profit of $175.6 million, even after excluding $22 million in gains from entities in which IU Health has a noncontrolling investment stake.
That was nearly four times as much profit as IU Health recorded in the third quarter a year ago, when it tallied $44.3 million in profit, excluding certain special items that were not repeated this year.
IU Health's bottom line benefited greatly from smaller personnel costs. As of Sept. 30, it employed roughly 2,000 fewer full-time-equivalent employees than it did a year ago. About 80 percent of those staff reductions have occurred at IU Health's downtown campuses—Methodist, University and Riley Hospital for Children.
Revenue from operations totaled $1.41 billion in the quarter, a 13.6-percent rise from the same quarter last year.
IU Health's management credited its improved performance to increased physician office visits, better collection of patient accounts, and a shift of self-pay patients to government-funded programs.
Please enable JavaScript to view this content.