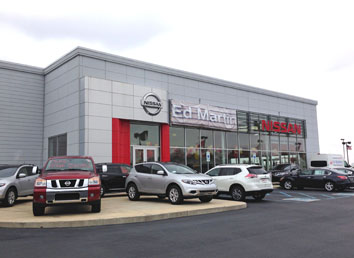 Ed Martin Auto Group has taken over the Butler Nissan dealership in Fishers, but it's not clear yet what the change means for Ed Martin's Indianapolis Nissan outlet or its controversial plans to move a Toyota store to a site less than a mile away in Noblesville.
Officials at Ed Martin and Butler Auto Group did not return messages from IBJ, and staff at the dealerships referred questions to managers who were not immediately available.
The switch is complete, however: The Secretary of State's Office confirmed that Ed Martin was given a license for the Fishers location on Oct. 16, and Nissan approved a franchise agreement Oct. 31.
An Ed Martin banner hangs over the Butler name outside the dealership at 13397 Britton Park Road, and visitors to butlernissan.com are automatically forwarded to Ed Martin Nissan of Fishers' website.
Butler still operates its nearby Kia dealership, among several that line heavily traveled State Road 37 from 126th Street to State Road 32.
Ed Martin has another Nissan store on Shadeland Avenue in Indianapolis, about 16 miles south of the Fishers site—far enough to be considered a different marketing area.
As IBJ reported in February, the automotive group has proposed moving its Toyota dealership from Anderson to an undeveloped property at the northwest corner of State Road 37 and 141st Street.
A group of Indianapolis Toyota dealers—including Butler—asked the Indiana Secretary of State's Auto Dealer Service Division to halt the move, saying it would harm their business. The division turned down the request Feb. 25, and a Marion County judicial officer upheld the ruling early this month.
Ed Martin's rezoning request for the Noblesville property has been on hold pending the outcome of an appeal.
Please enable JavaScript to view this content.