Former Indianapolis Mayor Bill Hudnut, a gregarious 6-foot-5 former pastor, was known in office as an approachable leader in constant communication with his constituents.

So when some of his former deputies approached Hudnut for input on a statue in his honor for the newly renamed Hudnut Commons downtown, he wanted a similar vibe in statue form.

The result is a slightly larger than life size, spitting image of Hudnut—seated with his legs crossed, sporting a tie but no blazer and looking eager to discuss big ideas for Indianapolis with anyone who stops by.

Even the name of the bronze sculpture is approachable: It's known as "Mayor Bill."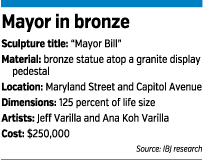 The statue at the northwest corner of Maryland Street and Capitol Avenue is scheduled for dedication Dec. 14, fittingly before an Indianapolis Colts home game.

Hudnut, 82, was the city's longest-serving mayor, presiding from 1976 to 1992. He built the Hoosier Dome without a tenant before landing the Colts from Baltimore, snagged the Pan Am Games and built the infrastructure for the city's amateur-sports push, launched the transformation of the former downtown drainage ditch known as the Central Canal, and inspired the development of Circle Centre mall.

"Mayor Bill truly believed he had the best job in the world," said Lesa Dietrick, a public affairs specialist at Ice Miller who ran two of Hudnut's campaigns. "A big part of his legacy is how much he cared about the people who lived, worked and raised their families in the city he loved."


Dietrick
The statue is based on a photo of Hudnut taken in Lockefield Gardens, a Depression-era public housing project that Hudnut helped clean up and redevelop.

Hudnut likes the image because it shows him how he wants to be remembered: "A people's mayor who got things done."

"'He built well, and he cared about people' is the epitaph I gave myself in a book; thank God it's not an epitaph yet," Hudnut told IBJ. "We were there to serve people, to help solve problems, to visit with constituents. People remember me in a leprechaun costume for the St. Patrick's Day Parade."

Hudnut said he's "humbled, gratified and amazed" by current Mayor Greg Ballard's efforts to champion Hudnut Commons. Ballard surprised him by renaming the former Capitol Commons in January 2013.

"It was a magnanimous thing for him to do. Sometimes successors aren't kindly disposed to their predecessors," Hudnut said, in a not-so-veiled reference to his own successor, Steve Goldsmith, with whom he feuded for years.

One other feature of the statue particularly satisfies Hudnut: "It's all private. There's no tax money in it."

Krauss
Private donors including Colts owner Jim Irsay, Pacers Sports & Entertainment, P.E. MacAllister and Hudnut's own Second Presbyterian Church contributed $250,000 for the statue and its base. They plan to raise more to subsidize maintenance of the plaza, which will be owned and kept up by the city's Capital Improvement Board.

About two dozen artists bid for the work, and the Arts Council of Indianapolis selected Chicago artists Jeff Varilla, 65, and Anna Koh Varilla, 57. The husband-and-wife artists are known for their lifelike work and have created statues on display across the United States, South Korea, England and at the Vatican.

It's unusual for a statue to depict a politician in a seated pose, and for one to be shown smiling, said Anna Koh Varilla. But she said Hudnut "looks more natural" that way.

The artists met with Hudnut, took his measurements, and photographed him at different angles.

In Chicago, they created a clay version of the statue, which they took to a foundry in New Mexico. The process from there: Parts of the statue were cast in wax, then covered in ceramic material. The wax was burned out, leaving ceramic shell molds, which were filled with bronze. The pieces were welded together, and connection points sanded.

Browne
Friends and former colleagues of Hudnut for years discussed ways to memorialize and pay tribute to the four-term mayor, said John Krauss, a deputy mayor under Hudnut and founding director of the Indiana University Public Policy Institute.

Among others who led the effort were former OneAmerica CEO and Chairman Jerry Semler and Ratio Architects founding principal Bill Browne.

"When you talk about cities anywhere in the world, in your mind's eye you picture a city center—a city center is really what defines the image of a major city. One of the problems Indianapolis had was, we didn't have an image," Krauss said. "Bill Hudnut created the atmosphere, spirit and optimism that allowed it to take place."•